What if I told you there is a company growing almost as fast as Google (NASDAQ:GOOG) in its early years, in an industry that is witnessing secular growth. What if I told you this company is already profitable and cash flow positive? And what if I told you that this company is trading at a forward P/E of 8 only? This company is: Gasfrac Energy Services.
Gasfrac is a Canadian oil and gas service company, whose business is to provide liquid petroleum gas (LPG) fracturing services to oil and gas companies in Canada and the United States. Gasfrac is listed on the TSX under the symbol GFS and in the U.S. it trades in the pink sheets as GSFVF.PK.
What is unique about Gasfrac is that unlike all other fracturing or fracking companies such as Nabors Industries (NYSE:NBR), Calfrac Well Services (OTCPK:CFWFF) or Trican Well Services (OTCPK:TOLWF) who use water as the fracturing fluid, the company uses liquid petroleum gas which is basically: gelled propane, gelled butane or a mixture of both.
What are the benefits of using LPG instead of water?
LPG fracking accomplishes the following:
It increases the production yield of oil and gas wells. (Immediate increase in cash flow for the operator).
It increases ultimate recoverable reserves by 20% to 30% (presenting a significant increase in the well's Net Present Value).
It doesn't damage the oil and gas reservoirs, unlike water which could damage the reservoir and constrain production.
The process doesn't require any water, thus literally saving billions of gallons of potable water (an average well frac requires anywhere from 3 million to 12 million gallons of potable water per well).
It eliminates waste water, which is a highly toxic by-product of water fracking and a major source of pollution; the pumped propane/butane on the other hand returns to the surface as gas and could be captured and recycled by the operator.
Since much less LPG is required for a frac and no waste water is produced, the trucking footprint of bringing water on site and trucking waste water out is significantly reduced.
It significantly reduces the need for flaring (thus reducing CO2 emissions).
However the process has some drawbacks:
LPG is highly flammable, hence extensive safety measures are applied during the LPG fracking process. It is worth noting however that the company pays the same insurance premiums as traditional fracking companies.
LPG fracking immediate cash cost is about double that of regular fracking if the LPG is not captured, and 20% higher if the LPG is captured and recycled. However it is worth noting that the ultimate cost is lower when the increased well productivity and increased reserves are factored in.
Gasfrac LPG fracking advantages are so attractive that a description of the process in 2010 by Senior Research Director Dr. Satya Gupta at Baker Hughes (BHI) reads like a marketing brochure for the company:
Unlike conventional hydrocarbon‐based fracturing fluids, the common LPG gases, propane and butane, are tightly fractionated products with over 90% purity.

There are many advantages in using liquefied petroleum gases for hydraulic fracturing if it can be done safely. The properties of density, viscosity and surface tension with complete solubility in formation hydrocarbons are very beneficial. Recovery of the LPG very nearly approaches 100%, clean up is very rapid (often within 24 hours), phase trapping is virtually eliminated, and LPG properties allow for extended shut‐in times without detriment.

Additionally, direct flowback to an available pipeline can be readily achieved. The result is a potential cost‐effective stimulation with effective fracture lengths, excellent post‐treatment production and the potential for zero flare clean‐up.
I repeat the above was not written by Gasfrac or its staff, but by a major competitor, such an endorsement is rarely seen in this industry or any industry for that matter.
For a full description of the LPG fracking process, I strongly suggest reading the slides of the presentation given by Mr.Robert Lestz, Gasfrac CTO during the Houston Energy Summit in May 2011.
So is LPG fracking just a better mouse trap?
This is a very legitimate question, since the better mouse trap argument has trapped more investor's money than mouse traps have captured mice. Yes it is a better mouse trap; but Gasfrac has moved beyond "the better mouse trap" stage to a profitable, growing and cash flow positive business with wide industry acceptance.
Gasfrac fracked their first well in January 2008, today they have done over a 1000 fracs for who is who in the industry, such as: Apache (NYSE:APA) Royal Dutch Shell (RDS-A) Chevron (NYSE:CVX) Husky Energy (OTCPK:HUSKF) Devon Corporation (NYSE:DVN) Murphy Oil (NYSE:MUR) and Pennwest Energy (PWE), among others.
It is also worth noting that after a year of testing Husky Energy awarded Gasfrac in September 2011 a long term contract at their key liquids rich NG project at Ansell in Alberta, Canada. The Ansell development is a massive development with a potential for 2600+ well locations. The fact that Husky decided to use Gasfrac's technology to fracture the wells in this project is a very strong vote of confidence in LPG fracking technology. Reid MacDonald, Gasfrac president, had this to say at the time of the contract signature:
"Husky was one of the early adopters of the GASFRAC LPG technology and has completed significant analysis of the impact of our process on reservoir deliverability"
The keyword being "reservoir deliverability". Husky has chosen Gasfrac LPG fracking technology because it delivers superior production results. Hence the commitment to spend hundreds of millions of dollars on the technology over the life of the contract.
LPG Fracking Equipment
A fracking set or a fracking spread is what is needed to undertake an oil/gas well frac, a fracking set includes the following items:
Nitrogen support unit
Chemical addition unit
LPG Bulkers
Proppant Blender
Frac Pumpers
The above units come in different sizes and capacity. As the frac jobs got bigger, the company has added bigger Proppant blenders and more powerful Frac pumpers. The company has steadily expanded its sets from 1 set in operations in 2008, to 3 in 2010, to 6 in 2011 and to 10 by Q1-2012. This increase in capacity is a key revenue driver for the company.
Exclusivity
The LPG gel has been developed by Chevron/Halliburton (NYSE:HAL) in collaboration with Mr.Robert Lestz, Gasfrac's CTO who was working with Chevron at the time. Chevron awarded Gasfrac an exclusive licence to use the LPG gel in Canada and a general licence to use the gel in the US. The company eventually developed its own methods to gel propane.
However, gelling the gas is only the first step in the process, using the gel in a fracking operation is a whole different ball game.
Gasfrac has developed its own nitrogen closed looped system in order to be able to use the gelled propane safely in a gas or oil well fracking operation. The company also developed the process of injecting the propane with Proppant (sand). Gasfrac also developed a host of automated safeguards and remotely operated modules to undertake LPG fracking from a distance (to minimize risks).
The company has submitted over 17 patent applications relating to the gel and the fracture stimulation process; ten patents have been issued and seven are outstanding.
To put it simply, having access to the gelled propane is like having access to water for a traditional fracking company. You still have to build the whole fracking apparatus around it, and, in the case of LPG, Gasfrac has almost a virtual lock on the whole process.
The numbers:
Revenues
Revenues have grown from $23 million in 2008 (the first year of commercial operations) to a $180 million by the end of 2011 (based on a projected Q4 of around $80 million). However, 2012 revenues are projected to cross $500 million based on analysts' average estimates for next year: a 270% increase over 2011.
EBITDA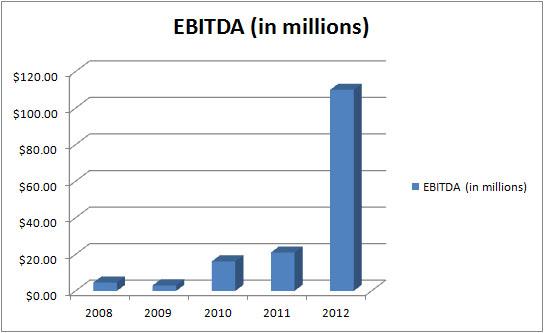 EBITDA have grown from $4.54 million in 2008 to a $21 million by the end of 2011 (based on a projected Q4 EBITDA of around $15 million). However, 2012 EBITDA is projected to cross $110 million based on analysts' average estimate for next year: a 520% increase over 2011.
Net income have grown from $4.54 million in 2008 to $5 million by the end of 2011 (based on a projected Q4 net income of around $6m). However, 2012 net income is projected to cross $55 million based on analysts' average estimate for next year: a yearly 1100% increase, or 87c per share based on 63 million shares outstanding.
Before expanding further, it is important to note that 2011 was an unusual year for Gasfrac, as two unforeseen events disproportionally influenced results in Q1 and Q2:
In Q1, a flash fire incident was experienced at a fracking site in January. As a result the company halted fracking operations for 3 weeks to investigate the cause. Upon the completion of the investigation the company operated at half capacity for the rest of the quarter. Also following the incident the company significantly enhanced its safety procedures.
In Q2, Western Canada experienced a much longer "break up" season than usual; this wet season usually starts in early April and lasts for 4 to 6 weeks. In 2011 it extended for over 3 months, making it the longest break up period since 1978. The wet conditions prevented the company from reaching or operating in most of its customers locations.
Excluding the above two events, the company revenues, EBITDA and net income would have been materially higher. In addition the company has been running double crews and sometimes triple crews in one set for training purposes in anticipation of new set deliveries in early 2012. This has further distorted the company true operating margins.
It is also important to highlight that technology companies are rarely profitable at this stage of development. Nonetheless Gasfrac has been profitable from the first year of commercial deployment; a further testimony to the viability of the company and its technology. As the company goes through its vertical growth phase it is important not to look at the EBITDA or net income as inductive of the company true earnings power. The current focus of the company is to gain market share and enhance market acceptance. As the operations mature, the company should witness a material increase in its cash flow and net income as it better aligns its spending with current business rather than overspend to prepare for future business.
Why 2012 will be a breakout year for the company?
In the coming year a number of factors will combine to make the year a true transformative year for the company:
A 66% increase in fracking sets from 6 to 10 by the end of Q1-2012, this expanded equipment capacity will significantly add to the company's revenue generation capacity. In addition the company is expanding backend equipment capacity. This should improve fracking sets utilization and drive further revenues.
New CEO: in November the company hired a new CEO: Mr. Zeke Zeringue who has extensive experience and relationships within the E&P industry in the U.S. - having worked for Halliburton for 28 years, including presiding over their Energy Service Group.
New COO: in November the company hired Steve Batchelor as the COO. Mr.Batchelor has worked for 25 years with Halliburton, a period during which he also worked closely with Mr. Zeringue.
U.S. expansion: the company expanded to the U.S. market in mid-2011. Within 6 months revenues rose from $600 thousand a month to over $12 million per month. However, the company plans to make 2012 a year of real focus on the U.S.; this is underpinned by having the new CEO based in the U.S.
Expected signature of a U.S. long term service contract or contracts: the company emphasized their goal of signing a long term contract in the United States. The company's new CEO certainly has the clout to secure such a contract. In addition the company expanded fracking capacity gives it the flexibility to allocate a number of fracking sets exclusively for such a contract. A number of majors have been testing Gasfrac LPG fracking technology: Chevron finalized a 29 wells fracking program with the company in the fall. It usually takes at least 3 months for a customer to evaluate the production results before initiating further business.
Increased environmental issues with traditional water fracking are encouraging the industry to consider more environmental friendly alternatives such as LPG fracking. For example LPG fracking is not banned in the state of New York while traditional fracking is.
Patents issuance: the company is still expecting to be issued additional patents for the LPG fracking operations. Since most of the company's patents applications have been filed between 2006 and 2008 and the average time to obtain a patent is 4 to 5 years, this makes 2012 the likely year when Gasfrac will be issued most of its pending patents.
Strategic Partnerships: The company is aware that it has logistical limitations in deploying its LPG fracking technology on a truly global scale; traditional water fracking is not undertaken by one company and so will be the case for LPG fracking. The company has already indicated that it is looking at potential partnerships and possible licensing arrangements with some of its peers to speed up the deployment of the technology; 2012 could witness the initiation of such partnerships.
Mobile Propane/Butane capture unit: As explained earlier, the propane pumped in the well returns back to the surface as gas, some of Gasfrac customers capture the gas back through their own gas processing plants, however in certain areas no such plants exist, in response the company is developing its own mobile gas capture system, this will allow a sub-set of Gasfrac customers to recover the propane and significantly lower their LPG fracking expenses; the mobile capture unit is expected to be deployed in the field in 2012.
What about beyond 2012?
Beyond 2012, Gasfrac will continue to expand its fracking capacity to meet the growing demand for shale oil and shale gas. The company's superior technology will give it an edge in the development of this vital industry. By 2014 (excluding any partnerships) the company will have enough fracking capacity to generate over $1 billion dollars in yearly revenues. This is for a company that had only $30 million dollars in revenues in 2009.
Last month Exxon (NYSE:XOM), had this to say in their 2012-2040 global energy outlook :
Oil, gas and coal continue to be the most widely used fuels, and have the scale needed to meet global demand, making up about 80 percent of total energy consumption in 2040.

Natural gas will grow fast enough to overtake coal for the number-two position behind oil. Demand for natural gas will rise by more than 60 percent through 2040. For both oil and natural gas, an increasing share of global supply will come from unconventional sources such as those produced from shale formations.
Exxon is not alone; both the International Energy Agency and Energy Information Administration agree that shale oil and gas will be a key driver for future supply for those important fuels.
The fracturing process is yet to go global. However, countries such as China - where there is a massive potential for shale gas - already suffer from extreme water pollution and potable water shortage Allocating massive amounts of fresh water will be a challenge and likewise for the Middle east where potable water shortage is even more acute. Saudi Arabia indicated this year an interest in Shale Gas development , yet Saudi Arabia burns 1.5 million barrels of oil a day for water desalination. Solutions such as LPG fracking is the sole viable process to be used in Saudi Arabia and likewise for a number of other jurisdictions such as Mexico, where the shale gas reserves are located in an arid desert.
What if the LPG process doesn't go Mainstream?
Of course the world is full of variables and no matter how sensible an analysis is, there is always room for matters not to develop as expected.
Let's assume that the LPG process will fail to replace water based fracking in most basins due to logistical constrains, geological imperatives, industry reluctance due to safety issues (perceived or real): can Gasfrac survive? Yes, it can survive and thrive.
Water fracking exists since the 1940s and in addition to water fracking oil based fracking has also been used for decades. Oil based fracking fluid is 20 times more expensive than water fracking fluid; yet it was, and is, still used because certain reservoirs are water sensitive and subject to damage with water fracking.
LPG fracking can accomplish the same task as oil based fracs at a lower cost, and with superior results due to the lower viscosity of LPG and its lower surface tension.
There is a sub-segment of the fracking market that consists of:
Very tight reservoirs
Low pressure and depleted reservoirs
Water sensitive reservoirs
Arid oil and gas basins
Water fracking is not an option in the above four situations; in this case LPG fracking is often the only and the best solution. Should Gasfrac corner the market in those areas alone, it would have more business than it can handle.
It is worth noting that both Halliburton and Schlumberger (NYSE:SLB) offer oil based fracking for water sensitive reservoirs. On that basis alone Gasfrac could present an interesting addition to those companies portfolio of services.
In conclusion:
Gasfrac offers a unique opportunity: the company has demonstrated strong growth and is expected to deliver a very strong growth rate going forward. The company's new management team is the proper management team to take the company to the next level from a start-up to a major player in the fracking industry. The company has a very solid balance sheet with no debt and an untapped $100 million bank credit line. Fracking for oil and gas is the most important source of energy supply for the United States and the world in the upcoming decades. Gasfrac is trading at the bottom of its historic valuation while being at the cusp of a major ramp up in revenues and profits over the upcoming quarters; entering the stock at current levels makes sense for both traders and investors alike.
Additional information:
Disclosure: I am long OTC:GSFVF.