In August 2011, I developed a simple dividend growth strategy designed for people like my parents, who need income and want less volatility, to reduce worrying about their investments. I have since created three model DG portfolios (small-cap, Dividend Aristocrats, and Income-Growth), all of which beat the S&P (NYSEARCA:SPY) and S&P Dividend Aristocrat ETF (NYSEARCA:SDY) over the last 5 months, both in terms of total return and reward-to-risk (Sharpe) ratio.
Of the three models, the Dividend Aristocrat (DA+) model is the easiest to implement, as it is based primarily on the S&P Dividend Aristocrat list, which contains around 50 stocks. It is certainly possible to expand this process to use the Dividend Champions list from David Fish, but I stuck to the DA list, as it is better known by the masses. However, the DA list does not have enough stocks in each sector for this strategy, so I used the CCC list to enhance the universe.


Performance
From inception (Aug. 16, 2011) through December 31, 2011, the DA+ portfolio had a total return of 12.5%, versus 9.9% for the SDY and 6.1% for the SPY. The quarterly performance figures are in the table above. Thus far, this portfolio has not only outperformed in total return, but it also had the best quarterly numbers and higher average weekly reward-to-risk ratio. Its Sharpe ratio is nearly double that of the S&P. While the amount of data limits our ability to draw too many conclusions from this, it is an encouraging start and hopefully we will see the trend continue into 2012.
Some of the better performers during this time period were: McDonald's (NYSE:MCD), Verizon (NYSE:VZ), Vectren (NYSE:VVC), Intel (NASDAQ:INTC), Lowes (NYSE:LOW), Cincinnati Financial (NASDAQ:CINF), and Medtronic (NYSE:MDT).
Building the Portfolio
Based on a research study from the UK that I have previously discussed, I organized the DA list by sector, with the goal of having a 30-stock portfolio that equally weights each sector and each stock. Some sectors had fewer than 3 stocks, so I turned to the Dividend Champions, Contenders, and Challengers lists to supplement the DA list, hence the portfolio is referred to as "DA+". I favored Champions, as they are closest to the Aristocrats, but I also included a couple well-known, high-yielding names, some of which were already in the portfolio from August.
Additions (Ticker), [years of DG according to CCC list]
Stocks within each sector were next sorted by yield. The research suggests that higher yielders performed better than the average DG stock, plus income investors want yield, so I favored those stocks. I proceeded to take the 3 highest yielders in each sector.
Before final acceptance, there were two final tests. First, if the payout ratio was above 80%, I checked the company's financials to see if quarterly operating cash flow sufficiently covered dividend payments for at least 3 of the last 4 quarters. HCP and Cincinnati Financial (CINF) failed this test and were replaced with the next highest yielder from their respective sectors. Finally, I checked each of the 30 holdings for my "-20% gap rule". If the stock price underperformed the S&P by 20% for four consecutive weeks, my prior research suggests there is a better than 50% chance that it will either cut its dividend or the price may drop another 20%. Pitney Bowes (NYSE:PBI) exhibited this signal in December 2011, so it was removed from the portfolio. Note that both of these tests are designed to avoid potential harm. If you believe these companies are OK, you can keep them and achieve a higher yield, but there is more risk based on their financials.
The closing DA+ account value on December 31, 2011, was around $337,000 (originally $300K), so around $11,250 was invested in each stock. I factored in commission costs of $8.95 per trade and minimized transactions by trimming or adding to existing holdings, instead of selling everything and starting from scratch. Honestly, given the total value of the portfolio, the commissions are trivial. Individual investors with smaller portfolios may not want to bother making the holdings totally equal, as it is not cost-effective to trim a small number of shares from a holding.
The 2012 Portfolio
The resulting portfolio is provided in the graphic below. The portfolio has an average yield of 3.52%, which is lower than the 4% yield that the original DA+ portfolio had in August. This is not a huge surprise, as the portfolio has increased around 12%, so all else being equal, the yield has to drop. 9 of the 30 holdings are due for a dividend increase in 2012 Q1, so the dividend payout will increase assuming they all deliver. Rebalancing does help to shift funds from stocks that have appreciated significantly, and hence have a lower yield, to stocks with higher yield. Pepsi (NYSE:PEP), ConocoPhillips (NYSE:COP), and Air Products (NYSE:APD) are examples of stocks that were rotated out, and each was replaced with a higher-yielding alternative.
The 0.88 beta is a little higher than the original portfolio, which had a 0.80 beta. Considering the stock market volatility of the past six months, this probably isn't a surprise. For those concerned about this, weighting the utilities, energy, healthcare, and consumer staples sectors more would lower the beta of the portfolio.
Other Portfolio Statistics:
Average years of dividend growth = 35.0 years
Average yield = 3.52%
Average PE, excl KMP = 16.0
Est 1-year and 5-year EPS Growth = 11.9% and 9.3%
1-year DGR = 6.7%
5-year DGR = 10.1%
Average Market Cap = $61.5B
(Click chart to expand)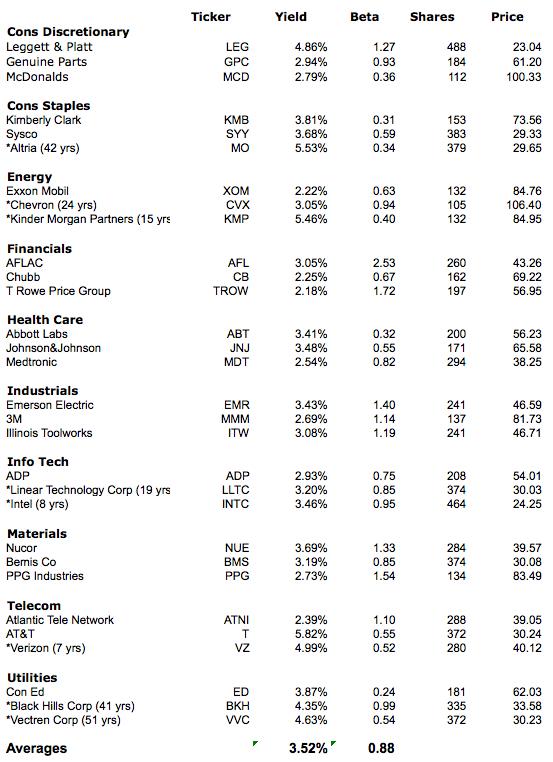 Summary
The DA+ Portfolio is designed to be easy to implement, to follow DG investment strategies, and to apply DG-research in a simple, understandable manner. To date, it has outperformed its benchmarks, and I will continue to track the rebalanced portfolio and provide monthly/quarterly updates. I believe this portfolio offers investors considerable safety, as it contains mainly large-cap companies with very long-term dividend growth histories.
While easy to implement, this portfolio does have some limitations. The universe of Dividend Aristocrats is relatively small, thus there isn't much of a selection process and turnover is relatively low. This is what makes the strategy so simple, but it also limits the investor, at least if s/he is strictly following this strategy (i.e. not choosing more from outside of the DA list). We were fortunate to have 10 additions to the Dividend Aristocrats this year and just one drop.
The DA list also contains mostly large-cap stocks, which provides safety, but may restrict growth and yield potential. From an income standpoint, safety is a positive, but from a total return view, having more exposure to mid/smaller-caps might offer better growth potential. I will be updating the DG-IncomeGrowth portfolio in early February. It uses the Champions and Contenders as its universe, which provides more opportunities for higher yield and higher dividend growth rates.
Next Steps
I have updated my virtual DA+ portfolio with the new holdings as of the closing prices on December 31, 2011. I will continue to track this portfolio and report on its performance relative to the S&P (SPY), S&P Dividend ETF (SDY), and the other DG model portfolios. The next full rebalance will occur in one year, unless there are major market movements that necessitate the need for action. If any stocks cut their dividend, get bought out, or exhibit the -20% gap rule, they will be removed and replaced with another stock from the same sector based on the screening process.
I welcome feedback on this portfolio process, as I continue to refine it based on comments, observations, and new learning. I hope SA members find the process and the recommended list useful for identifying potential candidates for their portfolios. I view this work as action research, an attempt to test out the recommendations from prior research and the comments that followed from it. I use this model as a benchmark for comparison, and always recommend doing additional research on individual companies before purchasing their stock.