VIX - Market Sentiment:
Happy New Year traders! On the first day of trading in 2012 stock futures were in a fairly tight range only moving 8 handles. Positive numbers out of China, India and Germany initially sent futures soaring to the 1279 level but then retreated into the U.S. opening bell. In addition to this information U.S. the ISM manufacturing PMI number came in at 53.9 surpassing estimates coming in at the 53.3 level.
To anyone who reads my volatility writings they know just last week I stated the SPX which is traded through the SPDR ETF (NYSEARCA:SPY) could be in for a rough 2012. Although it appears the wedge I identified just last week appears to be broken to the upside, SPY and SPX put activity still shows some caution as puts continue to be bid up. This was shown perfectly as the spot CBOE Volatility Index (VIX) was only down to 22.95 at the open. An interesting part about this number is spot was not down as much as January implied futures dropping more than 5%.
One key I want to point out is an interesting chart and survey provided by CNN Money.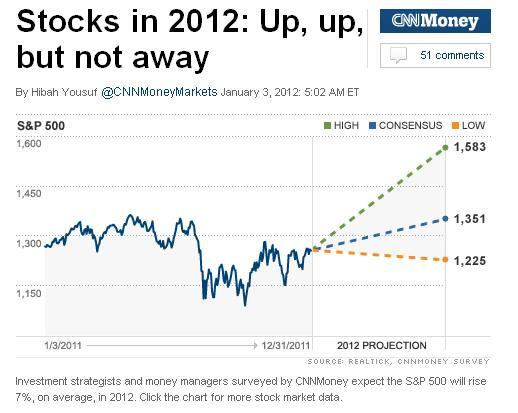 The chart shows an interesting point as the lowest projected money manager surveyed shows 1225 or ~2.5% to the downside on S&P. In contrast the upside shows 1583 to the upside or a 26% gain year-over-year. Once again I'm shocked to see it appears few managers have fear of markets to the downside which continues to give me concern.
Options Paper:
AT&T (NYSE:T) saw a large 20K call purchase of the February 31 call strike. T has been moving up ever since the dropping of the bid to buy TMobile and it appears one bull is looking for even more upside. T has an ex-dividend date of Jan 10th so this could be a trader trying to play for a possible run-up as people chase yield. Watch to see if this trader flips the trade prior to January 10th.
Theravance, (THRX) a small cap biotech, saw its stock price drop rapidly after a large put buyer came in. 2K of the February 15 puts were purchased at the ask. This should capture earnings with the estimated earnings expected to be announced on February 16th. This would be profitable if THRX dropped below 13.70 prior to February expiration. This would require a 33% drop in equity price in just over six weeks. Although this trade has a delta of -.16 these puts could explode to the upside as a speculative bet to the downside. This is noteworthy because THRX normally only trades 300 contracts a day.
Thermo Fisher (NYSE:TMO) saw a large 4.4K collar trade today just after 10:00 EST. A block of 4,400 March 45 calls were sold for 3.20 and the proceeds used to buy 4400 of the March 40 puts. The trade was a net credit to the trader of 2.55. This is more than likely protection for a current long position as TMO has been beaten down in recent months and on today's pop the holder wanted to protect for further downside. I have overall been bearish on TMO for quite some time but have no position in this name but may move on a put spread in the future.
Popular ETF's and equity names with bullish/bearish paper in terms of call/put ratios:
Calls outnumbering Puts:
UltraShort S&P (NYSEARCA:SDS) 17:1
eBay (NASDAQ:EBAY) 6:1
Monsanto (NYSE:MON) 12:1
Puts outnumbering Calls:
Gap Inc. (NYSE:GPS) 5:1
Materials ETF (NYSEARCA:XLB) 11:1
Retailer ETF (NYSEARCA:XRT) 21:1
S&P 500 ETF 2:1 (not huge but ISE traded 5:1 puts with 70K opened on the put side vs 15K on call)
Volatility Explosion:
Tivo Inc (NASDAQ:TIVO) which just last Friday was on the sonar again today continues to have implied volatility of options increase. Although this is not a huge explosion in volatility it is noteworthy as this preludes a potential large move either up or down in the future. This is somewhat expected as the lawsuit against AT&T begins to take center stage here in January. Straddles could be a very interesting play going into these judgments if IV continues to expand.
LinkedIn (LNKD) and Groupon (NASDAQ:GRPN) both saw IV increase today. Interesting as this is the tale of two stocks with completely different results. GRPN was trading down more than 5% in a very strong tape, causing the puts to increase in value as bids continued to increase in this thinly trade name. LNKD, on the other hand, traded up with the market and IV also went up. This generally signals people protecting gains or possibly playing for a potential drop moving forward. Weekly calls were sold possibly allowing longs to capture profits or protect to the downside in the event of a sharp drop prior to Friday.
Volatility Implosion:
Mead Johnson (NYSE:MJN) again saw a large drop in IV as the stock continued its climb back from being slapped in December. MJN traded up more than 4% on the day after again the findings showed its flagship product Enfamil was cleared by the FDA. The puts which were sold for 6.50 two weeks ago can now be covered for just over .15 as volatility continues to implode in this name.
Barclays Volatility ETF (NYSEARCA:VXX) today saw a more than 5% drop in IV30 of options. Interesting on an up 1.8% day volatility in this ETF continues to drop as both the front and back month futures continue to decline. As noted before the VIX futures were down over 1.5 on the day, down to an implied future of just over 25.
As always happy trading and stay hedged.
Remember equity insurance always looks expensive until you need it.
Disclosure:
I am long AGNC, NLY, SDS, APC
I am short: VXX, SIAL, RAX, LNKD, FINL, DHI, AMZN, INTC, GOOG, ACOM, TMO
Disclaimer: The opinions in this document are for informational and educational purposes only and should not be construed as a recommendation to buy or sell the stocks mentioned or to solicit transactions or clients. Past performance of the companies discussed may not continue and the companies may not achieve the earnings growth as predicted. The information in this document is believed to be accurate, but under no circumstances should a person act upon the information contained within. I do not recommend that anyone act upon any investment information without first consulting an investment professional as to the suitability of such investments for his or her specific situation.