In this article, we will provide you with financial fundamental analysis of discount retail companies on U.S. stock exchanges. For each company, we have provided price targets, buy/sell/hold ratings, buy/sell ranges and theses. Additionally, using a multitude of financial analytical ratios and comparisons, we have given each company a score on growth, profitability, financial health, value and management indices to compare each company and see where companies excel and where they have weaknesses. We have featured six of the 12 companies in the full report, which can be seen here.
We have initiated coverage on the following companies:
Click to enlarge

Companies:
Big Lots (NYSE:BIG) - Initiated at Hold, PT of $46
Analysis -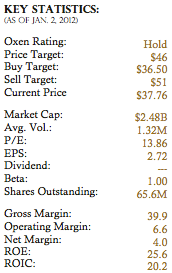 Big Lots is a company that we have been up and down on throughout the past year and a half. The company did well during the Recession, upping its corporate real estate in new markets with higher levels of income and better credit ratings.
The company, however, has struggled since its last quarter, as it was a disappointing one for the company. The company called its latest quarter a "transitional" one. The company saw some sliding margins in the quarter, and while they have done well since the recession, it may have been at the price of margins.
The company seems a bit uncertain right now, and we are unsure right now if the company can maintain growth. Additionally, we are fearful that the company may continue to see its margins dropping. The smaller profits hurt.
The company, additionally, scores low on our financial health scores as a lot of their financial health ratios are doing poorly. The company's FCF margins are dropping, its acid-test ratio has dropped over the past year and five years. The company needs to improve its financial health in our opinion as they are becoming more risky as well.
We believe that Big Lots' spot in the sun has probably faded, and too much uncertainty remains right now.
Costco (NASDAQ:COST) - Initiated at Hold, PT of $94
Analysis: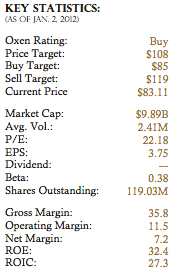 Dollar Tree is currently a solid Buy as the company has a lot of growth potential and also maintains strong margins that are the best in the dollar store industry. They are a bit overvalued at this time with its value, but we look for them to maintain some very strong valuations in 2012.
The company is going to have some difficulty in maintaining these levels of profitability, and we have priced into our model some declining levels of profitability. The company does not have a strong economic moat and great financial health.
Dollar Tree is more overvalued than many of its other competitors in its P/E, which is attributable to its higher margins. Yet, if those decline we could see that level come down. We think this will be counteracted, though, with continually rising growth that should stay around 10% in 2012. That type of growth is very strong, and it allows DLTR to maintain higher P/Es.
Financial health is also very positive for DLTR. The company has made some great improvements in the past few years. The company's quick ratio has improved by over 300% in the past five years while net debt has dropped by almost 300% in the past five years.
Dollar Tree can still be bought, and we believe even with a weakening profitability level, the company has upside in 2012.
Target (NYSE:TGT) - Initiated at Hold, PT of $62
Analysis: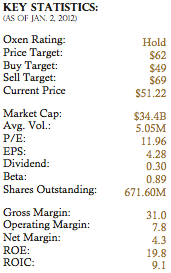 Target is looking like a Hold in 2012 with the ability to be bought on weakness. The company has made some strong steps in the right direction in 2011 that do give them some upside but it's not strong enough for us to want to be a buyer right now.
On the plus side, Target has a good dividend at 2.3% yield that is stable. The company has introduced the P-Fresh remodeling plan to offer more fresh fruits and vegetables. This attracts its audience and locks back into its prime target, but it also does mean lower margins. The company also introduced the REDcard Rewards program that should help boost online sales.
The major development that helps is its foreign market introduction in Canada. The company is planning 150 stores in Canada. This move is the first foreign expansion for Target, which does allow them to see more growth in the future.
At the same time, though, the company faces stiff competition from other discount stores and Target continues to depend on style in its fashion lineup that may lose popularity. They are also searching for a higher end customer than some of their competitors, which can still be tough in a post-recession environment.
A successful move into Canada in 2012 could mean more global expansion, which would push us to possibly rate Target a Buy.
Wal-Mart (NYSE:WMT) - Initiated at Buy, PT of $76
Analysis: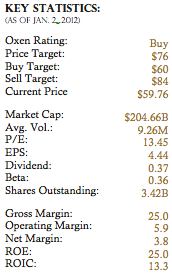 Wal-Mart is our top pick for discount stores for 2012. The company looks set to do battle to retake the top spot in the lower income household with a number of smart moves that should prove beneficial. For one, we believe WMT has a lot of value right now. They operate at 1.7:1 ratio of revenue to enterprise value, which is one of the highest ratios in the industry. Further, they have a cheap P/E considering margins are not far off from other companies in the industry with much higher valuations.
The company is obviously growing at a smaller rate than the competition, but that is an issue of size rather than growth. They are doing great in international business and are breaking well into the Brazilian market with 80 new stores planned.
The company has introduced layaway and lower prices to get back their customers, which may hurt margins in the short-term, but help them grow their customer base in the long-term. The company is also looking at smaller stores to battle the massive quality of their stores that does not benefit them for the quick shopper or person on the go.
We believe that 2012 is going to be a successful year as the company will continue to expand globally and has the ability to see a lot of growth with new smaller store concepts, eCommerce, and some of the initiatives already mentioned.
Analysis of these companies and more on PriceSmart (NASDAQ:PSMT), 99 Cents Stores (NYSE:NDN), Wal-Mart de Mexico (OTCQX:WMMVY), Fred's (NASDAQ:FRED) and Gordmans (NASDAQ:GMAN) can be seen at theoxengroup.com.
Disclosure: I have no positions in any stocks mentioned, but may initiate a long position in WMT, DLTR, DG over the next 72 hours.