Many years ago while reading the Berkshire Hathaway (NYSE:BRK.A) 1986 Letter to Shareholders, I discovered Mr. Buffett's ratio, which he calls "Owner Earnings." To my amazement, in that little footnote, Buffett actually explained how to use it. It basically states that it is one of the key ratios that he and Charlie Munger use in analyzing stocks.
Since first stumbling across owner earnings some 20+ years ago, I have made it my life's work to master it, backtest it and attempt to improve upon it (FROIC and CapFlow). To the left of this article you will find my 60-year backtest on price to owner earnings, just to give you one example of the amount of work I have put into what I consider the ultimate ratio for those looking to outperform. By analyzing his current portfolio, as of his latest SEC portfolio disclosure filing, I hope to show that Mr. Buffett is still a big fan of owner earnings, based on his stock selection. (Read my introduction to this analysis here.)
Here is his most current non-financial portfolio, arranged by largest to smallest holdings: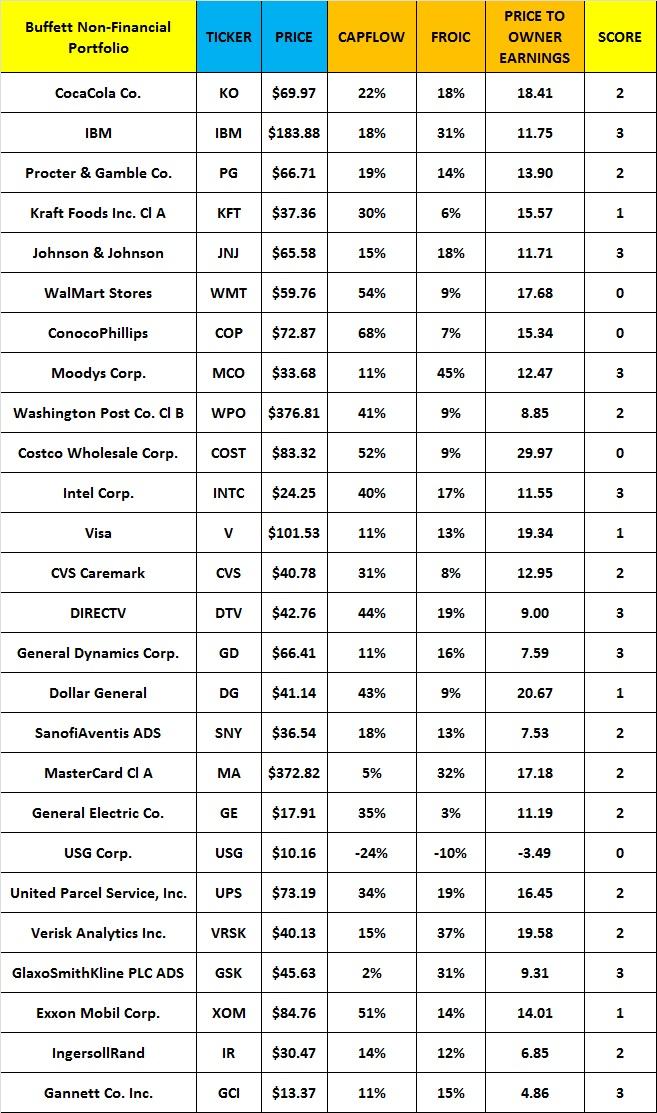 What first catches your eye about this list is that his newest holdings, International Business Machines (NYSE:IBM) and Intel (NASDAQ:INTC), both score a 3. IBM, for example, has a CapFlow of just 18% and a FROIC of 31%, which tells me that it is an owner earnings superstar. That it is still selling for less than 12 times its 2012 estimated owners earnings is something amazing to see. I have not re-bought it yet for my clients, as I am waiting to see how the new CEO does, as I am also a qualitative analyst and use the methods of Philip A. Fisher religiously when picking stocks for my clients.
For Buffett, after 50 years of never having a good word to say about tech stocks, to suddenly be backing up the truck on them is something unbelievable for Buffett followers to see, and they must all be scratching their heads. Intel has great numbers, but I don't see how Buffett suddenly had a light bulb go off and that he finally now understands tech investing. I am sure he has had many long discussions with Bill Gates, and he must have gotten educated over the years. But in reality I am sure Buffett has been pulling our leg all these years saying he knows nothing about tech investing. I don't believe that there is an area of investing that the greatest investor in history is not an expert in.
He says that he did not buy Microsoft (NASDAQ:MSFT) because of his friendship with Gates, and it's a shame, because Microsoft is the Rodney Dangerfield of tech stocks -- it cannot get any respect at all. The company has grown book value, for example, from 1986 (when it went public) to 2011 at about a 25%+ average annualized clip. A purchase of Microsoft by Buffett would have done wonders for the share price.
I would imagine that Munger is probably behind the purchases of Mastercard (NYSE:MA) and Visa (NYSE:V), as they are pure owner earning cash machines. They have an amazing business model as all they basically do is transaction processing and between the two of them are a global duopoly. They basically get a cut of most of the credit and debit card transactions that occur globally. Their CapFlow numbers basically tell us that their major capital expenditures are just allocated to computer servers and mainframes to process the transactions and that's it. They, in the end, are amazing toll bridges for Buffett.
It would take me far longer to discuss all the companies in the portfolio, so I will wait and answer any questions in the comment section.
Disclaimer: Always remember that these are the results of our research based on the methodology that I have outlined above and in other articles previously published. This research is provided as an educational tool and should not be considered investment advice, but just the results of our research. There are many ways to analyze a stock and you should never blindly follow anyone's work without doing your own due diligence or by seeking the help of an investment advisor, if you so need one. As Registered Investment Advisors, we see it as our responsibility to advise the following: We take our research seriously, we do our best to get it right, and we "eat our own cooking," but we could be wrong. Please note, investments involve risk and unless otherwise stated, are not guaranteed. Past performance cannot be used as an indicator to determine future results. Strategies mentioned may not be suitable for everyone. We do not know your personal financial situation, so the information contained in this communiqué represents the opinions of Peter "Mycroft" Psaras, and should not be construed as personalized investment advice. Information expressed does not take into account your specific situation or objectives, and is not intended as recommendations appropriate for you. Before acting on any information mentioned, it is recommended to seek advice from a qualified tax or investment adviser to determine whether it is suitable for your specific situation.
Disclosure: I am long KO, JNJ, UPS.