As families and friends gather together for the holidays, the topics of conversation can vary widely from politics, current news events, and the most often discussed, investing. For those well informed investors who spend their time performing all the necessary due diligence, this time of year can be challenging. For these investors, myself included, are cornered at dinner parties and social events and been asked to reveal some of their best trading ideas for the New Year. Being that these seekers of info usually are friends and family members, the desire to help them is there, but there is always lots of risk in doing so. It's an age old problem, and one that I find myself in again this year as I am asked to give out a pick or two. Although this year is a bit different in that my inquisitor had a very special request dealing with my picks.
The individual knew I was interested in speculative biotech stocks, and that is where he wanted to invest some of his bonus money for the year. I told him that these types of stock carry an enormous amount of risk, and you can lose a substantial amount of money. Instead I presented a riskier income idea in the form of American Capital Agency Corp (NASDAQ:AGNC), where he could invest his money into an mReit that is yielding close to 20%. I proceeded to introduce the concepts of how AGNC invests in agency pass-through securities and collateralized mortgage obligations. I continued on and stated how the company funds its investments primarily through short-term borrowings while employing different types of leverage and hedging strategies. After a while, my inquisitor stopped me with that glassy look in his eye and reigned me back in to his original question. Obviously the mReit concept was just too complex for his liking. That is when he looked me straight in the eye and stated,
"This money needs to get rich or die trying."
At that point there was little else I could do. Speculative biotech was what he wanted, and I would have to pick companies that are risking it all on make or break products and technology. They needed to be companies with potential to make huge gains. Also this comes with the understanding that 100% losses on the original investment was a very real possibility. With that I presented the individual with 2 potential companies that fit that bill.
Keryx (NASDAQ:KERX)
KERX was one of my first choices to present to him. This company should fit the bill as it does have a very limited number or products in its pipeline. This very characteristic is what would be needed to drive up the stock price if the company is proved to be successful in its cause. For KERX that major catalyst is the drug Perifosine, which is an oral anti-cancer drug used to treat advanced colorectal cancer. It should also be stated that it is undergoing tests to see if it can treat a variety of other cancers as well. I went on to explain that KERX has the rights to the drug from a commercial license agreement in 2002 with Zentaris AG, which is a wholly owned subsidiary of AEterna Zentaris (NASDAQ:AEZS). If trials are successful, KERX will promote the drug in North America.
I could tell that this pick was more in line with what was expected by my friend. Next I was asked as to why not just pick AEZS as they seem to have the rest of the world, while KERX is isolated to North America. My answer was that KERX has only 2 products in its pipeline, and Perifosine will have the greatest impact by far. The other product is Zerenex, which treats end-stage renal disease but will not have as big an affect as Perifosine will on the stock price. North American sales figures for Perifosine could be huge, and may drive the stock price much higher. AEZS, on the other hand, has many more products in their pipeline. A successful launch of Perifosine will definitely do well for the company, but I feel that KERX will get the bigger pop in stock price if the drug passes FDA testing. Also AEZS has entered agreements with several other companies for the drug, so they will not get all the proceeds from the sales if approved. Currently the company has agreements with Yakult Honsha (OTC:YKLTF) for Japan, Handok for Korea, and Hikma Pharmaceuticals for Middle East and North Africa.
Focusing on KERX, I noted that the trial was a bit different than others in how the timing of clinical results will be presented. There is no distinct date that the data will be ready for the investors. In the case of Perifosine the clinical trial will end after there are 360 deaths, and that is expected sometime in the first quarter of the year. With this uncertainty comes stock price volatility, and that makes for big swings in the price per share while we wait.
Needless to say, my friend wrote the ticker as one of his potential choices but then turned to me as ask for a price target. Now forming a price target of where a stock is going to be is tough and very subjective. Make it a biotech stock and the sky is the limit depending upon lots of known and unknown factors. One can throw any dollar figure out there and justify it with a variety of subjective analysis, but in the end it is still just a guess. All I could say was that I have seen the $18 figure presented, and I felt that this number would be attainable if the drug was a success. The stock trades around $2.50 a share so a rise to $18 should make most any investor happy. Happy with the first pick, he asked for another.
At this point I felt that I should err on the side of caution and point out some of the recently failed biotechs. As a result, I pulled up the following charts on some of the recent disasters within the sector. I started with BioSante Pharmaceutical (BPAX) who recently imploded with the failure of their drug, LibiGel. Needless to say a drop from $2.50 to $0.50 a share should be enough to open anyone's eyes to the risks and dangers of this type of investing.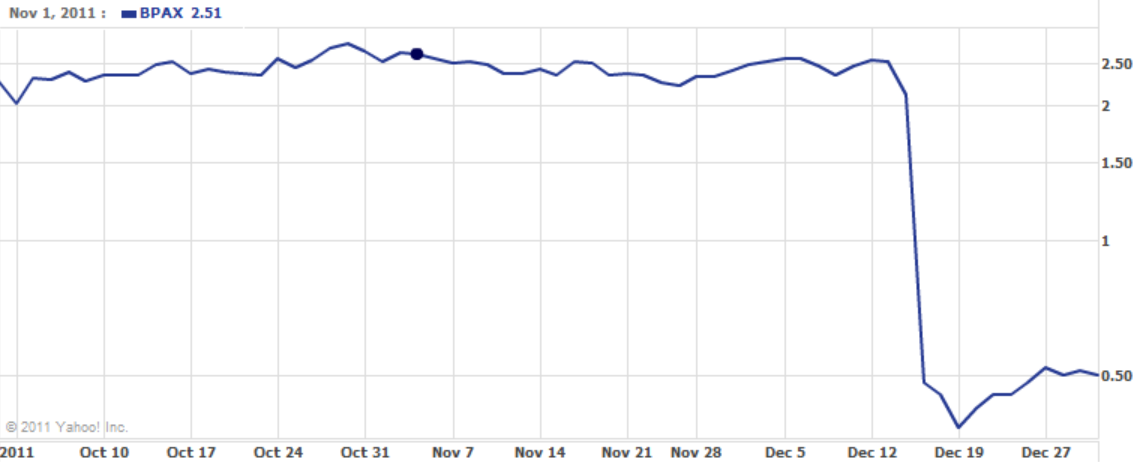 For a different spin in the sector I produced a chart of Dendreon (NASDAQ:DNDN).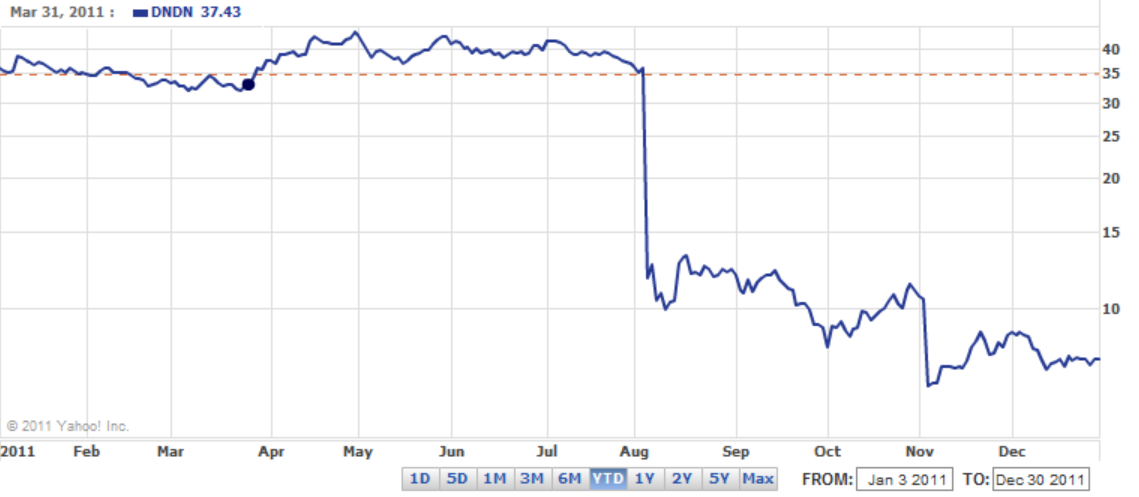 The company also has been a disaster for investor, but for some different reasons. Unlike BPAX, Dendreon got their drug Provenge past the FDA trials and all the way commercialization. The stock traded well over $50 a share in 2010 as the company seemed to be hitting on all cylinders. DNDN looked like a major win for the speculative biotech sector and a poster child for all the other companies looking to follow in their footsteps. Then in August of 2011 DNDN stated that it would not reach the expected $400 million in projected sales, and growth would be tepid at best for the company. As they pulled their guidance the share price tumbled, and the once mighty DNDN was laid low along with all of the shell shocked investors. With these perfect examples of caveat emptor I laid down my last card for the request to get rich or die trying.
Advanced Cell Technology (ACTC.OB)
With his continued insistence on providing another name, I pulled out all the stops and went to the company that had the most potential as well as risk. That company is Advanced Cell Technology. Not wanting to sugar coat this stock, I first presented him with all the risks and possible dangers.
Advanced Cell Technology is a biotechnology company which is focuses on the development and commercialization of stem cell technology in the field of regenerative medicine. Within the company's products, one will find the first risk in that stem cells are a new untried technology. Of course one must also mention that the usage of stem cells often has a negative connotation across lots of political and religious landscapes. Finally, we find ACTC facing even more stock dilution in response to past financial dealings. Recently ACTC entered into settlement agreements with 40 holders of certain warrants and debentures. According to the agreements, ACTC will issue approximately 240.5 million new shares to this group of holders in exchange for a mutual two-way release of any current and/or future claims. In order to meet these terms of the settlement agreements, ACTC also filed a preliminary proxy to increase the authorized shares of the company.
That is lots of risk, and at first glance it would deter any investor from spending a dime on this company. For those willing to look deeper into the positive aspects of the company, they will see the outsized possibilities that exist. ACTC has a phase 1/2 clinical trials for Stargardt's macular dystrophy and dry age-related macular degeneration being conducted in the U.S., as well as clearance to begin in Europe. The interesting thing is after only two dosing the clinical results should be published in a top peer-reviewed medical journal, which is a very interesting turn of events for only two patients. Next I presented the fact that the company, in their most recent conference call, stated that they are talking with three groups of Chinese partners. These partners may get an equity participation in the future sale of these stem cells in China, in exchange for the funding of the current trial. Finally, ACTC has patents filed across India, China, U.S., and Europe for the protection of their technology. Add to this, one must also consider the collaborative agreement with Roslin Cells LTD of Scotland, where both companies will establish a bank of Good Manufacturing Practice grade human embryonic stem cell (hESC) lines for future use and sales.
Seeing that most of this was a bit much to take in, I boiled it down for him to easily understand. ACTC is in the beginning stages of setting up their global network with patents, agreements, and potential joint ventures. Waiting in the wings are other unfunded stem cell therapies for chronic heart failure, advanced cardiac disease, and cardiovascular disease. The key for ACTC is the macular degeneration trials. If they are as successful as the company has suggested, then the ACTC will fulfill an unmet medical need in a market worth over $30 billion in the U.S. Add the rest of the world and that number is much larger. Now take these new cash flows and apply them to the unfunded studies above and you have the makings of a monster. If the macular degeneration trials were to fail, then the company and the stock price will come crashing down like a house of cards. ACTC truly represents the get rich or die trying philosophy.
In conclusion, as the festivities ended I noticed that my inquisitor had written down all the tickers, including AGNC. As to which were ever purchases I do not know. The philosophy of getting rich or die trying really does not lend itself to the investing world. It is actually more likely to fall on the gambling side of the equation. The question as to if either KERX or ACTC will ever get anyone truly rich will only be answered by the passage to time. As the investing world enters 2012, the picture is about to get much clearer for these companies.
Disclosure: I am long KERX, ACTC.OB.