Due to a potential end to favorable dividend tax treatments, I suggested 2010 would be the year of the "special dividend." Indeed, 2010 brought a flurry of "special dividends", rewarding patient investors with a bonanza. Companies rushed to hand out cash to shareholders before the tax expiration. In the end, Congress renewed the low dividend rate: But happy investors also got to keep their "special dividends."
Now, the same tax scenario is playing out. At the end of 2012, the 15% taxable dividend rate will be replaced by a more onerous one: Dividends will taxed as ordinary income for those making more than about $70,000 (precise cut-offs not yet decided). Taxes could be as high as 39.6% for the highest earners.
The tax change should fuel another outpouring of "special dividends" near the end of 2012.
Which stocks are likely to reward us? Why, the same companies that sent out large checks when faced in the identical situation in 2010. It worked for them then; it makes sense they'll do it again. Their boards should pass them out again. The same mechanics at work: large insider holdings, key executives with big stock positions, and lots of excess corporate cash.
Below, you'll find 7 companies that gave "special dividends" in 2010: Armstrong World (NYSE:AWI), Buckle (NYSE:BKE), Limited Brands (LTD), MTOX Scientific (NASDAQ:MTOX), Stamps.com (NASDAQ:STMP), Werner Enterprises (NASDAQ:WERN), and Wynn Resorts (NASDAQ:WYNN). Notice the high insider ownership. I suggest (after doing due diligence) tag along with the insiders. I'm guessing the corporate boards are thinking: Why not get a bonus dividend taxed this year at 15% rather than wait for 2013 and get dinged for 39%?
Could these 7 do a repeat this year? What's your opinion?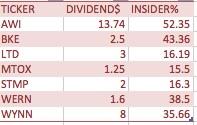 Disclosure: I am long BKE.