If Europe has seen the worst of the debt crisis as discussed here, the time is now to start buying into distressed European stocks. One speculative European bank worth betting on is Bank Of Ireland (NYSE:IRE).
A five year chart of IRE is shown below.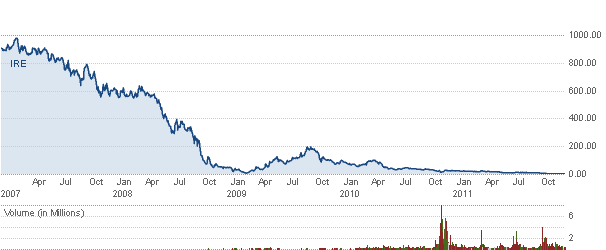 (cnbc)
Shares of IRE have been killed as the Irish Banking Crisis forced the Irish government to bail out most of the Irish banks including IRE. However, IRE was one of the few to survive the crisis without complete nationalization. While IRE does not trade at zero, the market gives IRE very little respect. IRE closed 2011 near a new 52 week low at 4.24. This end of year weakness compares with end of year strength seen in stock and bond market across Europe.
Irish 10 year Government Bond yields 2011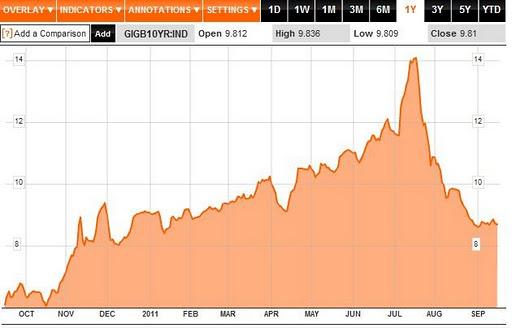 (Bloomberg)
Yields for Irish bonds have plummeted from their highs seen in mid 2011. This is a good sign for the Irish economy, and IRE.
Irish Stock Market 2011 (ISEQ Index)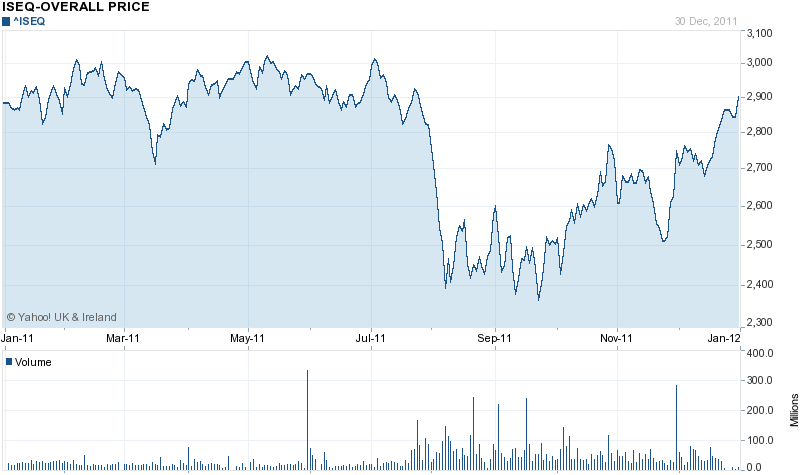 (Yahoo)
The Irish stock market was actually among the strongest in Europe throughout 2011. The Irish market was actually able to finish in positive territory while most other European indexes got crushed. This chart shows that Ireland may be a real turnaround story in Europe.
Private Investment
In July, IRE announced that it had sold a $1.1 billion rights issue to private investors. The government stake in IRE has now fallen to 15.1%. Major investors in the rights issue include Wilbur Ross's company WL Ross & Co, Fidelity Investments, The Capital Group, Kennedy Wilson, and Canada's Fairfax Financial Holdings. These investors are among the smartest on Wall Street, and they would not be buying shares of IRE if they felt the company was about to spiral out of control. The market has not rallied at all on news of the private rights issue. Since the deal was announced in July, shares of IRE have fallen 66%. (See chart below.)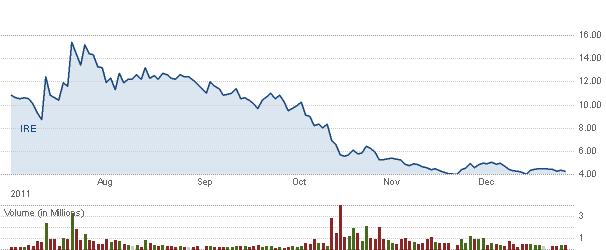 (cnbc)
Conclusion
If Ireland as a whole is turning for the better, then things for IRE must also be turning for the better. IRE shares do not reflect the optimism that the Irish bond and stock markets do. IRE shares also do not reflect the major positive that is the private investment in July. For these reasons, IRE has major upside if things in Europe continue to improve.
Disclosure: I have no positions in any stocks mentioned, and no plans to initiate any positions within the next 72 hours.