As a competitive space, media all of a sudden ranges wide. If you're not "new," "social" or hip and innovative in some meaningful way, you're about to be boxed out. That said, it's not all about being the object of desire for cool hunters everywhere, success depends on a sustainable business model with multiple and/or diverse revenue streams.
If, like me, you tend toward assessing qualitative aspects of a company's business alongside quantitative ones, you should probably look at media stocks. There's not a market sector that offers more compelling strategic situations.
All of the companies in this article helped blow up the definition of the word "media" in one way or another, but only a few warrant consideration as investments.
Avoid
Zynga (NASDAQ:ZNGA): If Apple (NASDAQ:AAPL) calls the shots and holds telcos like AT&T (NYSE:T) and Sprint (NYSE:S) hostage, Zynga has a similar relationship with Facebook. You want the iPhone? Great, subsidize the living heck out of it to the tune of billions of dollars a year and, while you're at it, build the infrastructure that users require to spend endless hours consuming data on our gadgets.
Granted, it's a two-way street, but Facebook clearly has the upper hand. First off, Zynga generates practically all of its revenue thanks to its relationship with Facebook. Without Facebook, there's no Zynga. At least under Zynga's current business model.
Consider the numbers and language from Zynga's most recent S-1 filing.
Click images to enlarge


I know that's a lot to read, but, believe me, it's worth your time. That last paragraph, for all intents and purposes, says Facebook could put us out of business, because it wants to or unintentionally, at any moment.
What I do not see in Zynga's S-1, the purpose of which is to give you all the information you need to make an informed decision about investing in the company, is how it plans to diversify its business away from Facebook. To Zynga's credit, it's done an excellent job ramping up its advertising revenue alongside its core online game stream, but, bottom line, it could all go away overnight.

I'm not willing to take a chance on Zynga until I see that the company has something resembling a plan B. If Facebook ceases to be cool tomorrow - and there's a pretty good chance of the Facebook fad coming to an end - it takes Zynga down along with it. I smell rich executives and private investors; retail investors left holding the bag.
Consider
Activision Blizzard (NASDAQ:ATVI): Interestingly, the ideal alternative to Zynga gets unfairly branded as having missed the mobile/social/new media boat. Fellow Seeking Alpha contributor John Miller summed the situation up nicely in a recent article, Activision's Careful Social Strategy:

If you not only dig, but think deeper, as Miller did, you realize that, in terms of being "social," Activision actually has Zynga beat: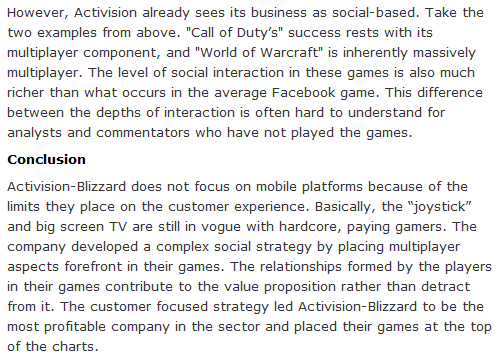 Avoid
Netflix (NASDAQ:NFLX): The smoke and mirrors continue at Netflix. CEO Reed Hastings traded a $1 billion fourth quarter for 2 billion fourth quarter streaming hours. And my next-door neighbor puts two Netflix DVDs in the outgoing mail four times a week. So what's the point?
Maybe Netflix will shock the living snot out of us and report a record fourth quarter and profits for all of 2012, but I take this focus on streaming hours as a yellow, if not, red flag.
As Netflix's numbers flounder, Hastings wants to take your eye off of the ball. Don't pay attention to the looming losses, lack of subscriber growth and ill-advised international expansion, we made some mistakes over the summer and they'll soon be forgotten. These things have nothing to do with endemic problems with our business model that people were howling about back in April.
Instead, he wants to sell you on the notion that Netflix will come back stronger because (A) streaming is the future (and just look at all of those hours!) and (B) we're going to be just like HBO (in fact, we already are, even though we're really not).
That, of course, is the thinking behind the not-so-recent, essentially re-released news that could even turn me into a NFLX bull -- E Street Band member Little Steven Van Zandt stars in a Netflix original series. It's just in time for the tour. As I stand in the front row with Springsteen sweating on me, as I strum his guitar during that climactic portion of Born To Run, he'll probably give Netflix some free promotion during the band introductions. How ironic.
But even the power, the glory, the ministry of rock-n-roll and the E Street Band cannot save Netflix. Clearly, they're going for a Sopranos with Lillyhammer. As much as I want to see Van Zandt succeed, I just don't see Netflix building the type of franchise HBO built over decades in what will be have to be a year or two.
Consider
Google (NASDAQ:GOOG): If any company has the chance to rival HBO, or, at least, less-premium cable networks, it's Google. Will the stock hit $1,000 in 2012? I have no answer because I dislike those types of arguments, but you're certainly not destined for Bellevue if you think it is.
Consider the flexibility Google has that Netflix does not. The company just spent $100 million to fund content creators, who will develop original programming for YouTube. One of the companies that received some of the loot is Demand Media (DMD). Demand will produce three different channels for YouTube. I talk to the people at Demand frequently. I can tell you, first hand, Google is doing this right. They are serious about this. And it's only the tip of the iceberg.
Who do you want to put your money on in a battle to become the online equivalent of pay-TV? The answer's clear.
I would be remiss if I did not mention one other note. I tend to blather on about the importance of multiple, diverse revenue streams, yet I am bullish on Google, a company that generates virtually all of its revenue from advertising.
Click image to enlarge

In Google's case, you must consider the context. Not only is Google dominant in its space, but that revenue stream, picked apart, is nicely diversified. Read through pages 28-30 of the company's latest quarterly report to see for yourself.
Consider
Amazon.com (NASDAQ:AMZN): For whatever reason, most people want to take the easy route and put Amazon into competition with Apple. If they don't do that, they think Amazon needs to buy Netflix to inherit billions of dollars worth of streaming content obligations they could just secure themselves or buy Research In Motion (RIMM) to assume control of a broken brand. These are all things lesser companies, like Yahoo (YHOO), might do.
But, not Amazon. Doing any of the above would represent Jeff Bezos doing something he has never done as CEO of Amazon - that's take his eye off of the ball. Fellow Seeking Alpha contributor Rufus D painted the picture quite nicely as he argued against the notion that Kindle Fire is a failure: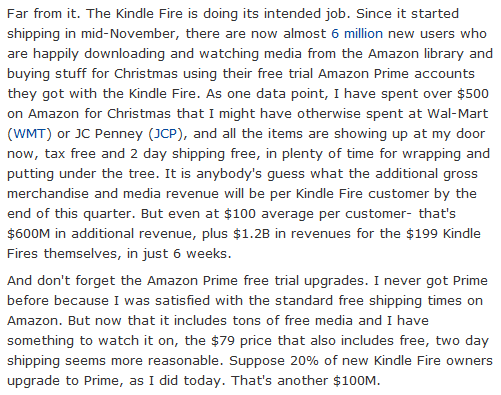 Add me to the list of new Prime subscribers thanks to a Kindle Fire purchase. I had no idea Amazon "gave" me a free month of Prime with my Kindle Fire purchase, but I have absolutely no intention of canceling. The Kindle Lending Library pushed me over the edge.
I get annoyed by the cliche that this or that is a "different" kind of something, but it really applies here. Amazon truly is a different kind of media company. But the true beauty of Amazon is that it's so much more than this difficult-to-define new media/e-commerce hybrid.
Dig deeper into Zynga's above-linked risk factors. It uses Amazon Web Services to host about half of its game traffic. Netflix uses AWS as well. AWS represents a $1 billion revenue stream, and growing rapidly, for a company that eats $1 billion revenue streams for breakfast.
How to Play It
I was once long ATVI. It frustrated me one too many times so I bailed. Both GOOG and AMZN are relatively high-priced, volatile stocks. At these levels, I would wait for a pullback to buy into either with a lump sum. That said, if you are a relatively small investor, throwing a bit of money each month into a basket that includes ATVI, GOOG and AMZN could represent a pretty solid, long-term dollar-cost-averaging strategy, particularly if dividends ever become a meaningful part of the picture.
Disclosure: I am long AAPL.
Additional disclosure: I am long NFLX June $40 put options.