Micro-cap biotech stocks are generally considered very speculative and a risky investment, in contrast to large-cap and some mid-cap biotech companies that have well established commercialized product portfolios that generate revenue, and maybe even profitability. We believe it is significant when legendary or guru fund managers invest even a small portion of their portfolio in these micro-cap biotech companies, thereby giving their seal of approval in what is otherwise considered a very risky investment. These guru fund managers, such as Warren Buffett, George Soros, Carl Icahn, Steven Cohen and Mario Gabelli, are well-known for their savvy in picking winning stocks year after year, and generally, their investment horizon and holding periods stretche into many quarters and years, sometimes even decades.
In this article, we examine based on our research of their latest available Q3 institutional 13-F filings the micro-cap biotech companies that they are most bullish about. Due to size of the sector (over 300 biotech companies), investor interest and the differing characteristics of the constituent companies, we have broken the sector by capitalization, and in separate articles we have and will address other capitalization ranges (i.e., small cap, mid cap and large cap).
Taken together, these guru managers are neutral on the micro-cap biotech group, adding a minor $1 million in Q3 to their $144 million prior-quarter holdings in the group, and they are also severely under-weight the group by a factor of 0.4, which is understandable as many of these companies are typically below the radar screen of institutional investors (for more general information on these guru funds, please look at the end of the article).
The following are the micro-cap biotech companies that these mega fund managers are most bullish about (see Table):
Raptor Pharmaceutical (NASDAQ:RPTP): RPTP develops medicines that improve the life of patients with severe, rare diseases. It has products in development that target rare diseases such Nephropathic Cystinosis, Huntington's, non-alcoholic steatohepatitis (NASH), and aldehyde dehydrogenase (ALDH2) deficiency. Guru funds together added a net $22 million in Q3 to their $2 million prior quarter position in the company, and taken together guru funds hold 8.1% of the outstanding shares, far greater than their 0.9% weighting in the group. This is significant, as in our earlier review of the holdings of the largest fund managers, or mega funds, we noted that these managers as a group too were bullish on RPTP, adding a net $9 million in Q3 to their $18 million prior-quarter position in the company.
The top guru fund buyer was Columbia Wanger Asset Management that added a new $23 million position in Q3. RPTP shares were up strongly in Q3 and up by over 75% last year, and currently trade within striking distance of its all-time highs. The company recently completed a pre-NDA meeting with the FDA related to its lead product RP103 (DR Cysteamine) that successfully completed its phase 3 pivotal trial for Nephropathic Cystinosis, a rare genetic disorder that may affect as many as 500 in the U.S. and about 2,000 worldwide. The company is scheduled to file its NDA for RP103 in Q1.
Endocyte Inc. (NASDAQ:ECYT): ECYT develops targeted therapies using small molecule drug conjugates for the treatment of cancer and inflammatory diseases. Guru funds together added a new $2 million position in Q3, with the buyers being RS Investment Management ($1.5 million) and Soros Fund Management ($0.3 million). Also, we reported earlier in our daily and weekly review of insider and institutional transactions, that on December 27, Boston-based biotech-focused hedge fund RA Capital Management added 2.2 million shares to its 0.4 million share position at the end of Q3, and in the week prior to that we reported that another biotech-focused institutional investor, CA-based venture capital firm Sanderling Venture Partners, added 0.44 million shares to its prior 4.1 million shares position at the end of Q3.
ECYT shares are among December's strongest movers to the downside (down by two-thirds so far), after the company announced on December 13, the results of supplemental analyses of its phase 2b PRECEDENT trial. The buying by guru funds in Q3 and the heavy sector-focused institutional buying following the end of Q3 is particularly notable in this context as it signifies that knowledgeable insiders and institutions through their buying of company shares seem to think that the selling is overdone here, portending that we may be near a bottom.
Biosante Pharmaceuticals (BPAX): BPAX develops products for female sexual health and oncology. Its lead products include Libigel for the treatment of female sexual dysfunction, and Elestrin for the treatment of moderate-to-sever vasomotor symptoms associated with menopause. Guru funds added a new $1 million in Q3, the buyers being Balyasny Asset Management ($0.3 million), Driehaus Capital Management ($0.3 million) and Soros Fund Management ($0.2 million). BPAX plunged mid-month last December, falling over 80%, after the company reported that its Libigel drug failed to achieve its primary endpoints during phase 3 trials. It appears that the small positions initiated by guru funds were most likely to try to capitalize on a positive trial result for Libigel, and that their bullishness may not extend to Q4 given the negative results. We wrote recently about our opinion on BPAX following the release of the phase 3 results here.
Geron Corp. (NASDAQ:GERN): GERN is a developer of first-in-class therapies for the treatment of cancer. The company is currently advancing a telomerase inhibitor and a peptide drug conjugate to penetrate the blood-brain barrier through multiple Phase 2 clinical trials in different indications. Guru funds added a net $1 million in Q3 to their prior $3 million position in GERN, with the buyer being First Eagle Investment Management that added $0.6 million to its $3.4 million prior quarter position. GERN shares have been extremely weak recently, down over two-thirds last year, and the company recently announced that it was discontinuing further development of its stem-cell programs and was eliminating 38% of its work force as it restructures its business to focus on its two cancer-drug candidates.
Zogenix Inc. (NASDAQ:ZGNX): ZGNX is a five-year old San Diego-based biotech company engaged in the development and commercialization of therapeutics to treat central nervous system (CNS) disorders and pain. Its only commercial product is SUMAVEL DosePro™ system that offers needle-free subcutaneous administration of sumatriptan for acute treatment of migraine and cluster headache. Guru funds together added a net $1 million in Q3 to their $3 million prior-quarter position in the company, with the major buyer being Royce & Associates ($1.3 million). Its shares have been weak recently, down almost 60% in 2011, mostly due to a massive secondary offering in September that almost doubled the share count. We wrote about our bullishness on ZGNX in mid-September when the stock traded slightly below $2, based on the blockbuster potential of its pain-killing drug Zohydro.
Horizon Pharma Inc. (NASDAQ:HZNP): HZNP develops therapeutics for the treatment of arthritis, pain and inflammatory diseases. Guru funds together added a new $6 million in Q3, with Columbia Wanger Asset Management being the only buyer. HZNP shares have been cut in half (and more) from its $9 IPO price in July last year, closing at $4.00 at the end of 2011. However, analysts are extremely bullish on the company with a mean price target of $14, and of the three analysts who cover the company, two rate it strong buy and one a buy. The company recently submitted a NDA for LODOTRA, a proprietary modified delayed-release formulation of prednisone, for the treatment of rheumatoid arthritis in adults, and received a PDUFA date of July 26, 2012.
Targacept Inc. (TRGT): TRGT is a development-stage biotech that discovers and develops NNR Therapeutics, a new class of drugs for the treatment of CNS diseases and disorders. Guru funds together added a net $2 million in Q3 to their $2 million prior-quarter position in the company. The top guru fund buyer was Balyasny Asset Management ($3.2 million). Its shares took a severe beating last year, down by almost 80%, as first its first of four RENAISSANCE phase 3 trials of TC-5214 as an adjunct treatment in patients with major depressive disorder failed to meet primary endpoints, and then in mid-December it released results from the second phase 3 RENAISSANCE trials that also did not meet its primary endpoints.
(Click chart to expand)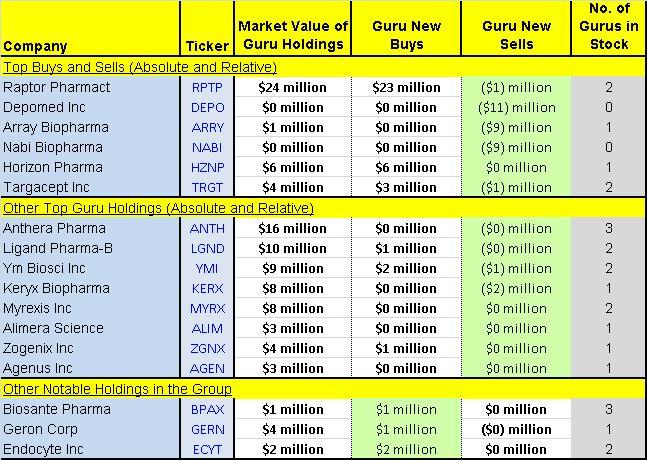 Note to Table: The companies selected to be included in both the Top Buys and Sells and Top Holdings categories in the Table were picked on both an absolute basis, i.e. the highest dollar amounts of buys and/or sells, as well as those amounts relative to their market-cap. That way, the list is not biased toward the largest companies in the group.
Disclosure: I have no positions in any stocks mentioned, and no plans to initiate any positions within the next 72 hours.
Disclaimer: Material presented here is for informational purposes only. Nothing in this article should be taken as a solicitation to purchase or sell securities. Before buying or selling any stock you should do your own research and reach your own conclusion. Further, these are our 'opinions' and we may be wrong. We may have positions in securities mentioned in this article. You should take this into consideration before acting on any advice given in this article. If this makes you uncomfortable, then do not listen to our thoughts and opinions. The contents of this article do not take into consideration your individual investment objectives so consult with your own financial adviser before making an investment decision. Investing includes certain risks including loss of principal.