I have been on Lululemon's (NASDAQ:LULU) case for a while, and for good reason. The stock is overpriced compared to what the company reasonably seems to be able to accomplish going forward. Starting right off the bat, Lululemon is a specialized apparel company that is currently valued at $6.75 billion. The company has an expected growth rate of over 28% annually for the next five years and sports a PE of over 41. All of these numbers may not mean much until they are broken down to show exactly what they would imply, and perhaps why insiders are selling so heavily.
The Numbers Broken Down
Assuming that the valuation of the company grew at the expect 28% per year for the next five years the breakdown of the valuation would look like this:
| | | | | | |
| --- | --- | --- | --- | --- | --- |
| Year | 2012 | 2013 | 2014 | 2015 | 2016 |
| Valuation (in billions) | 8.64 | 11.06 | 14.15 | 18.11 | 23.18 |
These figures show what would happen if the valuation of the company grew at the 28% growth rate that it is predicted to have. As you can see, the value of the company would go up nearly fourfold from where it is today. There are currently about 143.5 million shares outstanding so these valuations would mean LULU shares would be worth just over $161 a piece. That is a reality that would have to happen just to meet the 28% expected growth rate expectations, and that does not even address the PE of 41.
The PE being in line with the five year expected growth rate is what is generally considered to be fair value. Certain companies are bid up to higher PE ratios when they have a solid record of proving themselves with strong growth. LULU is a strong company that provides customers with a product they like, but it is hard to say that they are going to be worth some four times what they are today in just five years.
Insiders Dump Shares
Insiders dumping shares of a company in a big way is never a good sign. It is not often the case that insiders are dramatically wrong on where the price of their company's stock is going to go. Selling of the stock obviously means that these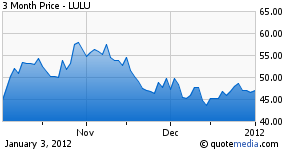 inside investors feel that the price is going to fall. Taking a look at the insider transactions for LULU in the last six months is a tell-tell sign about the sentiment of these shareholders. Over 1.5 million shares have been sold off by the insiders just in the last six months. That is a breathtaking number of shares being dumped, and there is plenty of reason to be afraid if you are a LULU shareholder.
Built On Momentum
Lululemon has seen its stock that has largely been built on hype and momentum. This was first evidenced when the stock took a tumble when it reported its Q3 earnings in mid December. Although the earnings beat expectations, the earnings guidance was dropped slightly, and the stock took a spill. Investors sold instantly and didn't think twice. This was a tell-tell sign that plenty of the price built into this stock is hype. Any holders of this stock should continue to sell their shares, and anyone who does not hold shares should sell them short until the stock reaches the $38-$40 range. This is the recommendation that I made in my November 21, 2011 article which can be read here, and that still holds true today.
Disclosure: I have no positions in any stocks mentioned, and no plans to initiate any positions within the next 72 hours.