Gargantuan energy producer Exxon Mobil (NYSE:XOM) has seen its stock much lower over the past year or so, along with the rest of the industry. Commodity prices that were in freefall for much of 2014 have rebounded, providing XOM and others with some much needed support. The stock has moved nicely off of its lows. But crude is still hovering around the $60 area, hardly a strong price, so is it still too early to buy XOM? In this article, I'll take a look at XOM to see if it may be time for a long position after what appears to be a base that formed in the stock around $83.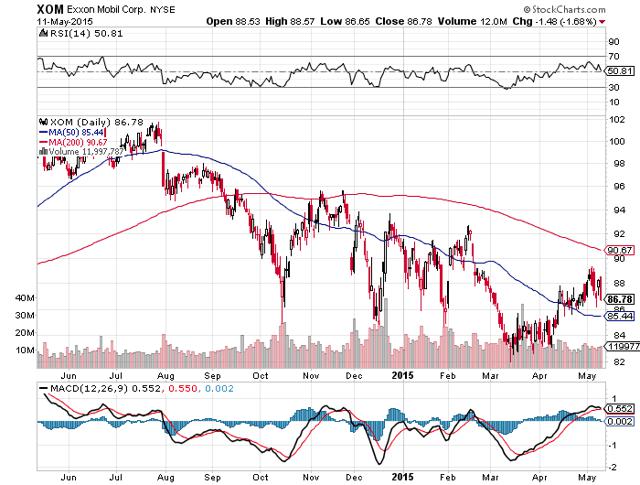 A couple of weeks ago Exxon reported earnings and the results were very well received by investors. The company put in a very nice quarter that saw large beats on the top and bottom lines, as XOM's business wasn't as weak as the analyst community first thought. The earnings beat allowed XOM's upward momentum to continue and now the stock is a very solid $6 off of its lows set earlier this year.
Last December, I posted an article that said Exxon was expensive at $89 based upon weak commodity prices despite the company's strong fundamentals. The simple fact is that the energy industry's outlook is terrible right now and analysts that cover XOM are forecasting lower earnings for several years to come. I don't know if that is the right level of pessimism, but given the huge decline in revenue, I wouldn't be surprised. Despite XOM's strength within its class, it is still subject to the whims of commodity prices, and thus, its outlook is not great. For this reason, I still think the stock is expensive here; I don't want to own anything that has a declining earnings base and right now that's exactly what XOM is.
Apart from that, XOM is a very strong income stock. The current yield of 3.3% puts XOM in the upper tier of mega cap stocks, as that is nearly two times the broader market's yield. XOM is also in a great capital position and generates a lot of free cash flow each year to support its shareholder returns. But lower energy prices have taken a serious toll on XOM's FCF and that has me worried about its viability as a stock to own just for the dividend over the long term.
I highlighted this risk a couple of months ago as XOM's weak and declining FCF has made it very difficult to return capital to shareholders. XOM is spending virtually all of its FCF on the dividend at this point and that means share repurchases have had to all but stop. XOM is down to $1 billion per quarter in repurchases, and while that's a lot of money, it is doing virtually nothing to actually reduce the share count. Such is the predicament that low oil prices have put XOM in, despite its best efforts to have a strong balance sheet and strong fundamentals.
To be clear, I'm not saying XOM is in danger of having to cut its dividend because I think that is a very long way off. XOM is still a dividend stock through and through and that hasn't changed, but what has changed is that expectations for raises need to be very modest. XOM is struggling to just maintain FCF at a high enough level that it can continue to cover its dividend so don't expect large raises.
And given that XOM's earnings outlook is terrible, I just can't justify the current valuation. Wells Fargo seems to think XOM is worth 18 times 2016 earnings but I can't figure out why. When companies that are growing earnings at double digit rates are trading for 19X or 20X earnings, why would a company with a shrinking earnings base get nearly the same multiple? To me, XOM is a bond equivalent right now because it has virtually no ability to grow earnings at this point, so the correct valuation in my view is much lower than $88 on an earnings basis. But XOM is being valued on its payout and that should buoy the stock should a selloff occur, and for me, that's the only reason to own the stock right now.
Disclosure: The author has no positions in any stocks mentioned, and no plans to initiate any positions within the next 72 hours.
The author wrote this article themselves, and it expresses their own opinions. The author is not receiving compensation for it (other than from Seeking Alpha). The author has no business relationship with any company whose stock is mentioned in this article.