Lumber Liquidators Chinese laminate flooring formaldehyde emission levels has been under scrutiny. For the past two months we have heard many times that there is no formaldehyde regulation for consumer laminate flooring for the country and California Air Resources Board (CARB) is the only regulatory agency with formaldehyde regulations for laminate flooring. Members of congress even asked for the Consumer Protection Safety Commission (CPSC) for an investigation of Lumber Liquidators specifically. CARB sets formaldehyde regulation for California and since 2010 Congress has set a national formaldehyde regulation in Congress ACT of s1660 which Lumber Liquidators already meets.
The facts are:
1) Based on CARB's formaldehyde GL08 document:
Current outdoor levels average about 3 ppb in California and can range to 10-12 ppb in different areas.
For an eight-hour exposure time, no short-term adverse effects would be expected to occur if average levels do not exceed 27 ppb (OEHHA's interim 8-hour REL).
It is not generally possible to reduce indoor levels below nearby outdoor levels
2) Occupational Safety and Health Administration (OSHA) sets the formaldehyde exposure for a work place at 750ppb averaged over an 8 hour period.
3) National formaldehyde limits for a finished laminate based flooring already exist, based on Congress' S1660 Act for formaldehyde flooring passed in 2010.
Definition of a laminate: ''LAMINATED PRODUCT."- The term 'laminated product' means a product ''in which a wood veneer is affixed to- a particleboard platform; a medium-density fiberboard platform; or a veneer-core platform; and that is a component part; used in the construction or assembly of a finished good; and produced by the manufacturer or fabricator of the finished good in which the product is incorporated."
Testing Method and limits pursuant to ASTM D-6007-02 or ASTM D-5582: (NYSE:C) EMISSION STANDARDS.- ''For particleboard- no higher than 0.05 parts per million (50ppb) of formaldehyde for 90 percent of 6 months of routine quality control testing data" ... "For thin medium-density fiberboard- no higher than 0.08 parts per million (80ppb) of formaldehyde for 90 percent of 6 months of routine quality control testing."
The full document can be found at this link.
The S1660 Congress Act defines the method of test as per ASTM (Non destructive only) and limits formaldehyde emission of a laminate to between 50-90 ppb with no results higher than 110ppb. It is sad that members of congress do not check their own laws before issuing an investigation and ask CPSC to provide a national limit.
Lumber liquidators products at worst generated 20ppb and typically 5 ppb based on the finished product at install time with levels going down to 2ppb after 6 months.
Formaldehyde Graph with their note from Lumber Liquidators 8K filing: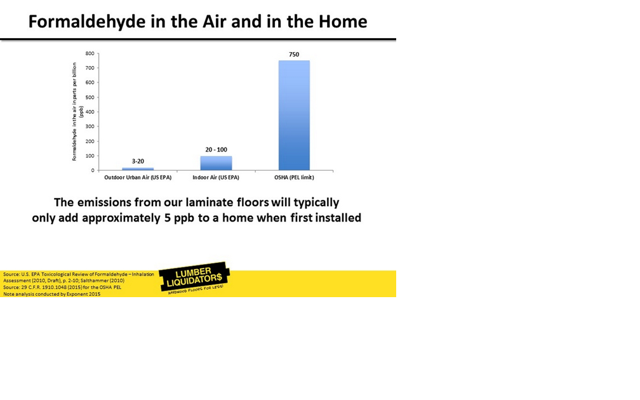 4) CPSC already ruled that they will only consider Non-Deconstruction testing method. This is important because the 60 minute story used Deconstruction method which greatly enhances immediate formaldehyde emissions after deconstruction.
Conclusion:
Based on these current facts I do not see how CPSC will override the current ACT of congress because it would take another ACT of congress to do so and we all know how long that could take.
I believe that CPSC will hold to the values defined in the S1660 ACT which Lumber Liquidators already meets by a large margin.
Just because they have chosen to stop selling the laminate products does not mean that there is anything wrong with them. It is just a marketing consumer relations issue in my opinion. Sometimes it is much easier to give in even though one is right. Personally I wish they had done that at the beginning. That would have avoided many of the current issues.
The inventory is only a problem if the final ruling proves that these products are not safe. If it does not, and I believe that it does not, then these products could be sold (maybe at cost just to sell current inventories).
CARB should revoke their license from the Chinese manufacturers because they are the one that have that authority.
I am long on the stock and believe LL will come out of this stronger.
Disclosure: The author is long "LL".
The author wrote this article themselves, and it expresses their own opinions. The author is not receiving compensation for it (other than from Seeking Alpha). The author has no business relationship with any company whose stock is mentioned in this article.