The S&P is up at the top of its recent trading range again. I added quite a few positions in the beaten down commodity and energy stocks over the last 8 weeks. To reduce volatility and benefit from any pullbacks in the market, I also like to take short positions in what I believe are overvalued stocks and sectors. Two tech stocks I believe are severely overvalued are below:
Taleo Corporation (NASDAQ:TLEO) – "Taleo Corporation provides on-demand talent management software solutions. The company's products include Taleo Enterprise, which supports medium and large enterprises in talent management processes ranging from sourcing, recruiting, and onboarding to performance management, goals management, development planning, succession planning, compensation, and learning; and Taleo Business Edition that supports smaller more centralized organizations, stand-alone departments and divisions of larger organizations, and staffing companies in recruiting, onboarding, performance management, compensation, and learning". (Business description from Yahoo Finance)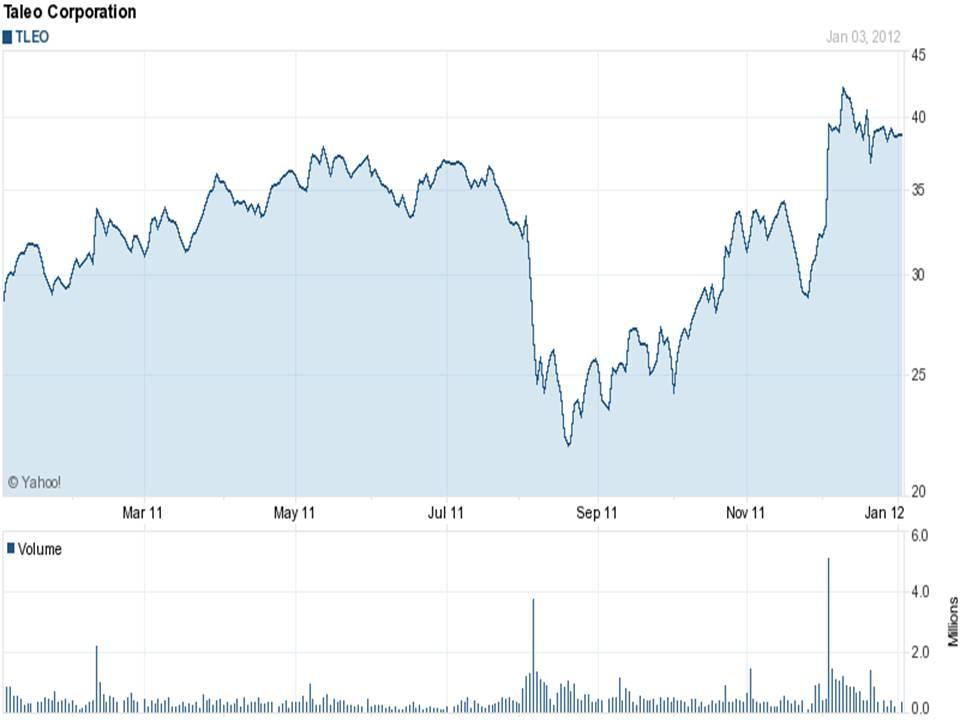 4 reasons Taleo is overvalued at $39 a share:
After running up 75% from its recent summer lows, TLEO's stock chart looks tired (See Chart).

Taleo is selling near the top of its five year valuation range based on P/E, P/S and P/CF.

The stock now sells at forward PE of 35 and a five year projected PEG of over 2.

Numerous insiders sold over $2mm in shares in December, the stock sells at 75 times operating cash flow and over five times revenues.
Ultimate Software (NASDAQ:ULTI) – "The Ultimate Software Group, Inc. designs, develops, and markets human capital management software-as-a-service solutions for businesses in the United States and Canada. Its UltiPro solution offers businesses with cloud-based functionality to manage the employment life cycle from recruitment to retirement". (Business description from Yahoo Finance)
4 reasons I believe Ultimate Software is overvalued at $65 a share:
Ultimate Software is selling at the very top of its five year valuation range based on P/E, P/B, P/S and P/CF.

Insiders sold over $3mm of shares in last part of 2011 and a five year projected PEG of almost 4.

Despite the stock being near 52 week highs, consensus earnings estimates for FY2011 and FY2012 have come down over the last three months.

The company has missed earnings estimates three of the last four quarters and the stock sells for an eye-popping 63 times forward PE.

Disclosure: I have no positions in any stocks mentioned, but may initiate a short position in TLEO, ULTI over the next 72 hours.

Additional disclosure: Will take short position via out of money bear market call spreads.