A dividend yield and/or dividend growth investor typically doesn't think of technology stocks, since traditionally technology companies were in high growth phase and wanted to conserve cash for organic/inorganic growth. This has begun to change, and a few technology companies have demonstrated a strong commitment to increasing dividends every year. This, coupled with low valuations, has provided investors a great opportunity to buy into stocks that could potentially provide great total returns – dividends and capital appreciation. Two stocks that fit this description well are Intel (NASDAQ:INTC) and Microsoft (NASDAQ:MSFT). There is another technology stock that I believe could give higher total returns, since I expect it to deliver larger earnings growth over the coming decade. The company is San Diego-based Qualcomm Inc (NASDAQ:QCOM), a fabless semiconductor company with primary interests in the mobile communication business.
Business overview
Qualcomm introduced Code-Division Multiple Access [CDMA] technology for wireless communication in the 1990s as a competitor to TDMA and GSM technologies. CDMA is considered by many to be superior to GSM because of the lower frequency used. Verizon Wireless and Sprint in the US use CDMA technology for their networks. Qualcomm is the main supplier of Intellectual Property [IP] and chips that are used in cellphones used on a CDMA network. Qualcomm also licenses its technology and patents to over 195 companies and receives juicy royalty payments every year.
Earnings and Dividend Growth
The following graph shows the growth in earnings and dividend per share for Qualcomm. There was a major dip in 2008 due to the economic crisis but revenue and profits have largely recovered.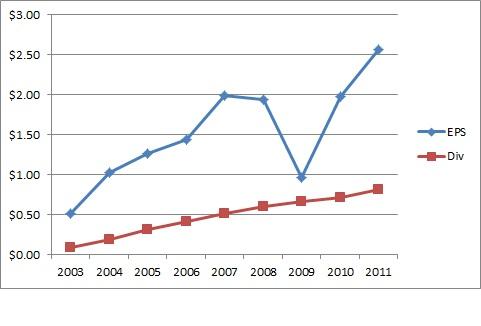 Quantitative reasons for investing in Qualcomm
1. 5-year Dividend CAGR of 15%.
2. Current Dividend yield of 1.5% is not substantial but reasonable for a company still growing revenue and earnings at double digit rates.
3. Dividend payout ratio of only 31%. Scope for continued dividend growth in double digits.
4. CAGR EPS growth of 13% over 3-years and 27% last year.
5. Continued share repurchases to negate any dilutive effects of employee stock option plans.
6. No long-term debt (Debt/Equity = 0.04)
7. EBITDA of $6 billion on annual revenue of $14.9 billion.
8. Total cash of $7 per share è Large war chest of $12 billion for acquisitions, share repurchases, increased dividends.
Qualitative reasons for investing in Qualcomm
1. Qualcomm is on the Fortune Magazine's 100 Best Companies to Work For in 2011, and was included in Fast Company Magazine's 2010 Most Innovative Companies
2. Qualcomm reportedly won the cellular baseband socket (the heart of a mobile phone) in the iPhone 4S and iPad 2. This chip was originally supplied by Infineon, but Infineon sold the cellular baseband processor business to Intel, and at some point, it appears that Apple decided to switch to Qualcomm instead of continuing with Intel.
3. There are three major components of a tablet computing device – the cellular baseband processor, the application processor and the display controller/display technology. Qualcomm is already the leader in baseband chips and is fast gaining ground with its Snapdragon apps processor. The other alternatives are Tegra 2 from Nvidia (used in Motorola Xoom, Samsung Galaxy), OMAP from TI (used in Amazon.com's Kindle Fire), Samsung and and Atom from Intel. Various generations of Qualcomm's Snapdragon processors are used in smartphones and tablets from HTC, Samsung, Motorola, Sony Ericsson, Asus, Acer, Fujitsu, Sharp, LG, Dell among many others.
4. Qualcomm is now going after the third axis of mobile computing – displays. It is developing novel technologies that combine the benefits of e-readers and LCD screens using a MEMS-based technology called interferometeric modulation via its acquisition of Iridigm. Qualcomm has started licensing the technology under the trademark of "Mirasol". This technology has the potential to bring windfall for Qualcomm as and when large scale adoption takes place with smartphone and/or tablet manufacturers. There was another competitive display technology of the future being developed by a Massachusetts-based startup, Pixtronix. Qualcomm recently acquired this startup as well.
Biggest Risks
Slowdown in breakneck growth in smartphone and Tablet devices
Global market saturation of cellphones (smartphone as well as basic models)
Intel Atom and Nvidia Tegra2 taking market share in the Tablet apps processor market.
Qualcomm loses traction and entry into display market does not produce financial returns.
Patent litigation by arch rivals – Broadcom and Intel. Costs money and is a distraction for top management.
Concluding Remarks
There are risks associated with investing in technology stocks due to faster rate of obsolesce and high R&D costs. There is constant pressure on gross margins as well. However, Qualcomm has amazing intellectual property, and is well-trenched in the ongoing revolution in the mobile computing space. The next decade will be exciting for investors.
Disclosure: I am long QCOM, INTEL