On December 25th, I initiated a short recommendation on Barnes & Noble (NYSE:BKS) and provided some brief explanations on the reasons for this short. We entered the trade at $15 a share. The stock is currently trading at $13.6. This trade is still a valid trade.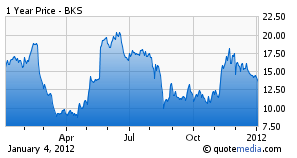 Today, I will further elaborate on the reasoning underlying this short by highlighting the sensitivity of B&N's balance sheet to any slight change in market conditions.
In order to do this, it is essential to shed some light on the accounting item called- 'Goodwill'.
Goodwill is defined as the value of the entity over and above the value of its assets. It is regarded as an intangible and very often, in an event of an acquisition, the acquiring company will mark the incremental purchase price, above assets, as a goodwill item on the balance sheet in the Assets section.
As of the most recent reporting quarter, B&N had $521ML of goodwill as a result of the purchase of B&N College, together with $574ML worth of past intangibles, reaching an astronomical amount of $1.095BL of 'non- real' assets, accounting to 25% of the $4BL in total assets.
Now, one must realize that a balance sheet of which 25% of assets are regarded as intangibles is highly prone to danger: any intensive dilution in equity will result in a severe deduction in the goodwill item because it will likely have no actual resale value.
But It does not end there for B&N.
Since Goodwill is no longer amortized under U.S. GAAP (FAS 142), instead of deducting the value of goodwill annually over a period of maximal 40 years, companies are now required to determine the fair value of the reporting units, using present value of future cash flow, and compare it to their carrying value (book value of assets plus goodwill minus liabilities.)
How did B&N conduct this aforementioned test? Well, the company decided not to recognize any goodwill impairment. In other words, the sum of intangibles, will remain as a whole, on its balance sheet. At the end of the Notes to the Consolidated Financial Statement , the company emphasized that although it "determined that no impairment was necessary, any change in market conditions, among other factors, could have a material impact on these estimates" (Page 38).
Some words on the technical front of the stock - BKS has some firm support at the $11.5 area but considering its current price of $13.6, the stock is trading on very thin air between those two price levels. Once it breaks the $11.5 downwards, there is really no telling where BKS will bottom.
I will keep issuing timely updates on our open position.
Disclosure: I am short BKS.