After dropping 7.9% in November 2011, China internet stocks continued the downtrend in December, declining 6.3% on average in the month (Table 1). Such performance trailed the monthly returns of NASDAQ Composite (-0.6%) and BNY Mellon China ADR Index (-6.0%), but beat the Halter USX China Index (-7.3%). The advance/decline ratio for the industry deteriorated to 12/38 from 17/33 in November. Below is my analysis of the major themes and topics for December.
Stock performance diverged across exchanges. In December, Hong Kong-traded China internet stocks rose 3.2% on average, boosted by the 2.5% monthly gain in Hong Kong's Hang Seng Index. China internet stocks traded on U.S. exchanges dropped 7.5% on average, following the direction of the NASDAQ Composite. China internet stocks traded on China mainland exchanges fell 10.2% on average, as China's SSE Composite and SZSE Component Indexes plunged 5.7% and 8.0%, respectively. The divergence shows that sometimes stocks in the same industry perform differently simply because they are traded on different exchanges.
Online game stocks were the most resilient sub-industry in December, declining 2.0% on average, led by The9 (NASDAQ:NCTY), Tencent, and Giant (NYSE:GA). B2B e-commerce and social media also outperformed the overall China Internet industry, falling 3.9% and 5.2%, respectively. Online advertising performed inline with the overall industry, dropping 6.3% on average. Online video and B2C e-commerce trailed the overall industry, declining 8.4% and 16.2%, respectively, led by Youku (NYSE:YOKU) and Mecox Lane (NASDAQ:MCOX).
Real-name registration hit Sina shares. In December, Sina (NASDAQ:SINA) shares plunged 21.3%, as new regulations requiring real-name registration evolved from speculation in early December to the reality on December 16 and beyond. The stock's monthly plunge shows investors were extremely concerned about the new rules' negative impact - a significant slowdown in Sina Weibo's user activity and growth. Looking at the bright side of the new rules, as I mentioned in the September review, real-name registration makes Sina Weibo easier to monetize, and it is something Sina should do to reduce regulatory uncertainties.
Having said that, real-name registration alone cannot guarantee successful monetization. To achieve large-scale profits, Sina Weibo still faces mounting challenges including the slowdown in social games, as indicated by latest data from Renren (NYSE:RENN) and Zynga (NASDAQ:ZNGA); microblog users' resistance to advertisements; competition from Baidu (NASDAQ:BIDU) for advertisers; and the existence of Tencent Weibo as a widely adopted and nearly identical alternative, which is non-existent for Sina Weibo's U.S. counterpart, Twitter.
Table 1: China Internet Stocks' Performance in December 2011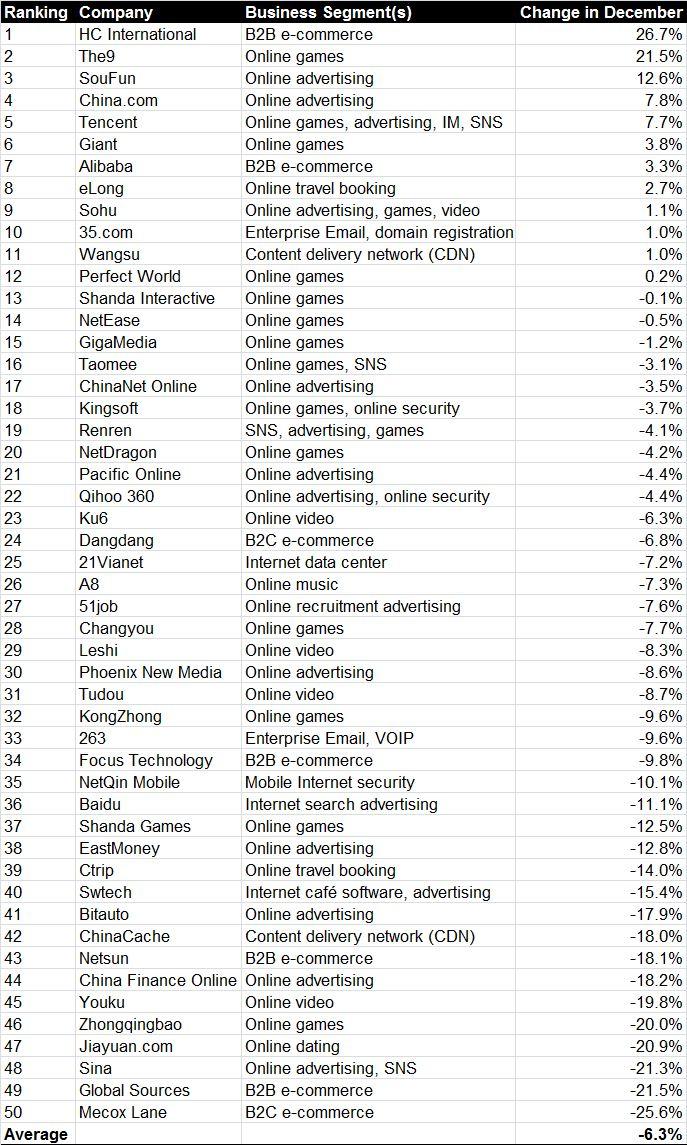 Disclosure: I have no positions in any stocks mentioned, and no plans to initiate any positions within the next 72 hours.