Companies involved in oil and gas production represent a large portion of the equity market in terms of capitalization. For the S&P 500, about 12.2% of the index is represented by energy companies. The supply of these fuels is also important for the economy at large with 6.2% of personal consumption expenditures in the U.S. comprising energy purchases according to the Bureau of Economic Analysis. Assessing demand trends and analyzing the supply situation in crude oil and natural gas should help investors formulate a view about the industry and the outlook for specific companies.
Crude Oil
Starting with demand for crude oil, transportation leads the way with secondary drivers being chemical production and heating. Gasoline and diesel are the two largest products derived from a barrel of crude and are primarily used in ground transportation while kerosene is used for air transportation. Naphtha is an important feedstock for chemicals as well as having other industrial uses while LPG is used in heating and as well in some industrial applications. Fuel oil is used as a fuel source in shipping and for heating.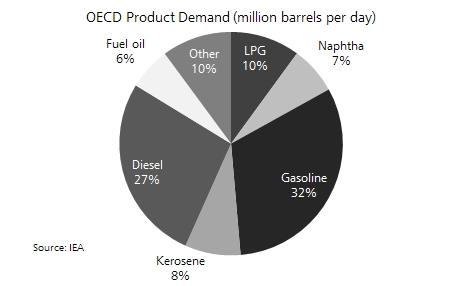 Over a long time horizon, the most important factor for future crude oil demand is the proliferation of motor vehicles. Increased travel by air will also drive future growth although to a somewhat lesser degree. Heating demand is also important, but easier to substitute over the long-term and will likely be replaced by natural gas or electricity derived from any source over time.
Starting with vehicles, according to OICA, from 2002 to 2010 car and light commercial vehicle production increased by 32%, topping out at 73 million units, with the upward trend continuing into 2011 based on monthly data from other sources.[1] Heavy truck production increased over the same period by 68% to nearly 5 million units.
Separately, Ward's reports that the global vehicle population increased to over 1 billion units in 2010, a 3.6% increase over the prior year. [2] Given that crude oil production from 2002 to 2010 only increased 15%, it is likely that fuel costs and availability are limiting the use of the existing vehicle fleet, although fuel efficiency gains in the overall fleet have ameliorated this to a certain degree.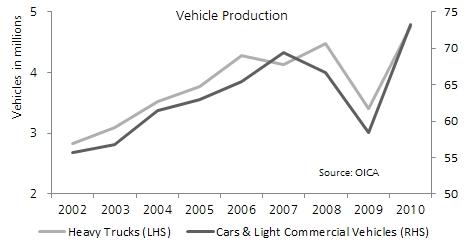 Air traffic has continued to grow strongly as well based on IATA data, with average growth rates in passenger kilometers and freight tonne kilometers of about 4% and 3%, respectively since 2006. While recent growth has mostly been strong, at least in passenger traffic, high oil prices have started to impact the finances of airline companies and air fares will likely have to rise in the future crimping demand and slowing the growth of fuel consumption. At the same time, a reduction in demand that ends up impacting fuel prices should reduce air fares and stimulate demand once again.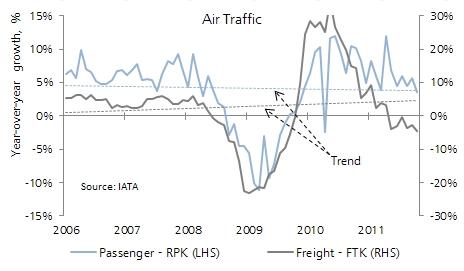 Depending on the region, the chemical industry uses naptha and LPGs extensively; however, since natural gas is also a major feedstock for chemicals, discussion of this market is included below under that heading.
Investors have not been overly concerned about demand for oil given intense supply constraints witnessed at present. The largest challenge in crude has been the difficulty in finding easy to exploit resources, not finding customers for it. Development costs have increased substantially over the past several years, as evidenced by data produced by CERA showing marginal costs to supply over 80 million barrels of oil per day are in excess of $80. As long current demand holds, let alone growth in demand, prices will need to stay at least in the range of $80 to $100 to maintain present levels of production.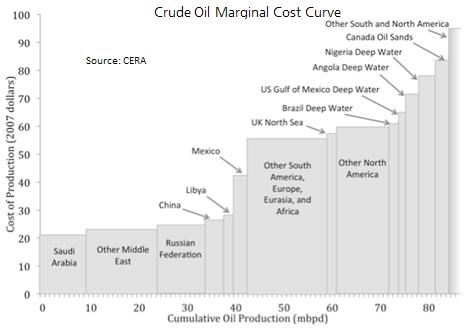 Corroboration of the cost curve comes from analyzing the financial statements of exploration and development (E&P) companies. An E&P company makes investments in the physical assets necessary to produce a resource and the amount of money left over for the company is the return on capital for those investments. Historically, companies across all industries have generated about a 5.6% real rate of return on their investments in real assets, calculated on an IRR basis. This is the level necessary to deliver a similar level of returns to investors in those companies over a long timeframe, which historically has been the case.
An analysis of one representative E&P, EOG Resources (NYSE:EOG), shows that returns on capital are equal to this required rate based on my own estimates. EOG is not in any way special in this regard, the average returns on capital for a selection of E&P firms not dominated by natural gas production is similar (natural gas firms are generally earning less than the cost of capital on historical investments at present). A simpler way to analyze the same problem is to look at what level of oil pricing would reduce profits to zero for a given firm. Taking Apache (NYSE:APA), as an example, a 25% drop in crude oil pricing, along with similar reductions in natural gas and natural gas liquids would eliminate the majority of profits. The implication is that the current level of pricing in crude oil is necessary for most companies to continue to invest and without investment production would fall over time.
Natural Gas
In contrast to crude oil, natural gas is generally sold in regional markets, although integration is slowly occurring due to LNG. The single largest market for natural gas is North America, followed by Eurasia (primarily Russia), Europe and Asia. The focus of this analysis will primarily be on the global LNG and North American domestic markets as these hold the most interest for investors.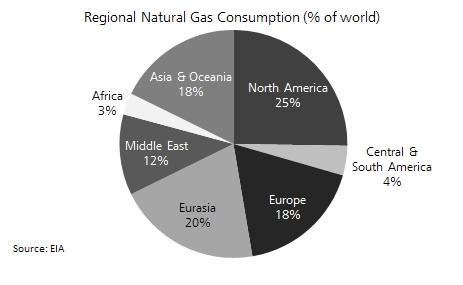 In terms of flows, the largest importer of natural gas is Europe followed by Asia while the largest exporters are Eurasia, the Middle East and Africa. A large portion of Europe's considerable gas imports are by pipeline, but LNG is an important resource as well with regasification plants in every major coastal country.
In Asia, LNG is a significant source of imports especially for Japan although China is becoming a large source for cargoes as well with seven regasification plants under construction and a number in operation. South Korea and India also import substantial quantities of LNG.
North and South America are largely self-sufficient in natural gas. The LNG sector in North America started to gain traction several years ago, but the shale gas revolution changed the economics and now most gasification plants under planning have been cancelled while those in operation are underutilized.
The largest use for natural gas globally is in the power generation sector (39% of total), followed by residential heating and chemical feedstock.[3] In North America, Europe and Japan, where natural gas is used extensively for power generation, electricity consumption between 2002 and 2010 grew at 1.1%, 0.6% and 1% per year, respectively. In the U.S. and Europe, consumption in 2011 has broadly followed the same trend, while in Japan, due to the nuclear disaster, consumption has fallen significantly.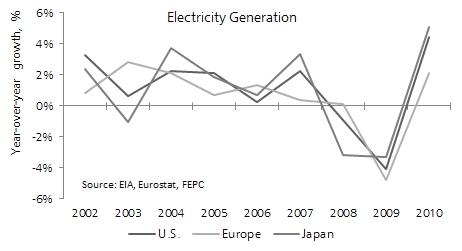 Although overall electricity consumption is growing only modestly, natural gas has been gaining market share as the fuel of choice for generation. In the U.S., electricity produced by natural gas has grown at about five times the rate of the overall market while in Europe, the figure is about three times. In Japan, natural gas only recently started gaining significant share, with the growth rate prior to the nuclear accident only slightly higher than the total growth rate, but since the accident, LNG consumption is up 26% for September through November 2011, compared to the prior year. [4] The trend in Japan will reverse itself somewhat if the Japanese restart their existing nuclear reactors, of which only about 10% are operational.[5]
The chemicals industry is another significant user of natural gas as well as certain crude oil products such as naphtha and LPGs. In recent years, new chemical capacity has been added closer to cheap natural gas feedstocks, for instance, in Saudi Arabia or major light industry manufacturing centers such as China; therefore, the growth in the global chemical industry has not had a major impact on developed countries' natural gas markets. On the other hand, naphtha trades on the global market generally and suffers from some supply constraints.
Chemical production as measured by the relevant statistical authorities' industrial production indexes shows that the value of chemicals produced in the U.S., Europe and Japan are flat, up 0.5% and down 1%, respectively on a cumulative basis since year-end 2002.[6] China and Saudi Arabia have added significant capacity, the former using crude oil as a feed stock and the latter using natural gas.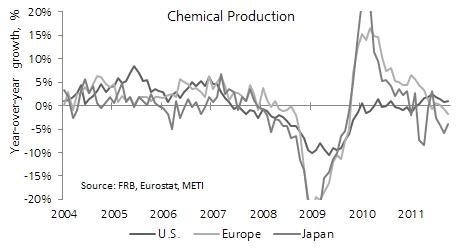 The supply side of the natural gas market has been of the most interest in the past several years. From 2005 to 2008, the average wellhead price of natural gas in the U.S. was about $7 while today spot natural gas trades at about $3. Shale gas has been the primary driver of this change due to the opening up of significant new reserves recoverable around the lower price point.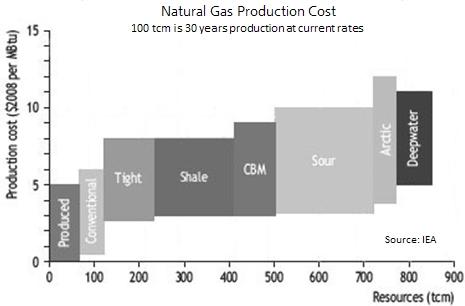 The abundance of supplies near today's prices, at least at the wellhead, implies a future for natural gas where pricing gains should be minimal, at least in the domestic U.S. market and other markets with plentiful gas supplies. The export of U.S. gas could help domestic prices, but wellhead prices in other exporting nations are quite low; therefore, global demand will need to be strong for this to have much impact. LNG prices may take a different path for two reasons. First, the transport of LNG adds about $4 per unit to the wellhead price, which will drive up the cost relative to alternatives in markets without domestic supplies.[7] Second, at present due to supply constraints in the liquefaction and transportation of natural gas relative to demand induced by the Japanese nuclear disaster, cargoes are demanding a premium, a situation which could persist depending on the future of the Japanese nuclear industry.
Investment Conclusions
Based on information available today and considering the present market environment, historical investments in crude oil which assumed current pricing should do well in my view as should new projects taken given today's pricing. Oil prices should stay at current levels or increase, on average, for the foreseeable future. A drop in demand due to recession or other factors which decreases prices should both 1) significantly stimulate demand and 2) restrict new oil development which will quickly reduce supply availability given decline rates in the industry. In other words, weak pricing when it occurs should be temporary. The caveat is a lesson learned from natural gas – if a new major supply source is found for crude oil, with significantly lower marginal costs, then the outlook for crude oil pricing would change.
In U.S. natural gas, unconventional production such as shale gas has significantly undercut historical investments that assumed much higher future prices. While natural gas focused oil & gas companies have seen some diminution of value, current equity values may still be discounting some return to historical pricing norms, which is unlikely in my view based on any supply constraints. The main ingredient necessary for increased pricing is significant and sustained fuel switching – from coal primarily, toward natural gas. Pollution and safety regulations will help, but ultimately pricing and availability will matter the most. This trend will likely take some years to develop to the point where natural gas can begin pricing capacity constraints. Another potential demand driver is increased chemical production due to low feedstock costs, although some capital investment will be necessary to fully take advantage of this trend to realign chemical production toward using natural gas as a feedstock.
The LNG market is a different matter and one not driven so much by natural gas itself, rather the capacity and cost to transport natural gas. The cost of transport by LNG exceeds the cost of production by a factor of one or two, when considering all the costs of liquefaction and regasification. Lead times for new projects and LNG carriers are also measured in years which means supply cannot adjust quickly to new demand. Also, since capital costs are high, only a limited number of firms can underwrite the financial risks necessary to undertake the projects. Mostly due to the Japanese nuclear disaster, the LNG market has become somewhat tight, although recent economic weakness and a warm winter have weighed on demand very recently. In the medium term it is possible many of the supply constraints will ease or even a glut develop if demand drivers such as chemicals or fuel switching do not keep pace with new supply.
The foregoing analysis is not sufficient to make any investment in the oil and gas sector, but taken together with an analysis of the specific business prospects of an individual firm and the valuation ascribed to its current cash flows and growth potential should help an investor form a view on the attractiveness of a firm's equity or debt.
In addition, the focus in this analysis has been on longer-term factors although it should be noted that short-term changes in business conditions can have a dramatic impact on energy pricing; however, as an example as to why the long-term is important, while both U.S. natural gas and oil decreased in value significantly in 2008-09, because the positive long-term supply and demand factors for oil remained in place, that resource has dramatically outperformed in the recovery.
Footnotes
[1] Other sources include Polk, China Association of Automobile Manufacturers, European Automobile Manufacturers' Association (ACEA) and Japanese Automobile Manufacturers' Association (JAMA).
[2] World Vehicle Population Tops 1 Billion Units (Ward's Auto).
[3] World Energy Outlook, 2009 (IEA).
[4] Electricity consumption data from Energy Information Administration (EIA), Eurostat and Federation of Electric Power Companies (FEPC).
[5] Shutdown leaves Japan with six nuclear reactors up (MarketWatch).
[6] Federal Reserve Board (FRB), Eurostat, and Ministry of Economy, Trade and Industry (METI).
[7] The Future of Natural Gas (MIT).
Disclosure: I am long APA.