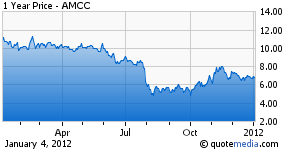 Investors with gray hair might remember Applied Micro Circuits (NASDAQ:AMCC) as the darling of the "optical" 90's along with JDS Uniphase (JDSU) and PMC Sierra (NASDAQ:PMCS). Along with its other optical brethren, AMCC has had a challenging time thus far, left in the optical detritus over the past decade.
A few months ago, there are deep value investors who would have given you a good reason to look at this stock. It has a great balance sheet with no debt and close to $2/share in net cash, and was actually free cash flow positive this past year by over $20M. Actual earnings, mon dieu! All this is great to set a floor on the stock (at probably the four to five dollar range). But I don't trust rational valuations in this emotional market where things can be and stay undervalued for unreasonably long periods of time.
But now with X-Gene, we have a potential growth story with all the right ingredients - a small hero with chutzpah, David vs. Goliath, a large pot of gold for the winner (especially if the winner is "David"), and possible ignominy but no death for the loser. A bit of background on X-Gene. The explosive growth of mobile computing and cloud computing have led to two all out wars in the microprocessor space - one to win the hearts and minds of portable devices (smart phones, tablets etc) and one to "win the cloud." Long story short, ARM Holdings (NASDAQ:ARMH) has all but won the first war against Intel, but the war in the cloud is still being fought.
Intel still reigns king in the cloud (for now) ... in the power hungry server farms located in desolate places around the planet which feed the Internet cloud. However, the quantity and quality of power that is needed to keep these places running is causing concern amongst data center owners, who now ponder the attractiveness of low power server chips to power their computer servers. The ARM architecture which won over portable devices due to its power efficiency is beginning to prepare for a war to win the cloud. A number of server vendors including HP have announced plans to enter the low-power server market based on ARM based chips.
Enter AMCC, with its X-Gene architecture. I'll run past the technical gobbledigook - clean on-chip integration of server and network components etc, but how does 10x less power consumption and 3x lower cost sound (for a $5B market)? Yes, real life has a harsh way of dealing with the 'grade inflation' that comes from the promises of early prototypes. Yes, measuring the winner by early numbers is like announcing the Super Bowl winner based on trash talking skills. But consider this - even a modicum of success in this space will be significant upside in terms of market cap for a company such as $400 M market cap.
Some brave analysts have considered this and revised their opinion upwards. Wunderlich securities considered X-Gene, and put out an $8 target on AMCC. That is a 20% upside from here, and that would be higher than the total return of the S&P according to the most optimistic estimates. BMO analyst Abrish Srivastava put out an outperform rating with a similar argument as above. Analysts tend to be cautious on the upside until the dust clears, and I don't believe for a second that eight dollars is remotely representative of the stock value if AMCC succeeds. Oh and one more thing, AMCC had its first insider buy (a not insignificant 20,000 shares) in many, many years.
All in all, if you want a "call option" on cloud technology, with limited downside and substantial upside and potential takeover value beyond the current trade, AMCC merits consideration.
Disclosure: I am long AMCC.