For my birthday in 1995, my uncle gifted me one share of Chevron (NYSE:CVX) stock out of his dividend reinvestment plan (NYSEARCA:DRIP). He was an employee at the time. He instructed me to regularly invest small amounts of money into the program and automatically reinvest the dividends I received. Eventually, he said, the quarterly dividend would be large enough to buy whole new shares every quarter, compounding into a larger holding over time. Chevron was the first stock I ever owned.
Today, with online access to DRIPs and no-cost brokers like Loyal3, novice investors can easily buy individual stocks with small amounts of cash. Back in 1995, participating in DRIPs through the mail was the only reasonable choice for young investors to start buying individual stocks. The DRIP was, and still is, a great way to learn the basics of stock investing.
As luck would have it, Chevron has been a prolific large-cap dividend growth stock over the past few decades, raising its dividend each of the past 27 years. By learning about the DRIP strategy at an early age and investing in Chevron, I became an accidental dividend growth investor, which is still my preferred stock investment strategy today.
I followed my uncle's advice in college, building up a modest number of shares over the first few years. But I sold all of them except the first share to help fund my post-college travels. Soon after when I entered the workforce, I began rebuilding my shares, becoming more regular and consistent with my purchases.
However, it wasn't until 2007 that I had a surplus of funds to dedicate to the Chevron DRIP each month. Every dividend I've ever received has been reinvested.
Over the 20-year period, I've kept detailed records of every transaction in a spreadsheet. I'm making the spreadsheet available for browsing on my website.
Click here to view the data.
Below I'll go over the performance of the very first share my uncle gave me, then the performance of my total Chevron DRIP investment.
This article is not meant to be an advocate for DRIP investing over other strategies, as I invest my assets in numerous ways. While DRIP investing into Chevron has been a suitable strategy for me over time, it may not fit the goals of all investors.
It's also not a blanket recommendation for Chevron as an investment, although the current yield on the stock is on the high-end, historically. I'm no longer adding fresh cash to my position, in favor of further diversification and non-DRIP investments. But I do continue to reinvest the dividend.
Here's a 20-year price chart: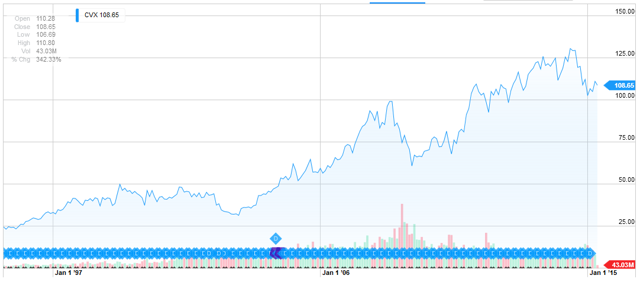 The First Share
My uncle mailed me the paper certificate in May of 1995. The symbol at the time was CHV, prior to the merger with Texaco.
The gift was worth about $48 when I received it. As of May 1st, that same share, now counting as two after a 2:1 split in 2004, is worth $218.08. Over the 20-year period, it has paid me $84.98 in dividends, which were reinvested and continue to compound.
Each quarter, I receive another $2.14 derived from the original gift, and will continue to receive a growing income stream for as long as Chevron pays and increases the dividend.
Most importantly, the gift taught me the real world basics of investing and made me interested in stocks at an early age. My uncle not only gave me a proverbial fish to eat for a day, he helped teach me how to fish for a lifetime.
Chevron DRIP Holdings as of May 1st, 2015
As of May 1st, I own 81.86 shares of Chevron worth $8,925.73. It is one of the top five holdings in my taxable portfolio of about 40 stocks. Click here to see my entire portfolio.
The total cash investments I've made into the stock, not counting dividend reinvestment, is $3,925 since the sale in 1998. I've received a total of $1,965.86 in dividends, all of which have been reinvested minus $3.27 in fees.
Factoring in dividend reinvestment, my current cost basis equals $5,797.80.
Based on the numbers above and accounting for fees, here are the returns for my current holdings: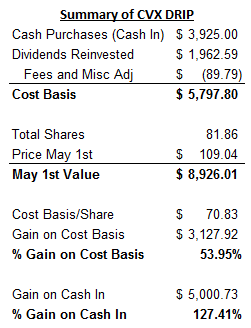 As a dividend growth investor, my main objective is to create a secure stream of income to help fund retirement prior to traditional retirement ages (59 1/2, 62, etc).
However, aside from tracking my dividend income, I still look at DRIP performance in two other ways. First, the performance against my cost basis. The spreadsheet I linked to above lays out precisely how I calculated cost basis, using the numbers I've tracked over time and confirming via my account data at Computershare (which provides cost basis prior to January 2011 for Chevron).
A return of 54% does not seem all that impressive over a 17-year period (after the sale). However, this includes reinvestment of all the dividends along the way.
The second performance metric I use is against the amount of cash I put into the stock, not counting dividends. Based on this, my investment has increased 127% since 1998.
A 127% return is also not an impressive return over that period of time. However, this is not a straight comparison to an index. I didn't buy all the shares in 1995. The bulk of the shares I purchased were bought after 2007, and all of the shares were bought in small fractional lots.
I didn't always prioritize Chevron as an investment. I do regret not investing more regularly like my uncle suggested, but DRIP purchase fees were a deterrent from investing small amounts, and my money was invested into other stocks, tax-advantaged accounts and real estate along the way.
Yield on Cost (YOC)
Based on the performance metrics I laid out above, I can calculate both yield on cost basis (YOC), and yield on the cash investments I put in.

To calculate YOC, I take the annual dividend, 4.28, and divide by the cost basis per share $70.83, which gives me 6.04%.
For the yield on my cash investments, I take the current annual dividend and divide by the average price paid of $47.95 per share (cash purchases divided by total shares). That gives me a yield of 8.93%, a number that grows each time I'm paid a dividend and when the dividend is increased.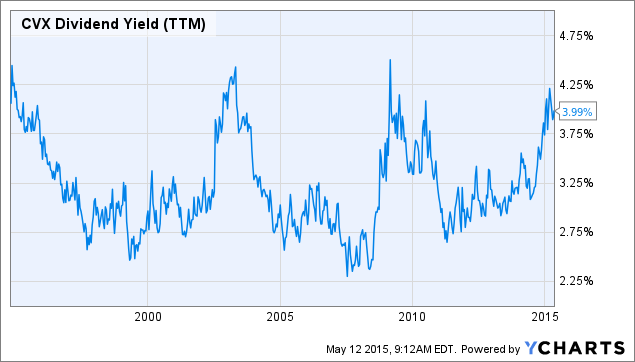 CVX Dividend Yield (TTM) data by YCharts
DRIP Fees
Lastly, I want to touch on fees because the quality of a DRIP can be diminished significantly because of excessive fees.
Nowadays, I won't start a new DRIP if the fees are more than a few pennies. This rule eliminates a large number of DRIPs. I now prefer no-fee brokerages like Loyal3. When I received the original gift, I didn't know any better.
The fee structures in DRIPs often change over the years. In the current program, a one-time cash purchase fee of $4 applies when buying through the Chevron DRIP. That fee can be lowered to $2 if the purchases are automated. That's a 2% fee on a $100 investment which is much higher than most disciplined investors are willing to pay.
Obviously, there is an administrative cost to the company they are trying to cover. But these fees, also meant to encourage larger contribution amounts, typically discourage small investors from buying more shares. Consequently, I no longer buy through the Chevron DRIP and many others because I can dollar cost average elsewhere for free.
Dividend reinvestment in the Chevron DRIP currently only costs a few pennies if the shareholder owns less than 200 shares. For more than 200 shares, there's a 5% transaction fee up to $3. I'm comfortable with a few pennies for Chevron, but I transferred out some of my other DRIP program shares solely to save on fees.
Summing up purchase fees, a sale fee, and dividend reinvestment fees over the 20-year period, I've paid a total of about $117 toward administrative costs. That doesn't seem like much for two decades of dollar cost averaging and dividend reinvesting. However, the bigger impact of fees is somewhat unaccounted for. Had the fees for purchasing shares been much lower, or free as some popular DRIPs are structured, I probably would have invested more consistently into the stock throughout the years.
Conclusion
DRIPs are a great way to learn about investing. The gift I received was formative in developing my investment strategy over time. I've traded in and out of many stocks, funds, and ETFs over the past 20 years. But I've always had my Chevron DRIP, and it's always made me money.
My current portfolio consists of six DRIP stocks, some of which I continue to add cash to, while with the others I merely let the dividend reinvestment continue. Due to fees and the emergence of no-fee dollar cost averaging, I'm hesitant to invest in new DRIPs. I'll eventually transfer most of the DRIPs into my full-service brokerage account to use the dividends to selectively buy other stocks.
But for nostalgia's sake, my Chevron shares will likely stay in the DRIP where they will continue to compound into something bigger over the next 20 years.
Disclosure: The author is long CVX.
The author wrote this article themselves, and it expresses their own opinions. The author is not receiving compensation for it (other than from Seeking Alpha). The author has no business relationship with any company whose stock is mentioned in this article.