This is the fourth article in a series about American Tower Corporation. The previous article in the series can be found here.
This note will include my thoughts on AMT's current valuation. This valuation work is to be used in conjunction with earlier notes which detail the deteriorating fundamental story and opaque financials of AMT.
Thoughts on Valuation
One of my primary concerns with AMT is the rapidly changing nature of the company on many fronts. AMT has changed very fundamental parts of it's business very rapidly, including changing its corporate status (REIT transformation), asset base (rapid foreign expansion), and measurements of success (From Earnings to AFFO). This substantial amount of change makes comparisons difficult, and enables AMT's management to report results which may not reflect the substance of what is really going on with the underlying business.
FFO (Funds From Operation) and AFFO (Adjusted Funds From Operation) are Non-GAAP measures which were invented to evaluate Real Estate. AMT's assets are difficult to describe as Real Estate. As I mentioned in earlier notes, their largest assets are intangible ones, they own very little land, and their towers do in fact depreciate. These aspects of their asset base make using FFO based measurement quite subjective and vulnerable to management influence.
The current "Consensus" earnings estimates as measured by Net Income is for $.29 of EPS for Q4-11 and $1.40 for 2012.

Source: FactSet Fundamentals
With AMT currently trading around $59, that means that on an P/E basis the stock is trading at over 42x forward (2012) earnings. That ratio may seem rather pricey and arguably is bit simplistic, so AMT and Wall St. have decided to measure AMT's success with a different measure. They argue since now the company has elected to be taxed as a Real Estate Investment Trust (REIT), that the more Real Estate oriented metrics such as Price/Funds From Operation (P/FFO) and Price/Adjusted Funds From Operation (P/AFFO) are more appropriate (as well as other quaint metrics such as Yield and EV/EBITDA).
The common REIT metrics of "Funds from Operations" (FFO) and Adjusted Funds From Operation (AFFO) allow AMT to add back their Depreciation and Amortization expense, and make a variety of Non-GAAP adjustments, which are intended to approximate the sustainable cash generation of the business.
When it comes to comparing AMT on a FFO or AFFO basis, it is more relevant to compare it to its closest peers (which are not REITs) than it is to compare with traditional REITs. This is due to the unique nature of their asset base, which does not compare well with traditional REITs. By either measure AMT is far more expensive than its peers.

Sources: Company Filings, Bloomberg, AnalyticFirepower Estimates
The trouble is that AMT is so expensive that it is difficult to invent a measure that can be massaged enough to make it look less expensive. That is why Wall Street invented the Discounted Cash Flow Model. The DCF in principle can be very useful to understand the value of an asset which has stable and predictable cash flows for long periods of time. That is why they are so accurate in valuing fixed-income assets.
In practice as an investor I have found them to be of little use when valuing equity since the models are very sensitive to small changes in a variety of variables. This makes them quite easy to manipulate in order to support almost any conclusion. One of the most important inputs is an estimation of the cost of capital, in the case of AMT their increasing leverage and declining margins would indicate a rather high cost of equity, yet all of the Wall St. models I have seen use a cost of equity in the single-digits, which I find very generous.
All of the Wall Street analyst notes which have read rely heavily upon their DCF models to support target prices. In my opinion a DCF model is very static and rarely corresponds with eventual outcomes, using them to value stocks is akin to driving while looking in the rear-view mirror... sometimes it works.
All Yields are not created equal
Non-REIT companies pay dividends, REITs make distributions, the difference is how the payment is taxed. Currently dividends are taxed at 15% flat for all taxpayers, REIT distributions are taxed at the Marginal Tax Rate of the recipient. This means that the distributions to anyone earning more than $35,350 will be taxed at a rate higher than 15%. Therefore it is not accurate to compare the distribution yield of a REIT with a dividend yield of a corporation. It is however accurate to compare the distribution yield of AMT with other REITs. AMT has indicated that it intends to distribute $0.80-$0.90 per share in 2012, this indicates a distribution yield of 1.3%-1.5%, which is negligible by traditional REIT standards, with the average REIT yielding 3.6%.
For comparison to non-REIT dividends, for taxpayers in the 35% bracket, the AMT distribution is worth 20% less (the difference between the 35% marginal rate and the 15% dividend tax rate.) This makes the comparable Non-REIT yield = 1%-1.2%.
Nevertheless, Wall St analysts continue to be unanimous in their opinion of AMT. In my experience if something looks too good to be true in the eyes of Wall Street, it generally is.

Source: Bigcharts.com
Estimates are way too high
The consensus estimate for AMT's EPS for Q411 is currently $0.29. Now that the Quarter is over, based upon the assumptions the company made when they issued their guidance we can see that AMT already has a $0.03/share headwind simply from currency movements.

Source: Google, AMT investor presentation 11/11
This implies that based upon actual year end exchange rates, their guidance really implies the more accurate ranges are given in the following table:

Source: AMT press release 11/02/11 and AnalyticFirepower estimates
Furthermore, the cost pressures which AMT faced in Q3 are unlikely to have abated. Particularly the substantial SG&A expense which is accompanying their aggressive international expansion.
In spite of all this, management is keen to portray the future of AMT in glowing terms, while selling increasing amounts of stock for themselves. In a meeting with investors on January 4th, 2012 James Tiaclet was prone to hyperbole with the following comments (italics added):
.".our basic strategy with customers is to essentially bulletproof a growth trajectory .... That would de-risk the U.S. completely, give us an established, almost locked-in growth rate with some upside to it, and then the complement and supplement to that will be this aggressive international expansion. So we're de-risking and locking in growth, meaningful growth in the U.S. is our approach while really turbo charging it even further with the international expansion"

- CEO James Taiclet, 1/4/12 at Citigroup Entertainment, Media and Telecom Conference
Back Up the Truck
If I could find an investment with a bulletproof, locked-in growth trajectory (with some upside too), completely de-risked, with turbo-charged expansion - I would hold on with both hands, as would any other rational investor. Mr. Taiclet seems to disagree, having sold $10 million worth of stock (180,000 shares) since the SEC Subpoena arrived, he is now down to his last 39,475 shares. Should investors do has he says, or do has he does?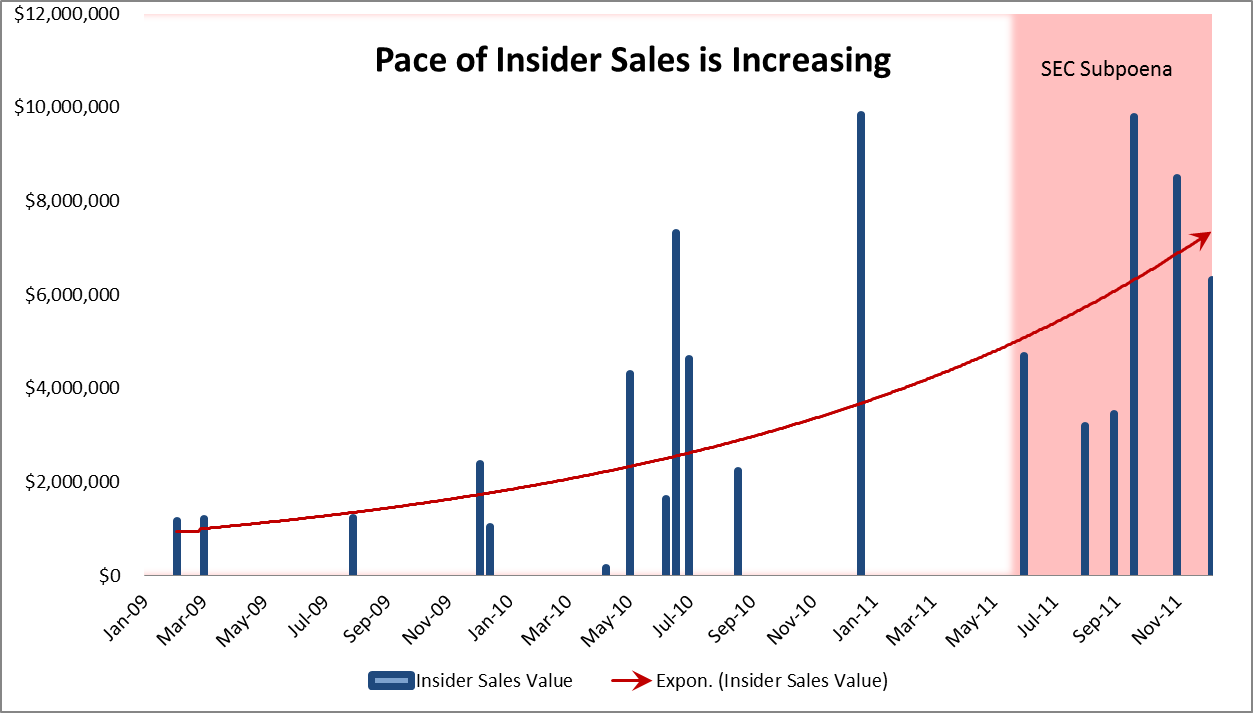 Disclosure: I am short AMT. I have net negative delta options positions in AMT.