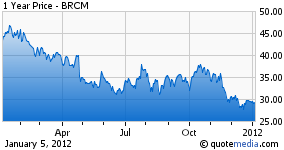 Broadcom (BRCM) will use this week's CES to introduce chips implementing 802.11ac, an emerging standard for WiFi that will use previously-unused frequency spectrum in the 5 GHz range to deliver what is called "5G," handheld speeds of up to 433 Mbps.
As is often the case, Broadcom is jumping the gun a little bit. The standard has yet to be finalized. This is mainly a marketing exercise.
While Broadcom is telling reporters that the new chips will enable HD video and transfers of more files between devices, the new gear is going to prove most valuable in industrial markets, in hospitals that have taken to WiFi as a way to move medical imaging, and among carriers that want to aggregate multiple cellular data streams and get it onto the Internet.
Fact is that with 802.11ac, 5G, or whatever you want to call it, the Internet has become a bottleneck for WiFi.
Consumer broadband, whether from phone or cable companies, is just not going to use all that bandwidth. Speeds available to consumers remain in the 1-5 Mbps range through DOCSIS or DSL, and even the home page of Seeking Alpha averages barely 22,000 bytes in size. You don't surf in 5G.
Given that reality, the power of 5G might be best realized through local applications within the home, collecting signals from home security systems, from worn medical devices, and from RFID devices on medicines, milk, grandma and the dog. This is commonly called the Internet of Things, and it's a market that Broadcom has only just entered, puts WiFi into direct competition with other, slower but less power-hungry technologies like Zigbee and Z-Wave.
It will take research, cooperation, and a lot of consumer marketing to make these technologies into a mass market, so don't expect 5G to be the big hit Broadcom's press releases are hinting at. There is more work to do yet.
Disclosure: I have no positions in any stocks mentioned, and no plans to initiate any positions within the next 72 hours. I made a correction to the Broadcom stock link after seeing it in my draft text.