Facebook (NASDAQ: FB) released its Q1 results late last month missing revenue estimates which it largely blamed on currency headwinds. Since then, shares have been on a downward trend dropping 7.3% to $78.43 as of the time of writing this article. The bears point out that user growth is slowing, margins are shrinking and there is no new catalyst on the horizon that could point to upside potential which hasn't been priced into the stock.
Going forward, Facebook intends to continue ramping up capex and operating expenditure, a move which seems to be unnerving some investors. This is due to the fact that the company's core business took a significant hit with total ad impressions suffering a 62% year-on-year decline. This undoubtedly raised some red flags among investors and resulted in some of them opting to sell off their stake. While I don't blame these investors for their course of action, I believe that they would certainly benefit from a re-evaluation of Facebook's future prospects.
So far, Facebook has been making great strides in all of the important metrics that are used to gauge a social media company. It added 50 million new monthly active users (MAUs) in the last quarter and revealed that more than one billion users accessed the platform via mobile devices. Now, this is quite significant as it fits in quite nicely with its long term strategy of targeting users on the go which has helped drive both usage and user engagement.
I believe that there is no doubt as to whether Facebook can continue rewarding shareholders in the long run based on trends in the advertising industry. According to ZenithOptimedia, traditional mediums of advertising such as print and television will cede their market share while global ad spending on internet mediums particularly mobile internet will more than double in 2017 compared to last year. Facebook is well positioned to reap huge returns from this shift and as new fundamental changes which I highlight below start taking shape, the stock's true value will be unlocked.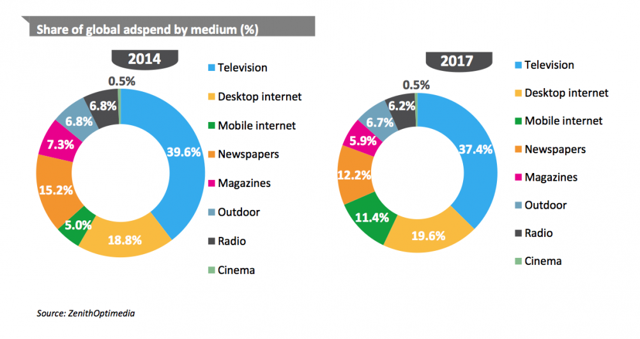 (Source: ZenithOptimedia)
Video will be a key factor
Facebook's COO Sheryl Sandberg believes that video is 'exploding' having reached a new milestone of 4 billion daily video views. In fact according to Marketing Land, Facebook just surpassed Google's YouTube daily video views ceiling and marketers have been keen to take note of this. This is because it presents a great opportunity for Facebook to work with them in a bid to further strengthen its position as the go to online ad medium.
A recent survey conducted by Mixpo revealed that 87% of marketers would be running video ad campaigns on Facebook in the coming year while 82% of the respondents said they would be going with YouTube. While it is safe to assume that marketers won't be limiting themselves to only one of the platforms, it is becoming increasingly clear that Facebook video has made significant leaps in terms of adoption in the social media scene.
It is important however to be aware of the fact that Facebook hasn't yet revealed a solid model of monetizing its video operations which means for now video ads may not provide much incremental gain in the top line. According to Sandberg this is due to the fact that video ads may sometimes take the place of a regular Facebook ads and brands may simply prefer one over the other. Since both appear on the timeline as sponsored posts and are purchased programmatically through auction, there is no pricing difference.
In spite of this, CEO Zuckerberg believes that video holds more potential than ever. The real challenge to overcome is coming up with quality ads and ad formats that will appeal to both the consumer experience and businesses. In my opinion, once this goal is achieved we can expect more ad inventory to be rolled out to customers as well as better margins compared to regular posts.
New ad format
The ad format for social media platforms has been a cause of contention for some time now. While marketers would want to put out as much relevant information about their brands as possible on these platforms, this would almost certainly erode the allure of the sites. Nobody wants to scroll through glaring out of place ads while they attempt to catch up with friends and family. Facebook already took note of this and took measures to reduce the number of ads appearing on the right hand rail of the site.
Furthermore, Facebook's shift towards native ads means that users are exposed to a less disruptive advertising experience. The benefits of native ads are not solely enjoyed by the users as marketers are also experiencing better performance from their ads. In fact, native ads have been shown to draw higher click rates than traditional banner ads and according to a study by IPG Media Lab they have a 32% likelihood of being shared compared to only 19% for their counterparts.
According to BI Intelligence, native ad revenue is going to grow from $7.9 billion in 2015 to $21 billion in 2018 which represents a 166% increase. As the biggest social media site, Facebook couldn't be better positioned to ride the wave of native ads adoption.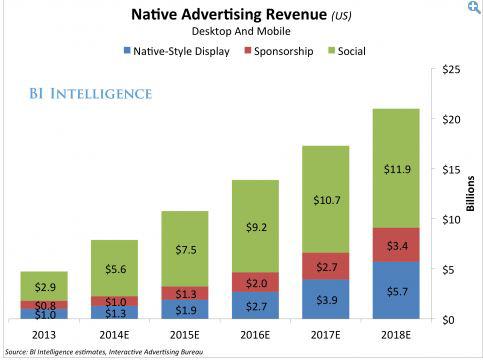 (Source: Business Insider)
In conclusion
When all is said and done, it is my opinion that the market isn't fully weighing in the impact of Facebook's video and native ad potential. Although a bit of time will be needed to fully nurture these two aspects, there is no doubt that there is more value to be unlocked once Facebook begins to exploit them fully. Also, as more brand advertisers increasingly become active on Facebook, the potential for an uptick in auction prices is quite high.
I believe that the upside potential for Facebook far outweighs any downside risk and investors with a long term horizon should continue holding on to their positions.
Disclosure: The author has no positions in any stocks mentioned, and no plans to initiate any positions within the next 72 hours.
The author wrote this article themselves, and it expresses their own opinions. The author is not receiving compensation for it (other than from Seeking Alpha). The author has no business relationship with any company whose stock is mentioned in this article.