Barclays Capital initiated coverage on China Medical Technologies (CMED) in a research note issued to investors on Tuesday January 3rd, 2012. They set an "overweight" rating on the stock. Separately, analysts at Zacks upgraded shares of China Medical Technologies from a "neutral" rating to an "outperform" rating in a research note to investors on Friday, December 2nd. Deutsche Bank covers China Medical Technologies with a Buy rating and Morgan Stanley has maintained its Equal-weight rating with a price target of $5.50.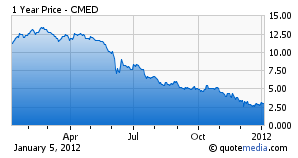 China Medical Technologies, Inc. is engaged in the commercialization, manufacture and sale of medical devices and supplies to customers primarily in China [PRC]. The company develops, manufactures and markets advanced immunodiagnostic and molecular diagnostic products utilizing enhanced chemiluminescence immunoassay [ECLIA] technology, fluorescent in situ hybridization technology [FISH] technology and surface plasmon resonance [SPR] technology. Immunodiagnostic products include ECLIA analyzers and reagent kits, while molecular diagnostic products include FISH probes, SPR analyzers and surface human papillomavirus-deoxyribonucleic acid [HPV-DNA] chips (and fluorescent microscopes until April 2009). Its in-vitro diagnostics [IVD] diagnostic products are used for the detection of various cancers and other diseases and disorders. In June 2010, it established a wholly owned subsidiary, CMT Diagnostics Singapore Pte. Ltd.
The company recently responded to an unfounded report by a short-selling group. As expected, current auditor PwC has stood firmly behind the company and its audits. The same can be said for KPMG, CMED's previous independent auditor, which preceded PricewaterhouseCoopers prior to August 2009.
Looking at the company's FISH business, we see increased sales of FISH probes revenue by increasing the test usage along hospital customers. CMED has received SFDA approval for their second PCR-based companion diagnostic assay on KRAS mutation for colorectal cancer targeted therapy. The approval extends the diagnostic manual which includes FISH HER-2 kits for breast cancer and stomach cancer. The FISH BCR/ABL kit is for leukemia. FISH EGFR kit and PCR EGFR assay for non-small cell lung cancer, as well as the latest approved PCR KRAS Assay for colorectal cancer targeted drug. The company sees huge potential on personal live medicines for cancer patient in China and continues to develop this market segment.
For the SPR HPV-DNA business, recurring revenue is also increasing from the sales of HPV-DNA chips among hospital customers which conduct HPV test for their women patients. CMED is in the final stage to complete the development of their second generation SPR analyzer, which will be more compact, more user-friendly and with higher throughput. The future sales of the new SPR analyzer to hospitals will add another revenue stream for the SPR HPV business line.
For the ECLIA business, CMED has implemented a change in control of credit sales to distributors, in particular slow-paying distributors in view of higher risk of bad debt. As a result, CMED has experienced a decline in ECLIA revenue.
CMED reported 2Q2011 earnings of $0.53 per share on November 18, 2011. This beat analyst estimates by $0.04. 2Q2011 recurring revenues increased by 18.1% year-over-year to RMB238.5 or $37.4 million. 2Q2011 net income came in at RMB33.3 million or $5.2 million compared to net loss of RMB2.9 million during 2Q2010. 2Q2011 adjusted EBITDA increased 30.1% year-over-year to RMB151.4 million or $23.7 million.
Non-GAAP gross margin in 2Q2011 increased from 79.7% to 84.8% on a year-over-year basis, mainly due to more contribution from sales of FISH probes and HPV chips, which generate higher gross margin and a substantial reduction in provision of free ECLIA analyzers and SPR analyzers. Non-GAAP operating expense increased by 19.3% year-over-year from RMB57.6 million or $9 million in 2Q2011. The increase was primarily due to increase in direct sales efforts for molecular diagnostic systems and sales incentives to direct sales personnel. CMED's cash position at the end of September 2011 was above RMB1.3 billion or $206.5 million. The company generated net cash flow from operations of RMB79.1 million or $12.4 million and did not have any financing activities in 2Q2011.
CMED has given its outlook for 3Q2011, estimating revenues to range from RMB245 million or $38.4 million to RMB250 million or $39.2 million, representing a year-over-year growth of 9.4% to 11.6%. non-GAAP net income for 3Q2011 is expected to range from RMB85 million or $13.3 million to RMB88 million or $13.8 million, representing a year-over-year growth of 12.4% to 16.3%. non-GAAP diluted earnings per ADS for 3Q2011 is estimated to range from RMB3.20 or $0.50 to RMB3.30 or US$0.52, representing a year-over-year growth of 11.5% to 15%.
The outlook for the full fiscal year ending March 31, 2012 is expected to deliver annual revenues of RMB970 million or $152.1 million to RMB980 million or $153.7 million. Given the estimated higher non-GAAP gross margin the target for non-GAAP net income was raised to the range of RMB335 million or $52.5 million to RMB340 million or $53.3 million, and accordingly a range of target non-GAAP diluted earnings per ADS to RMB12.40 or $1.94 to RMB12.60 or $1.98.
The company also recently announced a restructuring plan of its convertible debt. The plan may include, without limitation, a debt-for-debt exchange with existing holders of the company's convertible notes maturing in August 2013 and December 2016, and as the company has had difficulty locating holders of the convertible notes, it has issued a filling requesting holders to contact the company's Cayman legal representative.
CMED is targeting a continued reduction of its debt to earnings ratio. The company issued new convertible notes in December 2010 to extend CMED's debt maturity profile and has been able to improve the leverage profile and reduce the net debt to adjusted EBITDA ratio from 5.1 times to 3.3 times. The aim is to reduce the ratio to 2 times or below over time. The company isn't considering new acquisitions at this time and will continue to invest in product research and development and their direct sales network in order to enable future growth and maintain their competitive advantages.
The company's total assets are 4.95 billion RMB and liabilities 3.12 billion RMB. Therefore, shareholder value is 1.83 billion RMB or $290 million. The company has 26.5 million American Depositary Shares (Each ADS = 10 ordinary shares) outstanding as of September 30, 2011 against current book value per ADS of $10.94. Current market cap of $94.3 million, an ADS price of $3.00 exactly, shows a P/B of 0.27, a P/S of 0.5 and a P/E of 1.53 based on the full year 2011 guidance of $1.96.
Disclosure: I am long CMED.