The Dogs of the Dow theory presumes that investing in the 10 Dow Industrial components that enter a calendar year with the highest yields is a prudent investing strategy. The strategy presumes the Dogs are lagging, and that they might provide capital appreciation as well as an above-average income stream, and that the investments will be made in large, relatively stable businesses.
Another variation of this method is known as the Small Dogs of the Dow. The small dogs would be the 5 highest-yielding DJIA components. Some people may consider them the big dogs, if measuring them by the size of their yield and not the pack number.
Below is a table of the 1-month, 6-month and 1-year performances, not counting dividends paid, for the five highest yielding DJIA components: AT&T (NYSE:T), General Electric (NYSE:GE), Merck (NYSE:MRK), Pfizer (NYSE:PFE) and Verizon (NYSE:VZ). I have also provided their present yields.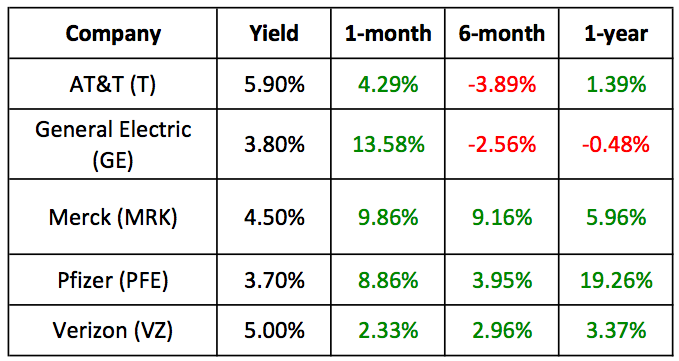 These five companies offer a 4.42% average yield, which is well about double the large cap average. Nonetheless, this is not a highly diverse basket of equities, with two telecoms and two pharmaceuticals.
Other than these five companies, Dupont (DD) has a 3.6% dividend and two other 2012 Dogs, Intel (NASDAQ:INTC) and Johnson & Johnson (NYSE:JNJ) both offer 3.5% dividends. These are fairly competitive with the dividends provided by the non-telecom small dogs. Of these eight equities, only General Electric was not at a regular dog in 2011. General Electric raised its quarterly dividend by 70 percent in the last two years.
These companies are highly familiar to American consumers, and most will find it easy to obtain any news and information on them. Further, the companies are highly liquid, and investors probably do not have to fear being unable to sell their shares at a fair market price, whatever that may be.
Disclosure: I am long GE, INTC.
Disclaimer: This article is intended to be informative and should not be construed as personalized advice as it does not take into account your specific situation or objectives.