According to the U.S. Census Bureau, residential construction spending was increasing toward the end of 2011. Building outlays within November increased 1.2%, above Wall Street expectations that averaged about one half of one percent. Public construction spending also increased - up 1.7%, with increases at the federal, state and municipal levels.
Private construction spending increased by 1% in November, to $522 billion. This represents the highest monthly private construction spending since December 2009. Further, home improvement spending also increased, though some of that may be related to winterizing in preparation for the colder weather.
Homebuilders also broke ground on more homes in November than during any month in over one and a half years. Additionally, construction permits reached a one-year high.
This recent strength in construction has also come through to the equity of the publicly traded homebuilders, many of which are up substantially over the last three months.
Another industry that is levered to a residential construction rebound is general building materials. Companies in this industry made the components that go into making a home, such as insulation and drywall.
Below are recent performance numbers for seven publicly traded makers of building materials: Armstrong World Industries (NYSE:AWI), LSB Industries (NYSE:LXU), Nortek (NASDAQ:NTK), Owens Corning (NYSE:OC), Trex (NYSE:TREX), USG (NYSE:USG) and United States Lime & Minerals (NASDAQ:USLM). The table includes their one-month, three-month, six-month and 12-month performance rates.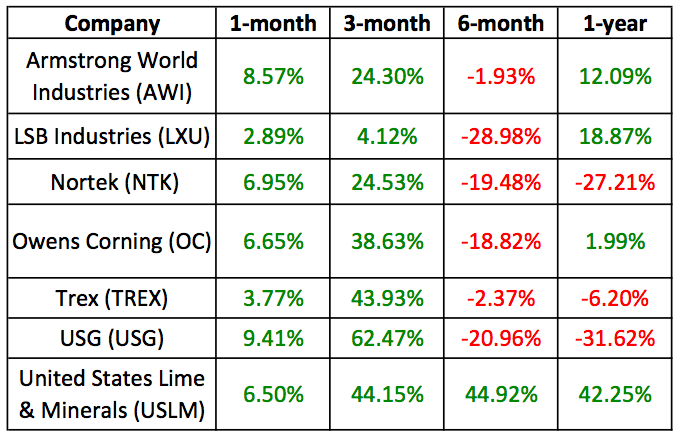 And below is a three-month performance chart for the above-mentioned companies:

The three-month appreciation for these companies is strong, with an average growth of 34.59%. This is far above the performance of the broader market, but most lower than the average performance by the mid-cap homebuilders. If these homebuilders continue to show strength, these component makers should continue to follow them and the industry. Conversely, any second leg down for housing will hurt them.
Disclaimer: This article is intended to be informative and should not be construed as personalized advice as it does not take into account your specific situation or objectives.
Disclosure: I have no positions in any stocks mentioned, and no plans to initiate any positions within the next 72 hours.