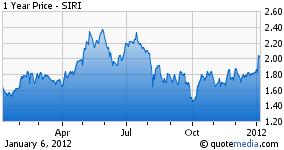 While most Sirius XM (NASDAQ:SIRI) investors were focused on the presentation by Mel Karmazin at Citigroup, there was another presentation at that same conference that is perhaps even more important. Liberty Media CEO Greg Maffei also spoke. With Liberty Media (LMCA) having about a 40% stake in the company, and the potential for future action by Liberty, it is prudent to learn, understand and know Liberty. One salient comment made by Maffei happened very early in the call:
"Having a stake gives you more optionally than having no stake."
Liberty has a stake in Sirius XM. In fact, they have a substantial stake. The question is what they will do with this stake. Does it make sense for them to hold it long term? Does it make sense for them to monetize it in some way? Or does it make sense for them to divest a portion of it in favor of maintaining a position of control while at the same time being able to cash in part of it in a tax friendly manner?
One popular theory about Liberty Media's stake in Sirius XM is that they will at some point want to do something in order to monetiize it, or at least a portion of it. If you have read up about Liberty Media and John Malone you will quickly realize that they like to do things in a tax friendly manner. Perhaps the most efficient and tax friendly manner in which this could happen is a Reverse Morris Trust.
The concept of a Reverse Morris Trust in reference to the Sirius XM stake was first broached by Citigroup some 18 months ago by analyst Jason Bazinet, who stated that he saw Liberty eventually increasing the stake in Sirius XM in order to conduct a Reverse Morris Trust. It happened to be Bazinet who interviewed Maffei on January 4th. In the months that followed Bazinet's analysis, other analysts and satellite radio websites began to appreciate the analysis of Bazinet and discuss the possibilities. Props to Bazinet for seeing something first and likely being very right about it.
In the recent Citigroup conference, Greg Maffei hinted at several things regarding Sirius XM:
Maffei feels Sirius XM trades at a high multiple currently, but will grow into that value in the coming years
Maffei sees a scenario where Liberty could increase the stake in Sirius XM to above 50% for the purpose of conducting a Reverse Morris Trust
The company has talked about three options - (A) a spin merge (RMT) (B) a pure spin, and (C) a total buyout
He feels there are few businesses in the Liberty portfolio where the cash flow increases dramatically over the next three years due to used cars, economic recovery, auto sector recovery, and a cash flow friendly environment dealing with limited capex and debt issues
Maffei discounted the idea of tendering an offer for the balance of the company saying, "why would we need that?"
Buying the last shares is a bad idea for Liberty because they pay a premium to everybody
Maffei stated that he prefers a spin merge (referring to a Reverse Morris Trust), but that involves a negotiation with the company similar to what Liberty did with DirecTV
It seems that despite some lengthy explanations of the concept of a Reverse Morris Trust that many Sirius XM investors are against the idea, thinking that it somehow takes away the company rather than what it actually does - in effect gives the company back. A couple of weeks ago I penned a piece that outlined several possibilities for Liberty, titled A Donald Rumsfeld Lesson Regarding Liberty and Sirius XM. It serves as a template for various situations and how various factors could influence the type of move Liberty makes.
In the call Maffei stated that his preference is a Reverse Morris Trust. He also indicated that March is not a real important date because the company has another 10 points in the deal that they can obtain at any time. This could set the stage for something to happen prior to March. I was thankful to hear Maffei state something that I have been pointing out for a long time. Should Liberty decide to move above 50% prior to March they would need to do a tender offer for the company. Some investors feel that this could present a massive hurdle for Liberty when in fact it does not. The point Maffei made was that they simply needed to make a tender offer, not actually make an offer that would clear all shares. In other words, Liberty can make a low offer that appears to a small enough cross section of the company to gain the extra 1% needed.
The lesson here for investors is that a road map exists with several routes all leading to essentially the same conclusion. For Liberty investor confidence can be had in knowing that Liberty is in the driver's seat. For Sirius XM investors, perhaps the best course of action is to acknowledge the fact that Liberty calls the shots, and to look at the possibilities of an RMT in terms of what it means to Liberty rather than what it means to Sirius XM. By understanding the Liberty side of the equation investors can better estimate what route will be taken.
In summary, a Reverse Morris Trust does not have to be considered a bad thing. Not by a long shot. In fact, it can actually serve to get more of this company back into the hands of shareholders. I would suggest all Sirius XM investors make listening to Maffei's presentation a top priority.
Disclosure: I am long SIRI.
Additional disclosure: I have no position in Liberty Media.