The Overview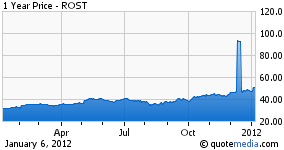 Ross Stores (NASDAQ:ROST) recently reported a significant 9% jump in its December same-store sales, more than double the 4% gain Retail Metrics analysts expected. The strong sales figures have in turn led Ross to increase its 2011 4Q EPS guidance to $0.82-$0.83, above the $0.8 expected by analysts polled by Thomson Reuters. This is not surprising, given the company's history of strong fundamental performance. What is also very attractive about this company is that it is a solid dividend play, having paid increasing dividends since 1994. Ross currently pays a quarterly dividend of $0.11 a share and its consistently growing dividends are an added bonus to an already attractive stock. Ross has seen a 61% gain in its stock price over the last year, and it is poised to continue this streak.
The Niche
Ross Stores Inc. is a service company that operates off-price retail apparel and home accessories stores. Ross is often viewed as a bargain hunter's dream and not without reason; on a recent trip to Ross before New Year's, I came across $8 Van Heusen ties, $5 Coby in-ear stereo earphones, and a completely packed store. Ross operates more than 1,055 retail stores in the United States, and is poised to benefit from this tough macroeconomic climate, which has resulted in declining consumer discretionary spending that has been reflected in the sales of fellow competitors Target (NYSE:TGT) and Kohl's (NYSE:KSS); recently, Target and Kohl's both cut their 4Q profit forecasts. Analysts at Avondale have predicted that "consumers would reject price increases on apparel at fuller priced retailers this fall." This in turn will benefit Ross Stores Inc, which sells its merchandise at 20 to 70 percent off moderate department and discount store regular prices.
The Result
Ross Stores Inc. reported a 2011 3Q that represented a 24% increase year over year and a 23% average EPS growth over the last 3 quarters. Moreover, Ross has been very consistent with its EPS and profit growth. The company has had six straight years of annual profit growth and four consecutive years of annual EPS growth. It is interesting to note that Ross had increasing annual profits and annual EPS growth even before the recession began to strain consumer spending, showing that Ross can prosper in a wide range of macroeconomic climates. The 3-Year EPS growth rate for Ross is a progressive 37%, and EPS estimates for 2011 are expected to increase 21.38% compared to 2010 EPS figures.
Ross also has growing sales figures, albeit figures that are somewhat low. 2011 3Q sales increased 9% from sales a year before, while the 3-Year Sales Growth rate is around 10%. However, despite the slow growth in sales, Ross has experienced significant profitability. Its ROE, according to YCharts.com, has been steadily increasing to the current figure of 45.46%, which is the highest ROE percentage Ross has achieved. In its sector, Ross is in the 94th quartile in terms of ROE rankings. Ross also has an Annual Pre-Tax Margin of 11.4% and a low Debt/Equity Ratio of 11%.
The Verdict
Ross is a strong retail play that has profited from its discount pricing strategy; it has been able to endure macroeconomic headwinds with surprising durability, and it continues to experience significant growth. Ross has amazing consistency, from its increasing dividends to annual profit and annual EPS growth, factors which will continue to elevate the company's stock price well into next year. Ross is a safe hedge against the current uncertain economic climate, as it has shown it can prosper in both positive and negative economic environments.
Disclosure: I have no positions in any stocks mentioned, but may initiate a long position in ROST over the next 72 hours.