MLPs had a remarkable recovery from the depths of the recent recession which continues its long term track record of growth. 10 years ago, the Alerian MLP Index was 176. It rose, then plummeted in the recession 3 years ago which brought it back to 176 at the end of 2008. However the comparable index with reinvested income went from 275 to 428, up 56%, during those 7 years.
Since then the index exploded, more than doubling, to reach a new record high of 396, more than doubling in the last 3 years. The comparable index with reinvested income tripled in the last 3 years (and has more than quadrupled over the last 10 years). Since its beginning 16 years ago, the index has grown at a 9% compounded annual growth rate and the comparable index with reinvested income grew at an amazing 16.5% annual rate. Meanwhile popular averages had a good run in the 1990s but were pretty much flattish since 2000. The fundamentals that drove MLP growth remain in place. The graph below uses a semi log scale to highlight growth in percentage terms and it's impressive:
Alerian MLP Index --- 16 years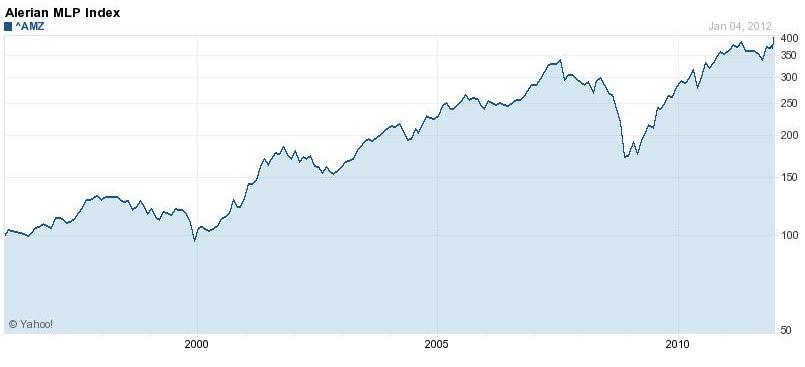 MLPs build infrastructure for energy (largely gas and oil) in the US. Demand is essentially unlimited as shown by the growth of MLPs. Their future, if anything, appears to be even brighter. Oil has been recovered from shale in western Canada for decades and much of that is brought to the US via Enbridge Energy (NYSE:EEP), (NYSE:EEQ) pipelines. New technology allows gas and oil to be extracted from more types of shale deposits, much of which is located in the US. Energy companies are investing in many areas of shale in the US, creating more demand for new pipelines and terminals.
For example, 3 months ago Boardwalk Pipeline (NYSE:BWP), along with a partner, executed a 15-year gas agreement for a natural gas gathering system in Susquehanna and Lackawanna counties, Pennsylvania. BWP will operate the system that will support Marcellus Shale gas wells. The system is expected to cost $90 million to build 26 miles of high pressure gas pipeline.
EEP is investing in US shale gas projects. The Bakken project in North Dakota will increase light crude production from Bakken shale to meet refinery needs in Michigan, Ohio and Ontario. The pipeline capacity is 210,000 bpd (barrels per day) currently. An expansion project costing $370 million will increase capacity 120,000 bpd by early 2013.
Kinder Morgan (NYSE:KMP), (NYSE:KMR) is buying El Paso Corp (EP) for $21 billion, one of the biggest energy deals in history, to tap into a boom in natural gas drilling and production. When completed, KMP will be the biggest midstream energy company by operating 67,000 miles of pipelines. This increases its participation in producing gas and oil from shale which has taken off in the last 5 years. In addition, this week KMP bought out its partners 50% interest in the Battleground Oil Specialty Terminal, a $430 million oil terminal in the Houston Ship Channel. The project should be completed in early 2014.
This week, Enterprise Products Partners (NYSE:EPD), currently the largest MLP, is investing in a joint venture to build a 149-mile pipeline in the Gulf of Mexico for 6 oil producers for an unspecified cost. Signed transportation agreements have been signed with units of major companies like: Exxon Mobil (NYSE:XOM), Anadarko Petroleum (NYSE:APC) and Apache Corp (NYSE:APA). The pipeline will serve the Lucius development area in southern Keathley Canyon in the Gulf of Mexico.
These MLPs have excellent records of growth which led to growth in distributions for unit holders. BWP and EEP have the highest yields (with tax advantages) over 6%. KMP and EPD, the largest MLPs, have yields above 5%. Another way to invest in MLPs is to purchase an ETN that tracks the MLP index. It's for those who want a portfolio effect without tax hassle (and tax advantages) associated with MLP distributions. JPMorgan Chase Capital XVI (NYSEARCA:AMJ) is an "old" ETN (almost 3 years) that tracks the Alerian MLP Index. 10 shares equal the index and the income (less management fees of almost 1%) is distributed as dividends called coupons. There are no K-1 tax forms or no tax preferred status. AMJ yields 4.9% based on the November coupon (dividend). After 9 quarterly payments, the coupon has increased 12% since its beginning.
All energy companies are investing in domestic projects with extra stimulus from the discovery of obtaining gas and oil from shale deposits. MLPs are taking advantage of growing demand for domestic sourced energy which will lead to more new highs for the MLP index.

Disclosure: I am long EEQ.