The stock market continues to drift along as if it is blissfully unaware of the potential dangers that lie ahead.
It was a notably good week for the stock market to kick off the New Year. On Tuesday, which was first trading day of the year, stocks as measured by the S&P 500 exploded higher and decisively broke through what had been stiff resistance at its 200-day moving average. And for the next three trading days, the stock market warded off sharp declines at the open each day to hold their ground through the rest of the week. The longer that stocks can hold above its 200-day M.A., the more a technical breakout can be confirmed.
images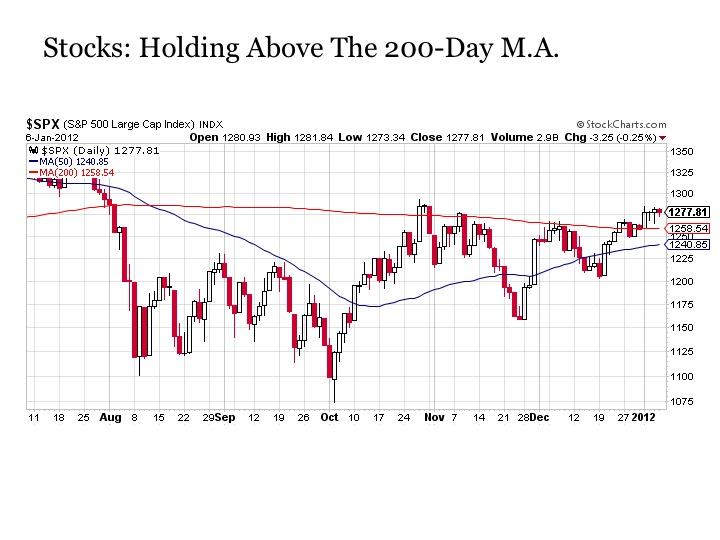 Despite this recent stock market success, I remain dubious about the outlook from here. It is almost as if stocks are slumbering away in a dream right now. They have been floating through recent trading days with visions of a sustainable economic recovery in the United States. Recent data has been increasingly promising including Friday's employment report. Perhaps we're finally seeing traction in putting this extended economic malaise behind us. It seems that many stock investors are caught up in this recent reverie. According to the American Association of Individual Investors (AAII) Sentiment Survey as of this past Wednesday, only 17% of members are bearish about the stock market outlook over the next six months. Ahh, the bliss of post holiday stock market quietude.
Before going any further, I feel inclined to express my views on a statement that I find particularly irksome and often hear in the financial media. I raise it here because it is a statement that I've heard on a few occasions over the past week: "I can't see anything that would cause the stock market to go lower right now."
Really? Really!?! To be candid, if an investor that is managing money on the behalf of clients cannot find any reason why the stock market could go lower right now, they need to immediately go back and take a closer look. Whether it is the uncertainty of today or the relative comfort of a roaring bull market, a variety of reasons ALWAYS exist that could take the market sustainably lower in a moments notice. And the same thing can be said on the flip side. I have been bearish on the stock market since last summer. But I can ALWAYS identify at least several reasons why the stock market could explode higher at any given point in time. Maintaining a balanced view and recognizing the various upside and downside forces that accompany any market environment is critical in carrying out effective risk management. And such a balanced perspective is particularly important today given all of the risks, both to the upside and downside, that the stock market is currently navigating.
Moving ahead with this perspective, a variety of looming downside risks threatens to unpleasantly awaken the stock market from its recent slumber.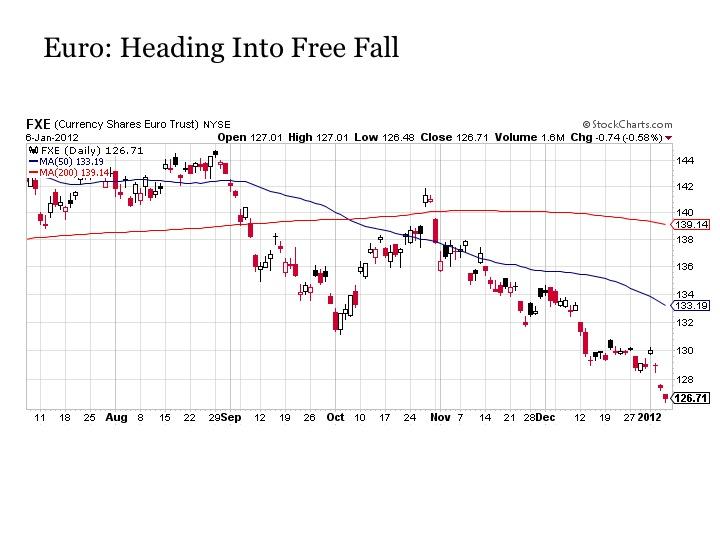 The most significant risks continue to lurk in Europe. In the past week alone while the stock market was melting higher, the euro currency (NYSEARCA:FXE) continued to crumble (see chart above). Along the way, Italian 10-year government bond yields drifted back above 7% with the first of several major sovereign debt refinancings looming only weeks away. Spain followed suit this week by announcing that it was going to miss its budget deficit targets, which sent it's 10-year government bond yields soaring roughly 60 basis points higher to 5.71%. And France's 10-year government bond yields have risen for eight straight days through Friday and are now higher than the yields associated with the European Financial Stability Fund of which France is supposed to be a key contributor.
Looking away from the core to the periphery, Greece suggested this week that despite already extraordinary support for the effectively insolvent country, it may just have to drop out of the euro anyway if it doesn't receive its next bailout tranche in the coming months. A bank in Portugal completed a three-year bond offering by effectively selling the debt to the European Central Bank (ECB). And Hungary, which does not use the euro currency but is closely tied to the financial institutions of many countries in the eurozone, had its debt downgraded to junk status.
Put simply, the situation in Europe is a mess, and it is getting worse by the day. And all of this occurred in the past week as the U.S. stock market drifted peacefully higher.
But lets just suppose the situation in Europe remains contained. Or let's even go so far as to consider a premise to which I do not subscribe that the U.S. economy has decoupled itself from Europe and can continue to the pace of its recovery even if a recession is almost certain across the Atlantic (not to mention the downside pressures building in China).
What about the sustainability of the recovery in the United States in a vacuum? Sure, Friday's employment numbers were solid and many underlying characteristics of the report were definitely encouraging, but one non-farm payrolls number at +200,000 jobs just simply is not good enough at this stage, particularly given the seasonal forces at work in this latest figure. Instead, we needed to see +300,000 monthly prints starting several years ago to get the U.S. economy going. And it will be critical to see such +300,000 monthly job numbers delivered for several months before the idea that a sustainable recovery is underway can be reasonably considered.
Even if signs of a U.S. economic recovery firmly takes shape, ongoing developments in the Middle East are not helping the cause. Leading among these are the ongoing tensions with Iran and the Strait of Hormuz. Oil prices are already back over $100 a barrel, which is already serving as a drag on the recovery. And if the situation escalates, the potential for a further spike in oil prices and the resulting effective tax on consumers and businesses certainly would not help.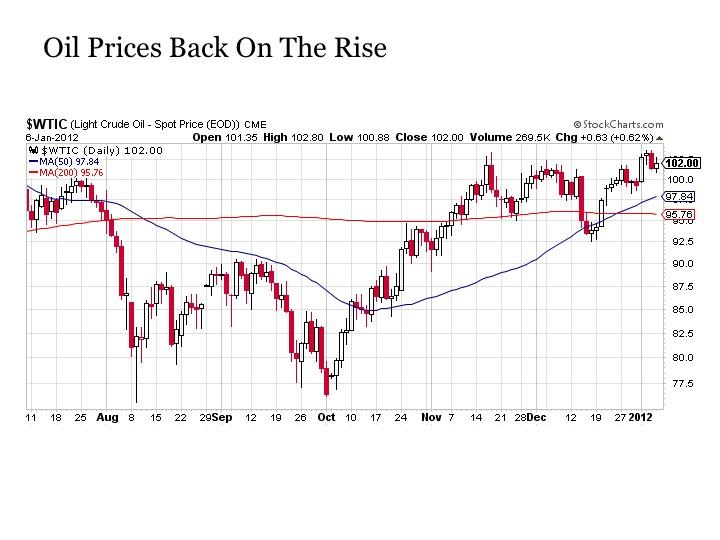 These are just a few of the many alarms that threaten to shock the stock market awake from its recent snooze. And one more point is worth highlighting as a concern. While the U.S. large cap S&P 500 Index has managed to break out to the upside, no other major market index is confirming this move. Instead, U.S Mid-Caps (NYSEARCA:MDY), U.S. Small Caps (NYSEARCA:IWM), Developed International (NYSEARCA:EFA) and Emerging Market (NYSEARCA:EEM) stocks all either grinded sideways or drifted lower during the past week. And none other than the S&P 500 Index has broken above technical resistance.
The fact that the stock market is trading 200 S&P points higher, or +19%, from its early October lows despite the fact that many global geopolitical and economic conditions have deteriorated markedly is certainly worthwhile reason for concern about the outlook moving forward. As a result, it will remain critical to keep a close eye on the events as they unfold in the coming weeks.
Despite these various downside risks, stocks may yet have the fuel to power higher from current levels. A primary source of support for investment markets over the last several months has been the ongoing injection of monetary policy stimulus. Without these continued extraordinary measures, it is reasonable to think that the stock market might be meaningfully lower than current levels. And if the U.S. Federal Reserve were to launch another round of large scale asset purchases through QE3, the response by the stock market would likely be euphoric, at least initially. Given the potential for such policy risk driven upside, it remains important to maintain an allocation to the stock market.
Knowing that the stock market could soon be throttled awake at any given moment in the coming weeks, it is reasonable to consider how to best allocate for such an outcome. To begin with, it is worthwhile to position portfolios in asset classes that stand to benefit regardless of whether the stock market plunges lower, explodes higher or continues to drift in blissful slumber. These include U.S. Treasury Inflation Protected Securities (NYSEARCA:TIP), agency MBS (NYSEARCA:MBB) and utilities preferred stocks such as Entergy Louisiana 5.875 (NYSE:ELA) or Dominion Resources 8.375% (NYSE:DRU). Both gold (NYSEARCA:GLD) and silver (NYSEARCA:SLV) also continue to hold appeal as protection against both the threat of crisis as well as the potential for further currency debasement associated with additional monetary stimulus.
As for remaining stock allocations, downside risk may be best managed by focusing on more defensive names that can still participate to the upside but also are also likely to hold up best in a crisis episode. These include food companies such as Kellogg's (NYSE:K), H.J. Heinz (HNZ) and J.M. Smuckers (NYSE:SJM) as well as utilities such as Westar Energy (NYSE:WR) and CenterPoint Energy (NYSE:CNP).
Lastly, investors that are seeking a more conservative vehicle to effectively get short the stock market, the Long-Term Treasury market may be worth consideration. This includes nominal long-term U.S. Treasuries (NYSEARCA:TLT) as well as U.S. Treasury STRIPS (NYSEARCA:EDV), as both offer strong returns potential that has been negatively correlated with the stock market. These also provide an effective hedge against a strengthening U.S. dollar (NYSEARCA:UUP).
The stock market has gotten off to a good start in the New Year. But things promise to get increasingly interesting as we progress through the month of January as a variety of economic and geopolitical events continue to unfold. As a result, it is worthwhile to set the alarms now to avoid getting shocked awake by a sudden jolt that could strike the market at any given moment along the way.
Disclosure: I am long GLD, SLV, K, HNZ, SJM, WR, CNP, TIP, MBB, ELA, DRU, TLT, EDV.
This post is for information purposes only. There are risks involved with investing including loss of principal. Gerring Wealth Management (GWM) makes no explicit or implicit guarantee with respect to performance or the outcome of any investment or projections made by GWM. There is no guarantee that the goals of the strategies discussed by GWM will be met.