After struggling in 2009 and falling to $10 a share, American Express (NYSE:AXP) recovered, rising more than 400% to about $50 a share in mid-2011. Warren Buffett's Berkshire Hathaway (NYSE:BRK.A) has been a long time holder and is still one of the biggest holders. Investing with Buffett is never a bad idea but it does seem that at these prices, there would be a very limited margin of safety. Here are seven points I looked at while researching the company:
Valuation: American Express' 5-year trailing valuation metrics suggest that the stock is close to fair value with a little bit of a bias to being undervalued. AXP's current P/B ratio is 3.2 and it has averaged 3.7 over the past 5 years with a low of 1.3 and a high of 6.8. AXP's current P/S ratio is 1.8 and it has averaged 1.6 over the past 5 years with a low of 0.5 and a high of 2.5. AXP's current P/E ratio is 12.3 and it has averaged 15.4 over the past 5 years with a low of 7.7 and a high of 29.7.
Price Target: The consensus price target for the analysts who follow American Express is $57. That is upside of 18% from American Express' current stock price, nothing to get excited about. As other contributors note, American Express could be worth over $66 per share after this year, but, in my opinion, any upside will not occur in 2012.
Forward Valuation: Analysts project American Express will earn $4.16 a share in 2012. The stock's current price is about $49 which leads to a forward multiple of 11.8. Although there are no exact comps, the credit card companies provide a good comparison. Visa (NYSE:V) is trading at a forward P/E multiple of 17.4 while MasterCard (NYSE:MA) is trading at a forward P/E multiple of 16.2. The difference in the multiples lies in the growth. American Express is projected to grow EPS just 2% in 2012 while Visa and MasterCard are projected to grow 17%.
Price/Book: Using a Price/Book valuation for financials is commonly used by analysts. AXP's current P/B is 3.2. Here are some comparisons: Banks: JP Morgan (NYSE:JPM) trades at a 0.8 P/B multiple while Wells Fargo (NYSE:WFC) trades at a 1.2 P/B multiple; Credit Cards: Visa trades at a 2.6 ratio while MasterCard trades at a 7.6 multiple.
Free Cash Flow: AXP has been using its free cash flow to deleverage the company's balance sheet, as well as pay a dividend to shareholders. AXP has paid out more than $800 million in dividends each of the past three fully reported fiscal years and it has also repaid over $29 billion in short term and long term loans.
AXP has a strong history of dividends. It has paid a dividend since 1989 and it is currently yielding 1.5% and paying 18 cents a quarter, which is more than double than the 8 cents a quarter it paid 10 years ago.
Earnings Estimates: American Express has beat EPS estimates 3 consecutive times after it missed by 9 cents for the fourth quarter of 2010.
Price Action: The stock has traded in a range this past year between $41 and $53. AXP did rally from lows of $41 in October all the way to $52, but then it aggressively pulled back and had traded in the $47-49 range in the past month. Note, AXP is also sitting next to its 200 and 50 day moving averages, which may provide some support for the stock.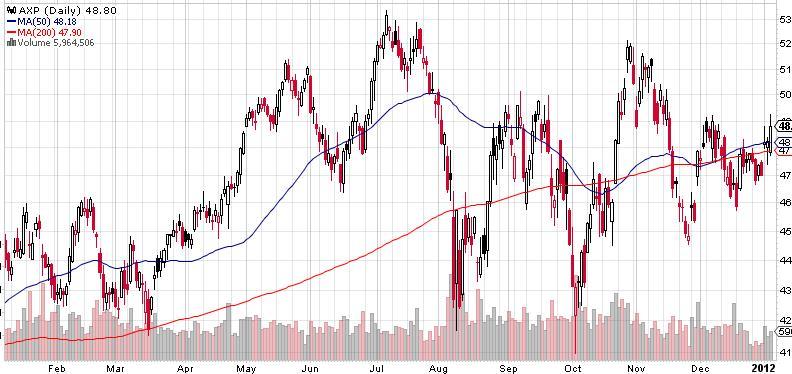 Conclusion: The metrics suggest that AXP is close to being fairly valued. The best bet here is probably to sit on the sidelines and wait for AXP to drop. The dividend yield is not significant enough to make AXP attractive for a dividend investor either. Note, an opportunity may arise if fears of a double dip recession increase and financials see selling.
Disclosure: I have no positions in any stocks mentioned, and no plans to initiate any positions within the next 72 hours.