According to Lipper, the average diversified US stock mutual fund returned 2.5% in Q1 while international funds gained 4.5%. Meanwhile, Morningstar's data showed that US investors added $66.2 billion into foreign-focused mutual funds and ETFs in the first quarter. This was significantly up from inflows of $37.9 billion in the comparable year-ago quarter. According to the Investment Company Institute, investors owned about $2.7 trillion in foreign-focused funds as of Mar 31.
However, this does not negate the fact that US was not a performer. There have been strong gains in certain US sectors too. Much like investors may opt for a balanced approach by selecting a mix of stocks, mutual funds and ETFs, investors should maintain a balanced stance by investing in global mutual funds.
Over the years, studies have consistently shown that investing in both domestic equities and foreign stocks reduces portfolio risk while enhancing returns. In addition, the primacy of the US equity markets has greatly diminished with its share of global stock market capitalization declining. This is why investors can no longer limit themselves to domestic investments. By holding widely diversified portfolios, selected after careful research, global mutual funds offer a secure and attractive opportunity for investors.
Q1 Market Performance
Markets witnessed choppy trading sessions during Q1 2015, as investors grappled with concerns related to lower global growth projections, a slump in oil prices, strengthening dollar and apprehensions about the timing of the Fed's interest rate hike. The World Bank reduced its global economic growth outlook for 2015 and 2016.
The Dow snapped a three-quarter winning streak and declined 0.3%. However, the S&P 500 gained 0.4% and extended its quarterly winning streak to nine quarters. The NASDAQ advanced 3.5%.
Key international markets on the other hand had strong gains in Q1. In China, the Shanghai Composite had hit its highest level in nearly seven years in late March. The tech-heavy ChiNext had also reached record level in Q1. Japan also has been seeing robust gains. The Nikkei 225 gained over 10% in the quarter and went on to hit a 15-year high. After a robust performance in 2014, Indian markets were somewhat calm and the benchmark S&P BSE Sensex gained only 1.6%.
For the mutual funds categories, Morningstar data confirmed that Japan Stock funds were the leading gainers in Q1. The top 10 gainers also included India Equity and China Region funds. In fact, the top 20 list included a major chunk of Foreign/Global fund categories. Foreign Large Growth, Pacific/Asia ex-Japan Stk, Europe Stock, Foreign Large Blend, Foreign Small/Mid Blend, Foreign Small/Mid Value, Real Estate, Foreign Large Value and Global Real Estate all featured in the top 20 list and they gained 5.1%, 4.8%, 4.8%, 4.7%, 4.6%, 4.6%, 4.1% and 4.1%, respectively.
Top 10 Category Q1 2015 Table: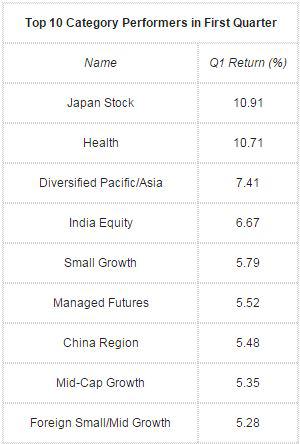 Source: Morningstar
Key Developments in Japan, China & India
As these regions occupy the positions in the top 10 list, let's look into some of their key developments:
Japan: Japan's economy enjoyed a handful of positive economic indicators to cheer for. The Bank of Japan had noted that Japan's economy is in a "moderate recovery trend". Though fourth-quarter 2014 GDP growth was reported lower than expected, the economy managed to pull out of recession in the three months through December. Some market watchers believe that equity market gains have been the only perceptible positives for the economy. (Read: Nikkei Hits 15-Yr High on Upbeat Economy)
China: China's markets have been gaining on promises to implement necessary stimulus measures in case growth was significantly affected. China is making efforts to transform into a self-sustaining economy banking on domestic consumption. Employment and services have been attributed as the bright spots, and the slowdown is stabilizing according to Vice Premier Zhang Gaoli. This comes after Premier Li Keqiang reassured that his government would take further steps to manage the economic situation. (Read: China Cheers Economic Bright Spots)
India: A slew of reform measures implemented by the new government elected last year have led to renewed optimism about the economy. Moody's Analytics projected higher growth for the Indian economy in 2015 compared to 2014. Moody's said the country's economy would grow by 7.5% this year compared to 7.2% in 2014. (Read: Bet on India Mutual Funds Following Strong Growth Projections)
Separately, the crisis in Greece was a major concern early this year. However, in February, it was reported that Eurozone's fourth-quarter GDP rose 0.3%, better than the estimated 0.2% gain. Growth was led by Germany, which reported growth of 0.7%. This was more than twice the projected 0.3% increase. Also, the ECB commenced the bond-buying program in March and is expected to continue at least till Sep 2016.
Top 15 Global Mutual Funds of Q1 2015:
Below, we present a table of the top 15 global mutual funds with the best returns in Q1 of 2015: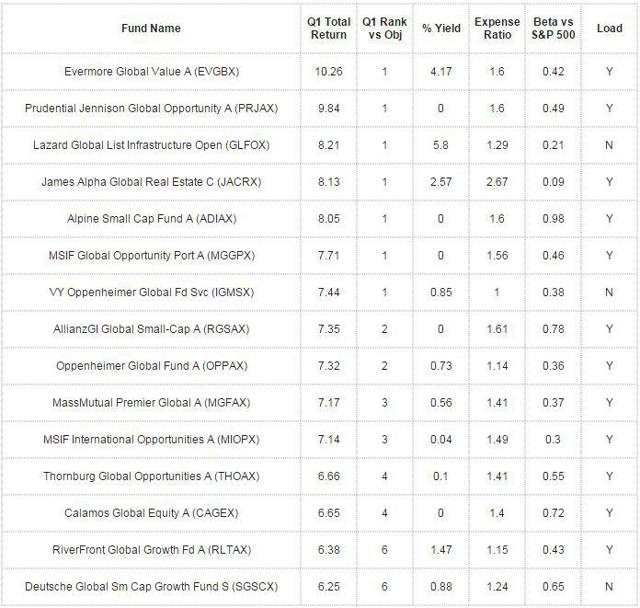 Note: The list excludes the same funds with different classes, and institutional funds have been excluded. Funds having a minimum initial investment above $5,000 have been excluded. Q1 % Rank vs. Objective* equals the percentage the fund falls among its objective. Here, 1 being the best and 99 being the worst.
Among the top 15 performers, none of the funds carry unfavorable Zacks Mutual Fund Ranks (though 6 of them do not currently carry any rank). Funds including Lazard Global Listed Infrastructure Portfolio (MUTF:GLFOX), VY Oppenheimer Global Portfolio S (MUTF:IGMSX), Oppenheimer Global Fund A (MUTF:OPPAX), MassMutual Premier Global Fund A (MUTF:MGFAX) and Thornburg Global Opportunities Fund A (MUTF:THOAX) carry a Zacks Mutual Fund Rank #1 (Strong Buy).
Top performer Evermore Global Value Fund A (MUTF:EVGBX) carries a Zacks Mutual Fund Rank #2 (Buy) and so do AllianzGI Global Small-Cap Fund A (MUTF:RGSAX) and Calamos Global Equity Fund A (MUTF:CAGEX). Deutsche Global Small Cap Fund S (MUTF:SGSCX) carries a Zacks Mutual Fund Rank #3 (Hold).
Of these, however, only three funds carry no sales load. Lazard Global Listed Infrastructure Portfolio, VY Oppenheimer Global Portfolio S and Deutsche Global Small Cap Fund S carry no sales load. In the first quarter of 2015, the best gains have come from a no-load fund - Turner Medical Sciences Long/Short Fund Inv (MUTF:TMSFX). In contrast, the best gains in Q1 for a fund that carries a load was at 22.5%. This was achieved by Rydex Japan 2x Strategy Fund A (MUTF:RYJSX).