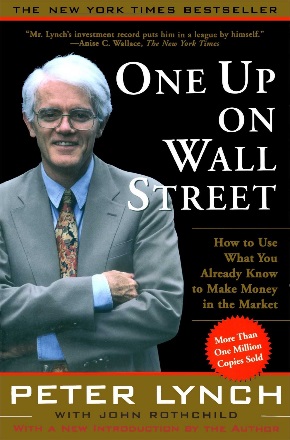 "These are among my favorite investments: small, aggressive new enterprises that grow at 20 to 25 percent a year. If you choose wisely, this is the land of the 10- to 40-baggers, and even the 200-baggers. With a small portfolio, one or two of these can make a career." ~Peter Lynch
Introduction
Former mutual fund strategist, Peter Lynch, fully retired as a money manager in 1990. As portfolio manager for Fidelity's Magellan Fund (MUTF:FMAGX) during 1977-1990, Lynch primarily oversaw a period where the fund grew an annual average of 26.5%. This far outperformed the overall market's 13.3% during the same period.
Amazingly, Lynch retired from the fund at the age of 46, and has not managed money since then. Fortunately for us, he did pen a few books where he shared his expertise, and one of them, "One up on Wall Street," outlined how he looks at stock evaluations.
The Screen
These are a few of the screening criteria, with a little help from John Reese, which come from Lynch's book. All screening criteria were used in Portfolio123.
Exclude all Financial companies--Lynch had a different approach for financial companies, so this screen will not include that sector.
Easy to trade--This is a standard screening criteria I enter for all screens to ensure that there is trading liquidity. It also avoids OTC stocks and the like.
Five-year earnings growth rate between 20% and 25%--For Lynch, this was the sweet spot. Lynch believed that it was possible to have too much growth, consequently, he put a cap on this measure. However, he did allow one to go as high as 50% for growth rates, but for the purposes of this screen, it was limited to 25%.
Price/Earnings Ratio <= Earnings Growth Rate + Dividend Yield--Lynch preferred looking for a P/E ratio that was half of the growth rate, but there are several extended periods where no stocks will pass muster if one chooses to be that narrow with the criteria. For that reason, the more liberal PEG < 1 is used here.
Inventory Change<Sales % Change--For Lynch, it was critical that inventory not outgrow sales. For him, that was a big red flag that the company's future margins were at risk.
Debt to equity <= 33 1/3%
Market Cap between $400 million and $2 billion--This is where I differ from John Reese's interpretation. Lynch is pretty clear that he is talking about small companies. Given that, this is the acceptable standard for finding those companies. Investopedia defines small cap stocks as, "…a company with a market capitalization of between $300 million and $2 billion." The $400 million minimum is what S&P uses for their small cap index.
Free Cash Flow > 0--Lynch believed that successful companies should be able to operate their business without depleting their working capital.
The Results
With the assumption that the companies were held for one year, the screen was backtested. The results do not take into account, commissions, management fees, holding fees, carry charges, or taxes.
What were the results? Compared to the time Lynch was managing the Magellan Fund, they are quite comparable. The annualized return for this screen is 13.44% (±25.74%). The screen has a low correlation (r = 0.61) with a low beta (0.79), and a high alpha (9.64%). To put it simply, it consistently, over time, finds one winning securities. For the same period, the S&P 500 averaged 5.26%, and small cap stocks averaged 8.99%.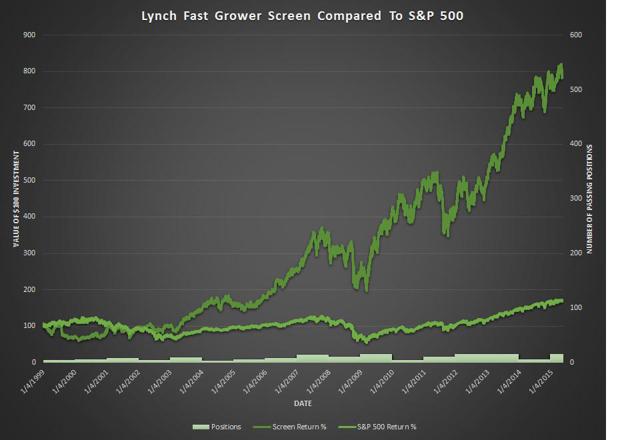 Figure 1
These are the companies that passed the screen on May 13, 2015:
| | |
| --- | --- |
| Ticker | Name |
| | Ethan Allen Interiors Inc. |
| | Fabrinet |
| | Hibbett Sports Inc |
| | Kulicke and Soffa Industries Inc |
| | Quaker Chemical Corp |
| | MKS Instruments Inc |
| | MTS Systems Corp |
| | Insight Enterprises Inc |
| | Sanderson Farms Inc |
| | USANA Health Sciences Inc |
| | Vitamin Shoppe Inc |
| | Winnebago Industries Inc. |
Table 1
I don't know if any of these will make one's career, but Sanderson Farms has proven itself as a nice investment so far, and I will continue to hold it for the foreseeable future.
In previous postings, respondents have asked for data show the robustness of the screens. Portfolio123 does have a nice feature where one can perform a rolling backtest. 201 different periods were analyzed for one-year holding periods. These are the results:
Positions

Screen Return

S&P 500 Return

Excess Return

Standard Deviation

Average

9.04

15.38%

4.51%

10.87%

35.66%

Up
Markets

141

9.3

22.31%

14.13%

8.18%

35.69%

Down Markets

60

8.43

-0.91%

-18.11%

17.20%

35.58%
Table 2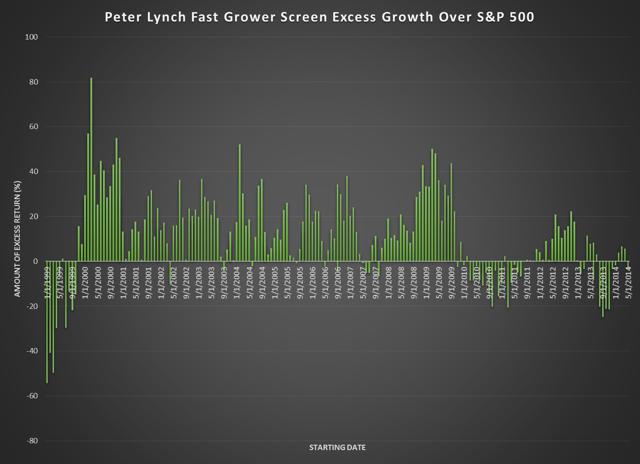 Figure 2
What does all this mean? Regardless of the type of market, this screen yields an average return that beats the overall market. It is especially efficient in maintaining capital when the markets go crazy. By barely averaging a loss when the overall stock market is hemorrhaging money, one is able to maintain the strategy. What good is a strategy, if one will easily abandon it when things are not going well? This is a strategy that will help one stay on track.
Final Note
In researching the Magellan Fund, I did notice one interesting point. Starting in 1991, the first year after Lynch's retirement, FMAGX averaged a respectable 9.37%. Comparing this to the S&P 500, though, it has underperformed the market (10.14%). Often, one does not realize how good someone was until they are gone. Peter Lynch was just that good.
Happy Investing!
Disclosure: The author is long SAFM.
The author wrote this article themselves, and it expresses their own opinions. The author is not receiving compensation for it (other than from Seeking Alpha). The author has no business relationship with any company whose stock is mentioned in this article.