Actionable Items:
Highest Positive Spread: Stone Harbor Emerging Markets Income Fund (NYSE:EDF)
Lowest Negative Spread: Invesco Van Kampen Bond Fund (NYSE:VBF)
Focus Stock of the Week: Nuveen Global Value Opportunity Fund (NYSE:JGV)
Last Week's Focus Stock: Stone Harbor Emerging Markets Income Fund (EDF)
On average, the 13 closed-end fund (CEF) types registered a share price increase of 1.5% for the week ending 1/6/12. On an aggregate unweighted basis, the weekly average price change for the 500 plus CEFs in the GrowthIncome database was up 1.1%.
The PowerShares CEF Income Composite (NYSEARCA:PCEF), an ETF that invests in taxable income CEFs, increased 1.5% for the week. PCEF is up 1.5% YTD. S&P 500 advanced 1.6% this week and same for YTD.
The Eqcome CEF Fear Index eased modestly for the second consecutive week on the upside. The average CEF unweighted price increased 1.1% while the average related NAV advanced 0.9%.
CEF Weekly Fund Type Performance: The typical pattern of rising equity markets produced equity-oriented CEFs advancing and fixed-income CEFs receding.
Showing the strongest advance was ConvtSecFnds, up 3.8% with InvGrdBndFnds flat. The rise in the diminutive ConvtSecFnds fund type (ten CEFs) was broad based and it generated a positive PrcNAVSprd. This indicates this fund type advance was based more on investors' momentum than on an increase in the underlying value of the related CEFS.
One interesting note was related to LoanPartFnds increasing 2.9% intimating that some investors support the prospects of a strengthening economy and a concomitant rise in interest rates. However, a week a trend does not make, but it is something to continue to monitor.
Weekly CEF Winners and Losers: One of the CEFs with the greatest positive PrcNAVSprd for the week was Stone Harbor Emerging Markets Income Fund. EDF's price increased 6.4% while its NAV advanced a more modest 0.5%, generating a positive PrcNAVSprd* of 5.9%. EDF was our focus stock for last week (See, "Last Week's Focus Stock(s)" below for commentary.)
In an unusual occurrence, the CEF with the greatest negative PrcNAVSprd for the week was the same one the previous week: Invesco Van Kampen Bond Fund.
VBF's share price decreased 5.4% while its NAV remained flat generating a negative PrcNAVSprd of 5.4%. This was atop of performance the previous week with VBF's share price decreased 3.9% while its NAV increased 1.3%, generating a negative PrcNAVSprd of 5.2%.
Since December 27th, when it reached an interim high of $21.84, the stock has dropped almost 9.5%. There was some elevated trading this week averaging two-thirds its average 3 month daily volume.
As we mentioned last week, VBF invests in high-quality corporate bonds. Approximately 85% of its $225 million unleveraged portfolio is invested in investment grade bonds with the preponderance of it in corporate debt.
For 2011, its stock price performance was 20.3% while its NAV advanced 7.5% during the same period. During the year, VBF's went from a 6.6% discount at the end of last year to its current 4.2% premium. VBF currently yields an annualized monthly distribution of 4.6%.
InvGrdBndFnds have lagged other fund types for two consecutive weeks; it could be a sign that investors are declaring "victory" in this fund type and are reconsidering the prospects for interest rates and economic growth for the New Year. ProShares "Short" 20+ Year Treasury (NYSEARCA:TBF) was up 2.1% for the week indicating that at least some investors may be reading the same tea leaves.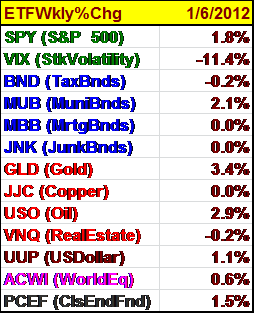 Economic & Earnings Outlook: (Click here for next week's economic calendar; click here for earnings' announcements and estimates.)
Insider Trading: After a busy month of December for insider trading, the first truncated week of 2012 was relatively quiet with scattered small insider trades being executed.
There was a continuation of insider buying in Stone Harbor Emerging Markets Income Fund that carried over from the previous month. David A. Oliver, Executive Vice President, acquired 282 shares at $21.00 for a capital outlay of $6,000. Mr. Oliver, in a delayed filing, registered 1,000 shares purchased in March of last year for a family member.
James E. Canty purchased 1,000 shares each of Clough Global Allocation Fund (NYSEMKT:GLV) and Clough Global Equity Fund (NYSEMKT:GLQ) where he is considered an "interested trustee".
Stephen A. Walsh purchased 1,000 shares of Western Asset High Income Opportunity Fund (NYSE:HIO) at $6.21 per share bringing his total holdings up to 75,700 shares. Mr. Walsh is the Chief Investment Officer of the sub-advisor, Western Asset Management, Inc.
Mr. Walsh was a persistent buyer of HIO during 2008. This was his first purchase since that period. His average return-to-date on those investments is -1.3%.
(Click here for a hyperlink to the Joe Eqcome's CEF Weekly Insider Report—see, "Research" Menu; "CEF Weekly Information" tab.)
CEF Distribution Announcements This Week: (Click Here for Joe Eqcome's Weekly CEF Distribution Announcements—see, "Research" Menu; "CEF Weekly Information" tab.)
CEF Focus Stock(s) for the Week: Our focus stock this week is Nuveen Global Value Opportunity Fund (JGV). JGV is classified in WrldEqFnds fund type which performed well this week with an average 1.7% increase in share price on an average increase in related NAV of 0.8%.
JGV's weekly share price performance was counter to WrldEqFnds' average performance.
JGV was one of the few in this fund type that registered a share price decline. Its share price was off 2.1% versus its NAV increasing 1.1%, thereby generating a negative PrcNAVSprd of 3.2%.
JGV has $330 million dollars in unleveraged total net assets. JGV's investment objective is to invest in a diversified portfolio of global value-oriented stocks and to a lesser extent fixed-income, 2/3's and 1/3, respectively. Its current annualized quarterly distribution yield is 8.4% under a managed distribution program. It's currently trading at a 4% discount which is below its 52 week average of 2.9%
Fish or Foul? The knock on the stock is that it is heavily invested in gold miners. Its top three positions are Barrick Gold (NYSE:ABX), Newmont Mining (NYSE:NEM) and Gold Fields (NYSE:GFI), representing 12.4% of the portfolio (9/30/11).
The related chart is a comparison of the JGV and the gold miners ETF (NYSEARCA:GDX) which demonstrates a significant departure of fortunes in August of last year when the equity markets collapsed.
The stock has "rolled over" since March of this year and seems to be bouncing around its most recent yearly lows.
There is great controversy concerning gold related investments as there is a constant debate whether the risk trade is "on" or "off". While in the short-term the prospects for the metals may be suspect, on a longer-term basis it might make sense—particularly to be paid to wait.
Last Week's Focus Stock(s): Stone Harbor Emerging Markets Income Fund was our focus stock for last week. There were several officers of EDF that had accumulated positions at the end of last week. The biggest stake was taken by James E. Craige, executive vice president, adding over 14,000 shares during the last week of the month. This brings his cumulative holding in EDF to 28,985 shares.
EDF seeks to maximize total return through investing in a portfolio of emerging markets fixed income securities. It has over $400 million in total net assets of which $83.7 million is leveraged. Its annualized distribution yield is 10.3% and it's trading at a 2.5% discount from NAV. The CEF is fairly new having been launched at the end of 2010.
Approximately 50% of its portfolio is invested in sovereign debt with the greatest portion invested in Latin America (Argentina, Brazil and Mexico). Of its entire portfolio the portfolio's exposure to Europe is 15.3%. Approximately 50% of the debt is denominated in U.S. dollars (NYSEARCA:USD), so an increase in the value of the USD, which many anticipate could have a muted impact upon repatriated income.
The stock was up over 6% this week on average volume.
Disclosure: I am long PCEF. Joe Eqcome (Owns a diversified portfolio of CEFs and ETFs and is long stocks in the CEFBig10™ and CEFMuni10™.) The first is a balanced equity-income portfolio (CEFBig10™) and the second a tax-exempt income portfolio (CEFMuni10™).
[*] All things being equal, price and NAV should move in tandem. A price movement greater than the NAV generates a positive PrcNAVSprd and may be interpreted as negative on a near-term basis and indicate that the stock is overvalued relative to its NAV which in theory is the stock's intrinsic value. The opposite would be true for a negative PrcNAVSprd.