I would like to think that I made meaningful headway kissing and making up with Sirius XM (NASDAQ:SIRI) longs on Friday.
As I extend the olive branch even further, I voluntarily agree to cease all direct comparisons between the satellite radio provider and web radio pioneer Pandora (NYSE:P). Because the two do compete broadly in the wide-ranging audio entertainment space, I will bring them up in the same breath, but I think the world gets served well if we stop this inane Sirius XM versus Pandora cat fight that I, admittedly, helped create and proliferate.
Even though I think Sirius XM should act a bit more like companies such as Pandora, the reality remains that, just like Pandora, Spotify, iTunes and Clear Channel's (CCMO.PK) iHeart Radio can coexist, so can all of the above, including Pandora, and Sirius XM. Heck, Pandora appears more than willing to partner with Spotify. And Clear Channel already agreed to a partnership with terrestrial radio foe Cumulus (NASDAQ:CMLS). If cats and dogs can complement (and compliment) one another, there's no telling who Sirius XM might decide to hook up with. It could very well end up being Pandora.
All of that to say, the intent of this article or any other that waxes bullishly on Pandora is not meant to detract from the strides Sirius XM took in 2011.
Pandora continues to produce numbers that should impress the most bearish of bears. First, it turned a quarterly profit. Shortly thereafter, it posted ratings that rival the top terrestrial radio stations in the nation's largest markets. And now it continues to crush its competition in the monthly Internet radio rankings compiled by Triton Digital. Here's the low down from Radio-Info.com's Friday email blast: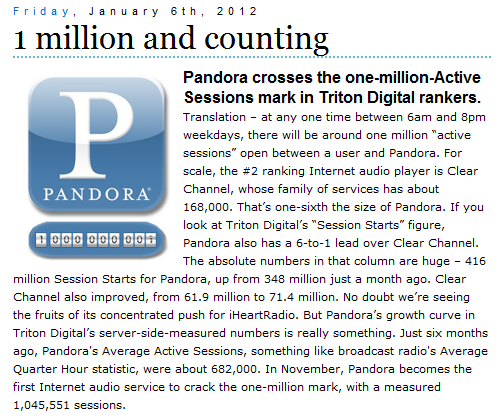 Consider the gravity of this situation. During the week, at any given time, one million connections between Pandora and a user exist. That's stunning, particularly when you consider No. 2 Clear Channel's overall scale, yet it only records about 168,000 digital sessions.
My Pandora bull case centers, as it has for months, on the company's ability to sell targeted, mutli-platform advertising at the national and local levels. Having worked closely with terrestrial radio sales departments over the years, I can tell you that they do their best work selling stations and individual shows that own the same and similar attributes as Pandora.
After you consider what Pandora can put into the hands of its growing sales force when it hits the street, it's easy to see how the gig should be like shooting fish in a barrel for just above-average salespeople, let alone good ones. Pandora can provide ratings that, despite Arbitron's (NYSE:ARB)-biased cries, effectively match up to the ones terrestrial radio stations use. And it can tout the above-cited massive Triton statistics.
There's a reason why Clear Channel is so aggressively replicating what Pandora does with its iHeart Radio. And there's a reason why ad rep Katz cut ties with Pandora to "focus our Katz 360 online efforts toward (our core terrestrial clients) digital assets." Terrestrial radio is running scared because Pandora simply continues to crush it (generally speaking) to a level beyond anybody's imagination.
To their credit, terrestrial forces are on the offensive a bit more than they have been historically. Arbitron's rebuke of Pandora, the move by Katz, Clear Channel's hiring of the sharp Bob Pittman and the smart Clear Channel-Cumulus partnership all reflect a much more aggressive industry than we're used to.
That said, terrestrial radio, by and large, continues to do what it has always done - react to threats with nothing all that novel. That's what it did when satellite radio first encroached about a decade ago. It's hung more than tough throughout that battle. Even still, terrestrial radio and what amounts to its lobby is, largely, on the defensive as it attempts to marginalize Pandora, while, for all intents and purposes, copying the web radio pioneer.
How To Play It
I'm long Pandora and regularly dollar cost averaging into that position. I'm toying with the idea of creating a basket of stocks to play the broad audio entertainment sector.
That would involve complementing the Pandora position with stakes in companies such as Cumulus, Sirius XM, CBS (NYSE:CBS) and Disney (NYSE:DIS). While the latter two do not represent audio pure plays, they help add diversity to the relatively speculative core of Pandora, Cumulus and Sirius XM. Including stocks such as Apple (NASDAQ:AAPL) could help to further broaden such a portfolio.
Disclosure: I have no positions in any stocks mentioned, but may initiate a long position in CBS, CMLS, DIS, SIRI over the next 72 hours.
Additional disclosure: I am long AAPL and P.