As we enter a new year, our attention once again turns to the making of resolutions. Resolution making is always popular, and just about everyone makes one or two of them for the season. For example, what was a quick trip to the local gym is now a major undertaking as the crowds gather to follow through on their newfound inspiration. For investors, a new year can also bring a time for new resolutions as well. Now is the time where many investors regroup and analyze their holdings, and also make changes to their overall goals and strategies.
This is where I find myself once again. In my younger years, taking chances with riskier stocks was the name of the game. Needless to say, I made and lost money on countless trades and strategies, but now time is slowly catching up with me. I no longer have time to recoup the losses, and I don't want to jeopardize any of my winnings. As a result, my new strategy is starting to make the necessary changes in my portfolio that will focus on income as the main driver. Not to say that I won't dabble in a speculative biotech from time to time, but it seems that income generation is now the driving force. As a result, this year's resolution is to identify stocks and funds that provide a competitive income stream, along with the potential for some capital appreciation. Armed with my newfound mission, I set out to find some of the best candidates to fill the empty spaces in my portfolio.
Philip Morris International Inc. (NYSE:PM)
My first choice is a blue chip company that has been around for some time. Philip Morris, through its subsidiaries, engages in the manufacture and sale of cigarettes and other tobacco products in markets outside of the United States. The company operates primarily in the European Union, Eastern Europe, the Middle East, Africa, Asia, Canada and Latin America. Its international product brand line comprises of such well-known names as Marlboro, Merit, Parliament, Virginia Slims and Chesterfield.
At first glance, one might say that PM is not really a great income holding, and I would have to agree. The stock does pay a quarterly dividend, which adds up to a yield of 3.9%. While that is not as high a yield as other potential candidates, PM does offer some protection in the form of international exposure and a recession resistant business model. Take a look at this chart to see how the company has been doing in this recent economic environment.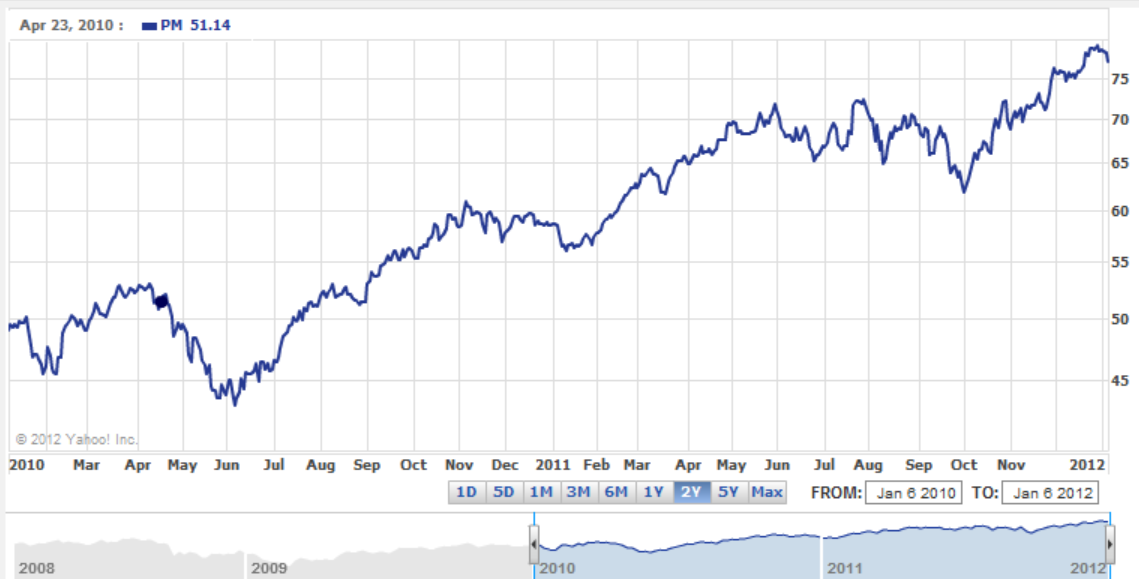 The company is extremely well-run and has a good history of paying dividends. Since its spin-off in March 2008, PM has increased its regular quarterly dividend by 67.4% from the initial annualized dividend rate of $1.84 per common share. In more recent history, PM has increased its regular quarterly dividend to $0.77, which is up 20.3% from its old rate of $0.64. That should make the new annualized rate $3.08 per common share.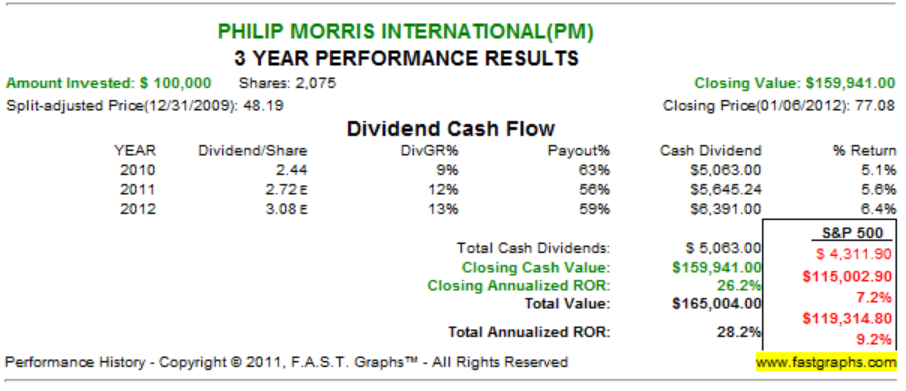 The growth rate for the company in this bad economic environment has also been very surprising. The company stated that the most recent results for this quarter were simply superb on each and every key performance measure. They also made note that their business in Japan and Asia was a key driver for their stellar results for the third quarter. Net revenues for the third quarter were $8.4 billion, and were up by 26.4%, including favorable currency exchange of $697 million. Excluding currency, net revenues increased by 15.9%. It seems that PM is a great first choice to begin with.
CVR Partners (NYSE:UAN)
Our first choice dealt with cigarettes, so let's go to the other end of the spectrum and look into the fertilizer arena. If that is not diversification, then I do not know what is. One major theme is that the world's population is getting bigger and bigger every year. The demand for food should always be a constant, so over time, the fertilizer companies should do well. Within this sector there are a couple of good choices that could fit into the portfolio, but the one I like best is CVR Partners. UAN stock is relatively new to the scene, but the company has some definite advantages over its competition.
UAN was derived as a partnership from CVR Energy Inc. (NYSE:CVI) which spun off the company to operate the fertilizer side of the business. CVR Energy holds a 70% interest, while the other 30% is held by the public. What makes UAN different than other companies is that they are the only fertilizer producer in North America that uses a special petroleum coke process to make its product. The company gets this coke from its parent company (CVR Energy) that owns and operates a refinery. This is a definitely asset, in that the coke is readily available from the parent and also tends to be much less expensive when compared to natural gas, which other competitors have to use. Currently natural gas prices are very low, so this advantage has yet to play out to its dramatic conclusion. In the future when prices do rise, UAN will be able to control its costs much better than their competition.
Another advantage is that UAN is located much closer to customers, so it will enjoy a transportation cost advantage when compared to other companies. Moving vast quantities of fertilizer is not cheap. UAN's location makes it an ideal business partner for those final end users who have to use the product. Needless to say, UAN and CVI are very aware of the huge demand for their products. As a result, the company is in the midst of an expansion project which is expected to be completed in the first quarter of 2013. By completing this expansion, the company will be able to get more products to market, and thereby increase profitability and the quarterly cash distribution.
For the nine-month period of the third quarter, UAN stated that its net income was $91.2 million on net sales of $215.3 million compared to $39.5 million of net income on net sales of $141.1 million for the comparable period a year earlier. In late October of 2011, they announced that their third quarter distribution was going to be 57.2 cents per share. At that rate, the company should be able to meet its stated goal of providing $1.92 per share for the 12 month cycle that was presented when UAN came into existence. So currently, UAN is providing an 8.4% yield for investors. Fertilizer prices remain high, as shown when UAN stated that the average realized plant gate prices for ammonia and urea ammonium nitrate were $568 per ton and $294 per ton respectively, compared to$317 per ton and $168 per ton respectively for the equivalent period in 2010. I think UAN will be a solid pick for the portfolio.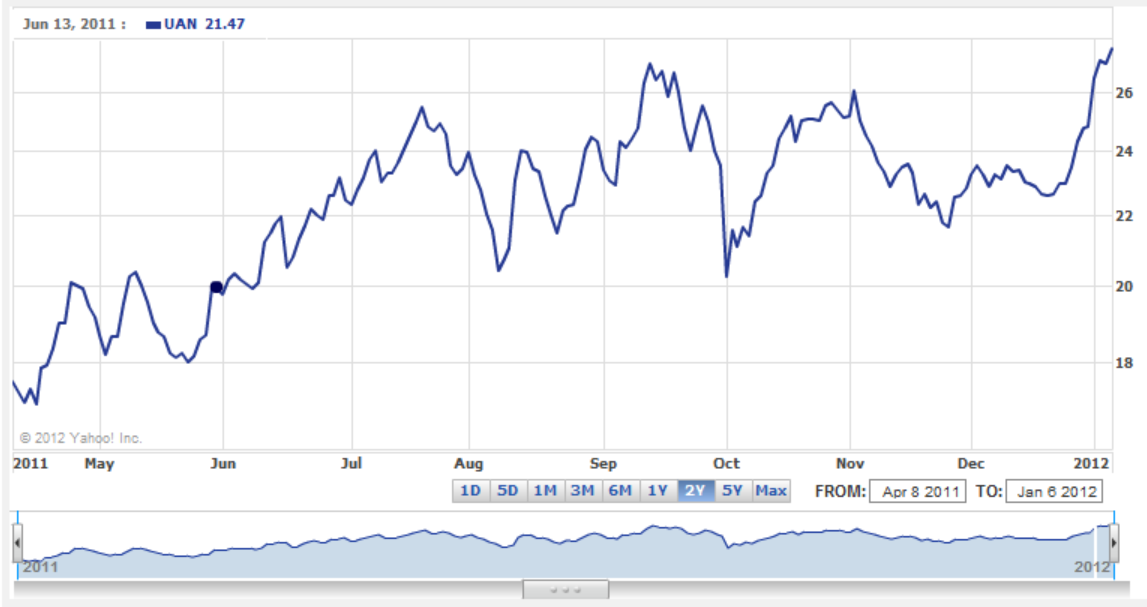 Seadrill (NYSE:SDRL)
My third choice finds me in the deep water drilling business with Seadrill (SDRL). Seadrill is a leading offshore deepwater drilling company that operates a versatile fleet of 60 units for operations in shallow to ultra-deepwater areas. SDRL has roughly 6,650 employees that represent some 50 nationalities which operate in 15 countries. Needless to say, this company truly has a global presence.
What draws income investors to SDRL is the great yield of 8.9%, but it is the business sector that they in which they operate that makes the stock truly compelling. Even in this harsh economic environment, the world's demand for oil is ever growing. Major new reserves are being located, but they are in some very hard to reach places. It is companies like SDRL that will be called upon to get them. A prime example is the recent announcement by the company that they are contemplating expanding their product range to offer a wider range of oilfield services in Brazil. These newfound oil reserves are going to be located off the coast of Brazil. As long as the demand for oil stays high, then a company like SDRL will thrive.
Consolidated revenues for the third quarter of 2011 amounted to US$1,029 million as compared to US$995 million in the second quarter. The operating profit for the quarter was US$480 million, up from an operating profit of US$430 million in the preceding quarter. The company's fourth quarter earnings are expected to be even better, as several of the company's assets will be in full operation. For example, the new ultra-deepwater semi-submersible rig West Pegasus, and the new semi-tender West Jaya will be commencing operations for BP. It should be noted that the company does have lots of debt to service, but with as much demand as they are getting, it should be manageable. I believe SDRL is also another solid choice for the portfolio
Penn West (NYSE:PWE)
For my next pick, I am staying in the energy sector, but changing over to a well-known Canadian entity. That company is Penn West. PWE engages in acquiring, exploring, developing, exploiting and holding interests in petroleum and natural gas properties. It is one of the largest conventional oil and natural gas producers in Canada. The company currently has a 5% yield that pays quarterly. This is not the highest yielding investment in this sector, but the company has some great aspects that are coming into play.
PWE's great strength comes in the form of its growth strategy. The company currently has access to 6.2 million acres with which to initiate its growth. The catalyst for the company will be its application of its new horizontal drilling technologies. This new drilling method is known to be a highly effective way to get to oil that otherwise might not be unattainable under old drilling techniques. The key to this investment is that of PWE's total reserves; only 5% is related to the horizontal drilling, which are the wells that have been drilled. If one were to sit and think about it,one would come to the determination that the company's reserves are grossly understated by quite a bit.
To get to these new reserves, PWE will have to spend a good deal of cash on their drilling projects. For 2012, the company is estimating to spend $1.6 – $1.7B on their capital expenditures. PWE knows that light oil is where the money is, while natural gas prices are lagging badly. Due to this, 85% of the planned capital spending will dedicated to four main light oil development projects. The company has even stated that the inventory for these four projects should drive growth for the company for 5-10 years.
When looking at the books, the company is looking solid. The funds flow was $348 million in the third quarter of 2011, a 30 percent increase from the $267 million reported in the third quarter of 2010. This was due to stronger commodity prices and an increase weighting to light-oil production. Net income for the third quarter of 2011 was $138 million compared to $304 million in the third quarter of 2010 and $271 million in the second quarter of 2011. Net income in the prior periods included gains on asset dispositions, including a $368 million gain on the formation of a joint venture in the third quarter of 2010 and a $127 million gain on minor property dispositions recorded in the second quarter of 2011.
PWE is a perfect company for the portfolio. The yield is not the highest in the sector, but their growth potential is enormous. If they can act on their plans, then the company has a bright future, and increases in the cash distributions will only be a matter of time.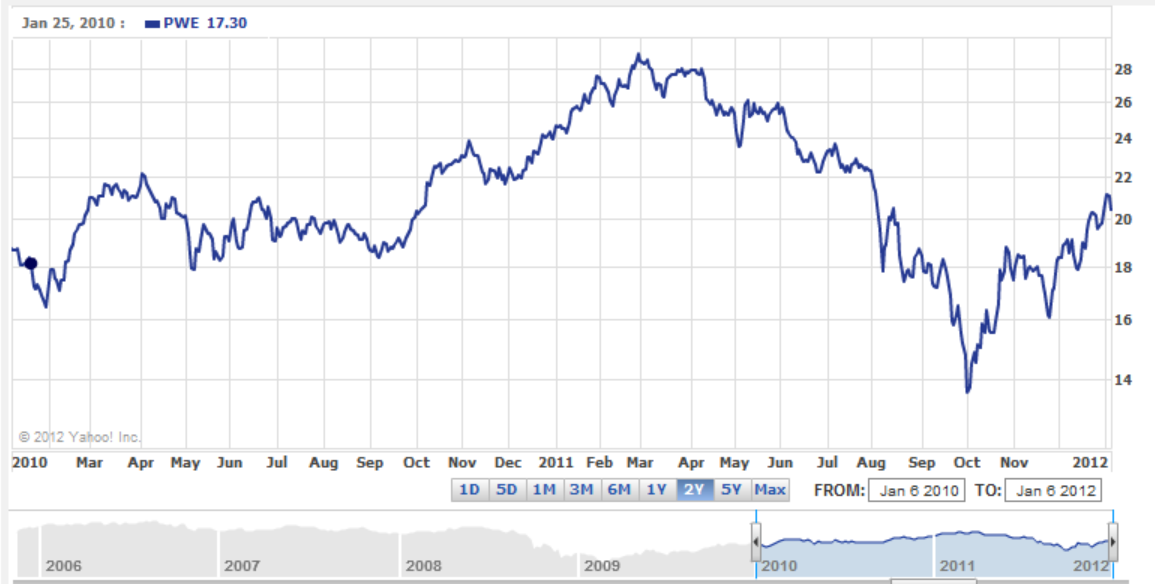 Enerplus (NYSE:ERF)
Now diversification within a portfolio is always a must, but sometimes, one must be willing to over expose their investments to what sectors are working. In the case of energy, especially oil, I find that I want more exposure, and therefore, am willing to take on a second name in the sector. Along with PWE, I think that Enerplus is an ideal Canadian energy company that provides a great income stream. Currently the yield for ERF is 8.1% and is paid out on a monthly basis.
ERF is a company that engages in the acquisition, exploitation and operation of crude oil and natural gas assets in both the United States and Canada. Energy production is almost an even break of 53% natural gas, 47% crude oil and natural gas liquids. Much like PWE, ERF is also trying to really grow the company and the assets it controls. ERF has stated that its goal is a total production growth of 10 – 15% over the next two years. That is pretty ambitious, especially in this current economic environment with natural gas prices pretty much at historic lows. This being the case, ERF will concentrate on the oil production side of the business where they want to increase production by over 20% through 2012. To do this, the company had $1 billion in credit at the end of 2011. As of November, the company had drawn $265 million already. If successful, ERF hopes to potential double its reserves that it currently has on the books.
Late in 2011, ERF stated that they have over 50% of their expected oil production in 2012 hedged at approximately $95 /bbl, and have started to add hedge positions for 2013 oil production as well. The natural gas production remains unhedged, as there is no benefit in locking in prices as the markets remains weak. The funds flow for the third quarter totaled $123.3 million, which was down from $193.3 million in the third quarter of 2010. The majority of the reduction is due to taxes in 2011 resulting from the disposition of a major asset, along with adjustments to prior year tax estimates. ERF recorded a current tax expense of $32.3 million in the third quarter of 2011 compared to a current tax recovery of $33.7 million in the third quarter of 2010.
What this all boils down to is that ERF is a solid energy company that is growing their business. They are dedicated to paying investors a steady, competitive income stream and should do for years to come. ERF is definitely one to consider for the portfolio.
Atlantic Power (NYSE:AT)
Finally, to change the mix, I have added one of my favorite new companies, Atlantic Power. AT is a leading publicly traded power generation and infrastructure company with a well-diversified portfolio of assets in the United States and Canada. On November 5, Atlantic Power acquired Capital Power Income L.P., and as a result, their footprint is significantly larger and more diversified than it was before. With these new assets, AT has really become a major player in the world of power generation. Their power generation projects sell electricity to utilities and other large commercial customers under long-term power purchase agreements, which seek to minimize exposure to changes in commodity prices. The net generating capacity of the Company's projects is approximately 2,116 MW, consisting of interests in 30 operational power generation projects across 11 states and 2 provinces-- one 53 MW biomass project under construction in Georgia, and an 84-mile, 500 kilovolt electric transmission line located in California. Atlantic Power also owns a majority interest in Rollcast Energy, a biomass power plant developer with several projects under development. Atlantic Power is incorporated in British Columbia, headquartered in Boston and has offices in Chicago, Toronto, and Richmond, B.C.
Their corporate strategy is to generate stable cash flows from existing assets and to make accretive acquisitions to sustain the dividend payout to shareholders. Their dividend is currently paid on a monthly basis at an annual rate of Cdn$1.15 per share, which makes is around a 7.9% yield. There is very little not to love about AT. If management continues to fulfill its promises to investors, then AT will be an income investor's dream for years to come.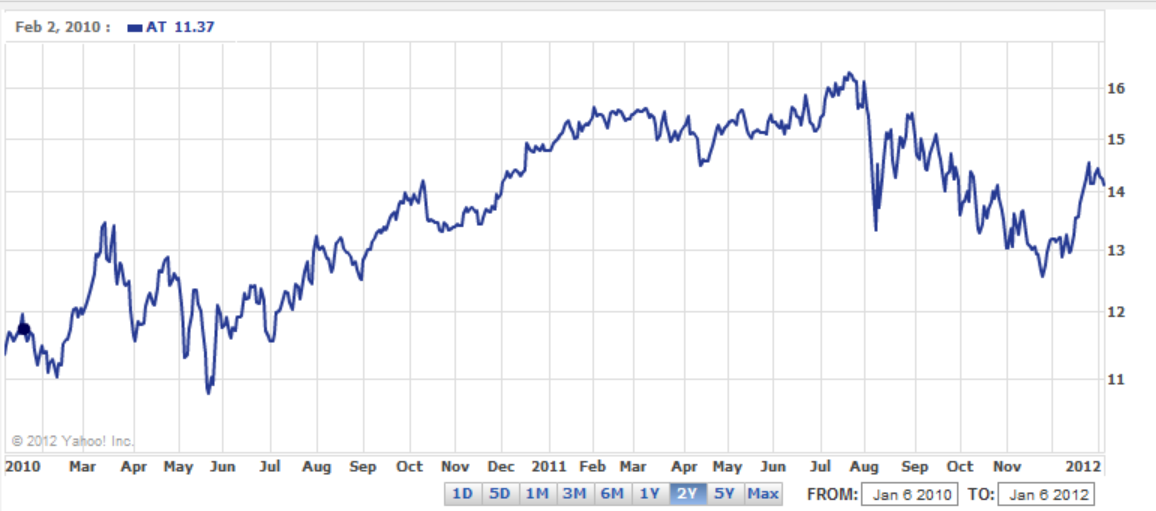 In conclusion, the above are just a handful of great companies that could be used to make a very desirable income portfolio. Needless to say, I have just scratched the surface as there are many other sectors and companies that will make the grade. Of course, the above is just a quick review, and much more research should be done before any purchase is made. That being the case, I feel that all the above will be successful in my income portfolio as I enact my new year's resolution.
Disclosure: I am long PWE, UAN.