It has been two months since I last discussed Vical (VICL). In that time, the stock rose from $3.72, and after peaking at just over $4.75 early last December, dropped back to $3.61 on the heels of a follow-on offering on January 6, 2012. I'll discuss the current technical situation below, but first, a few words on the company in general and Allovectin in particular.
Late December and early January is the time when pundits of all stripes roll out their predictions for the New Year. Nowhere is this more true than on Wall Street, where analysts, columnists and reporters "rush to judgment," climbing all over each other in their attempts to let clients and readers alike "in" on the latest wisdom from their crystal balls (this year's version no doubt imported from China).
Proper etiquette requires, of course, that we not ask embarrassing questions regarding anyone's performance during the previous year. (Remember, on Wall Street, the rule is: "Past performance is no guarantee of future results.") Rather, we are asked, as a matter of faith, to accept whatever insights are being delivered from On High on the basis that, absent His blessing, they at least carry the imprint of the writer's firm.
So, I found interesting, in reviewing the flood of prognostications on the stocks I follow, one small paragraph inserted in a recent screed written by Adam Feuerstein of theStreet.com that was published in late December, 2011:
"Meaningful clinical trials results in 2012 to start thinking about now include two phase III studies of cancer immunotherapies, or 'vaccines.' These are Oncothyreon's (ONTY) Stimuvax in non-small cell lung cancer ... and Vical's Allovectin in melanoma (data mid-year.) I've already predicted failure for both but obviously plenty of people disagree and believe one or both of these therapies will succeed. Differences of opinion are what makes markets."
One can't argue with Adam on that count.
I suspect, but don't know for sure, that Adam's position is based on an earlier statement he made that goes back to January of 2011:
"Vical is conducting the Allovectin study under a Special Protocol Assessment from the FDA that gave the OK to use durable response as the primary endpoint, but that doesn't necessarily relieve the company of demonstrating that Allovectin can prolong the survival of skin cancer patients. Recently, two experimental skin cancer drugs, one from Bristol-Myers Squibb (BMY) and the other from Roche - have produced positive phase III results that include a survival benefit. If Allovectin cannot match the efficacy of these two drugs, results from its phase III study, even if positive, may be clinically irrelevant."
Let's talk about that ... but first, let's talk about the disease being attacked here: Metastatic melanoma.
According to the National Cancer Institute, metastatic melanoma is a form of cancer that begins in melanocytes (cells that make the pigment melanin). It may begin in a mole (skin melanoma), but can also begin in other pigmented tissues, such as in the eye or in the intestines. There are over 70,000 new cases reported each year in the United States, with almost 9,000 deaths each year from the disease. Until last year, the only approved first-line treatments were DTIC-Dome (dacarbazine) and Proleukin (IL-2). Two new treatments were approved in 2011: BMY's Yervoy (ipilimumab) and Roche Holding's (OTCQX:RHHBY) Zelboraf (vemurafenib), both on modest survival improvements. Vical's Phase III trial of Allovectin is evaluating both response rate (at 24 weeks or more after randomization, an important advantage over chemotherapy) and overall survival.
To evaluate the potential for Phase III success, it is instructive to look at some results from the Phase II trial of Vical's Allovectin. More importantly, let's look at what impact Allovectin has had on the disease. These data were presented by Vical at the NewsMakers and Credit Suisse presentations, which are posted to the Events and Presentations page of Vical's Web site. While not for the squeamish, they are instructive.
I am not a medical doctor, so I tender no medical opinion on the results shown. But as a layperson, I find them remarkable. According to HEMISPHERx Biopharma (HEB), the median survival time is seven months in patients with a single site (other than lung), four months with two organ sites and two months with more than two organ sites. The one-year survival rate is 36% with one metastatic site, 13% with two organ sites and less than 1% with more than two organ sites.
In sum, I believe the results shown in the two presentations on Vical's Events and Presentations page cited above lend credence to the enthusiasm expressed by Vical management at several recent analyst conferences and other financial, medical, and scientific fora.
The above notwithstanding, and with specific reference to Adam's point regarding the need to demonstrate a survival benefit, your attention is called to the next figure, also found in the two references I cited above. The Phase II trial, with 127 patients, was an open-label, multi-center, single-arm study. Fifty-three percent of the patients in the trial had Stage III disease while 47% had stage IV metastatic melanoma. There were no brain or liver mets. The administration parameters are shown below.
Direct Intratumoral Injection
Select up to 10 target tumor lesions to follow
Repeat injections into same single lesion
Cycle = 1/wk x 6 wks + 3 wks observation*
(*The Phase 2 study included three weeks of observation after the six-week treatment period, for a total treatment cycle of nine weeks. The Phase 3 trial includes two weeks of observation after the six-week treatment period, for a total treatment cycle of eight weeks.)
Measure response in all target lesions
Outpatient Setting
No pre-treatment or post-treatment care
Well-tolerated in multiple clinical trials
Minimal impact on quality of life
Median overall survival was 18.8 months. Unfortunately, more than 60% of the subjects did not complete more than one treatment cycle, due to strict adherence to Response Evaluation Criteria in Solid Tumors, or RECIST, criteria, which were designed for chemotherapies, not immunotherapies such as Allovectin.
That said, 11.8% of the patients treated with Allovectin achieved an objective response. (Again, more than 60% of those in the Allovectin arm did not complete more than one treatment cycle.) But what is even more impressive to my mind is the fact that at the time these data were published, the median survival could not be determined for the responders. Put another way, less than half of the responders had died at the time the study was published (80 months from trial inception). At the least, even the most bearish Vical analyst would have to begrudgingly have to admit that the evidences bode well for Allovectin prolonging the survival of skin cancer patients.
Vical has made some key changes in the Phase III trial that should improve the outcome even further:
Only chemo-naïve patients were enrolled in Phase III, which represented a majority of the responders in Phase II
RECIST criteria were relaxed to allow patients to stay on the trial through at least two treatment cycles, even with progressive disease, as long as the progression was not clinically significant
The primary endpoint measures response rate at 24 weeks or more after randomization, by which time chemotherapy responders typically progress
Whether the Phase II data will be repeated or exceeded in the ongoing, pivotal Phase III Allovectin trial for which the data should be available in mid-2012 is the $64,000 question.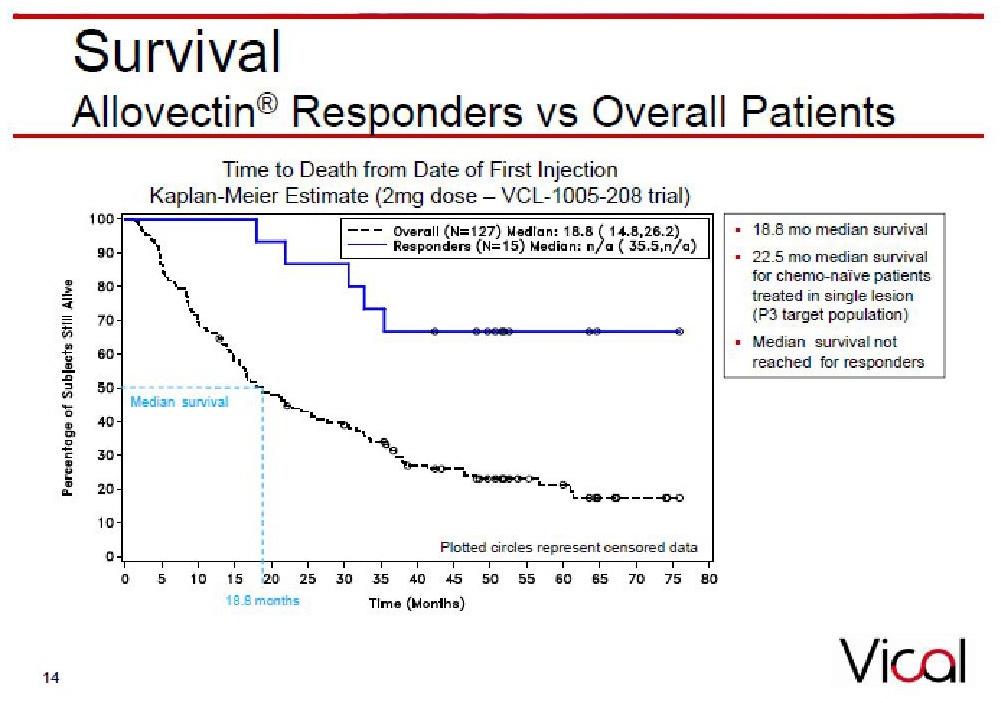 Technical Analysis
As seen in the Daily chart below (courtesy StockCharts.com), the shares of Vical had been under distribution since early December, when they peaked at a little over $4.75. The Relative Strength continued to fall throughout the month and into early January, during which time the MACD remained negative.
While most biotechs have been relatively strong of late, with Dendreon (DNDN) leading the sector up late last week with earnings that took the Street by surprise, VICL dropped almost 15% on Friday to $3.61, primarily the result of the company going into the capital markets (here and here) to raise cash. As seen, the price blew through the first level of support - the 50-day moving average - and moved on to penetrate the 200-day moving average at $3.75, as well, the latter, interestingly, being the price of the offering.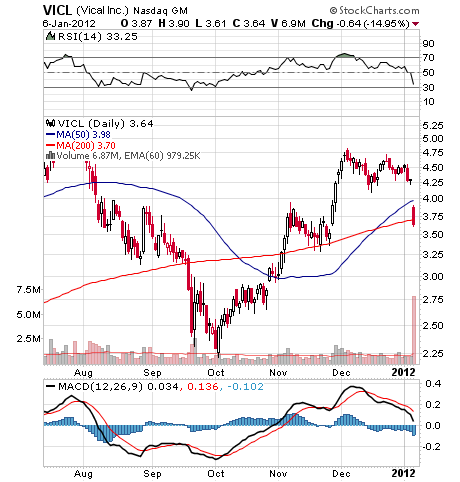 On a weekly basis, Relative Strength is falling and the MACD line is tipping over. Clearly, the Smart Money is selling. These data indicate lower support levels, first at just under $3.50, and then, $3.00.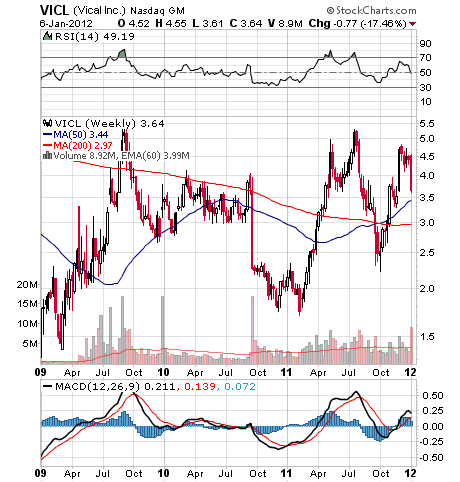 Disclosure: I am long VICL.
Additional disclosure: I am long VICL and will not alter my position within 72 hours of the time of publication of this article.