Most investors tend to flock to the investments that are hot while overlooking unrecognized investments that don't get much publicity. The same is often true with closed-end fund (CEFs) investments. How many times have you found a CEF trading at a premium of 30% or 50%? This happens as the demand for certain CEFs outstrip the company's NAV price. Adding fuel to the fire, CEF companies frequently overstate returns on NAV in their documents by using creative accounting. The moral of the story, it is hard to tell what your real returns are for most CEFs. Here, we will identify some CEFs that will be winners in the New Year.
My evaluation is based finding CEFs making the net income to continue their distributions, which will decrease risk of a rate cut. Since CEFs are designed to produce income, this is the best way to determine the financial health of a fund. Secondly, look at total returns minus reinvested distributions for the REAL total return. Simply, add the current distribution rate to the actual change in NAV over a period of time. NAV will fluctuate with market prices but you do not want to lose much capital in your investment. Lastly, be a wise man and do not follow the crowd into paying an excessive premium for a CEF just because it has a high yield or flavor of the day.
The list below highlights seven CEFs that are set up to be winners this year. These CEFs have been growing NAV or holding steady with high yields and the financial health to meet monthly distributions. You need to keep in mind that net investment income is after fund expenses so this includes the general higher fees and expenses for a CEF.
Helios High Income (NYSE:HIH) is a taxable bond fund with a monthly distribution rate of 9.3%. HIH seeks a high level of current income and capital growth. It will invest a majority of its total assets in a diversified portfolio of below investment grade debt securities offering attractive yield and capital appreciation potential. Interest rates should be stable through 2012. It has a PE of 12 with a price-to-cash flow of 6.47.
Wells Fargo Advantage Income Opportunities Fund (NYSEMKT:EAD) is a taxable bond fund with a distribution rate of 10%. Normally it invests at least 80% of its total assets in below-investment grade debt securities, loans and preferred stocks. It will not invest more than 20% of its total assets in convertible instruments. Up to 10% of its total assets may be invested in futures and options on securities and indices and in other derivatives. This sounds like a risky fund but its net investment income was double the distributions paid in the most recent SEC report.
AllianceBernstein Global High Income Fund (NYSE:AWF) is a global bond fund with a distribution rate of 8.29%. However, 61% of assets are invested in the United States. Other country exposure includes Russia, Brazil, and other Latin America areas. There is minimal exposure to the euro dollar. The fund has also beaten emerging markets fixed-income peer averages over the latest one-, three-, and five-year annualized periods. What's more, it had better performance than the other two high-yield CEFs in this group over the same periods. The fund also beat the JP Morgan Emerging Market Bond Composite Index over three- and five-year annualized periods.
Eaton Vance Tax-Advantaged Global Dividend Income Fund (NYSE:ETG) is a world stock fund that provides a high level of after-tax total return, consisting primarily of tax-advantaged dividend income and capital appreciation, through investing at least 80% of its total managed assets in dividend-paying common and preferred stocks of U.S and foreign issuers that are eligible to pay dividends that qualify for federal income taxation at rates applicable to long-term capital gains. After a rough first half of 2010, this fund has begun to stabilize and should outperform in 2012.
Other CEFs in the table include DSU, FRB, and ARK.
(Click chart to expand)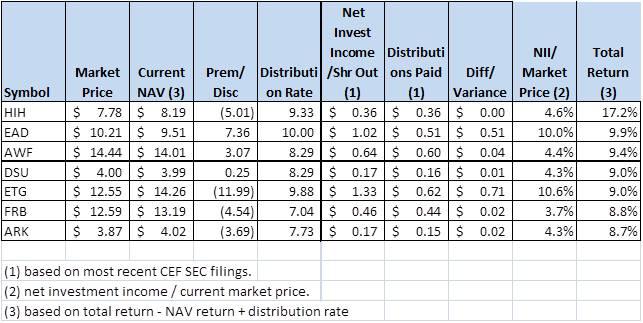 Disclosure: I have no positions in any stocks mentioned, and no plans to initiate any positions within the next 72 hours.