While the year is quite young, last week's strength in Financials is certainly the big story so far. The sector, which has 81 constituents accounting for about 14% of the S&P 500 (NYSEARCA:SPY) and is still the second largest sector, rose 3%, well above the 1.6% jump in the market. Given how poorly the sector has fared over the past five years and how many false starts there have been, a little skepticism is likely warranted. With that said, though, the recent jump only reinvigorates a trend that appears to have begun after Thanksgiving (remember that horrible week?). Since 11/25, the S&P 500 has rallied by 1%, while the Financials have rallied by 14%. Not exactly a tear!
It's a very fair question and one that could be very important to investors in 2012: Is this just a "dead-cat bounce," or is it the beginning of a sustainable rally in the sector? Before I address the issues, it's only fair that I tell you where I am coming from, as I have been guilty of over-anticipation of strong relative performance. I launched an ETF model portfolio in late April (great timing, huh?), and the performance has certainly been hurt by an overweight of Financials since that time (especially since late July). As I will address later, I continue to structure the portfolio for exposure to Financials.
Let's take a look at the sector's recent performance. First, it's important to put into context the jump last week, as it follows a year of tremendous underperformance. While the S&P 500 was unchanged in price in 2011, Financials dropped 18.4% . As you can see in the chart below, this isn't anything different from recent years really, as the sector has declined 12% over the past two years (when the overall market rose 12%) and has fallen a stunning 64% in the past five years (compared with an 11% decline in the S&P 500). On an annualized basis, one can say that it was just a typical year for Financials, as the compounded decline was 18.8% over the past five years.
As I mentioned, there are 81 names in the sector (in the S&P 500), and 50 of them are below the 200dma (no big surprise there). Even after the big pop, 60% of them remain below the 200dma, while the overall market trades about 2% above the 200dma currently. The SPDR Financials (NYSEARCA:XLF) trades 4% below the 200dma still. Even looking at a shorter timeframe, XLF trades 4% above its 50dma compared with the S&P 500 trading 3% above its 50dma. Even if one concludes that this is just a reflexive move, there would appear to be a pretty high ceiling here. The S&P 500 trades just 7% below its 52-week high, while XLF lingers 22% below its 52-week high.
Let's take a look at some data now:
(Click chart to expand)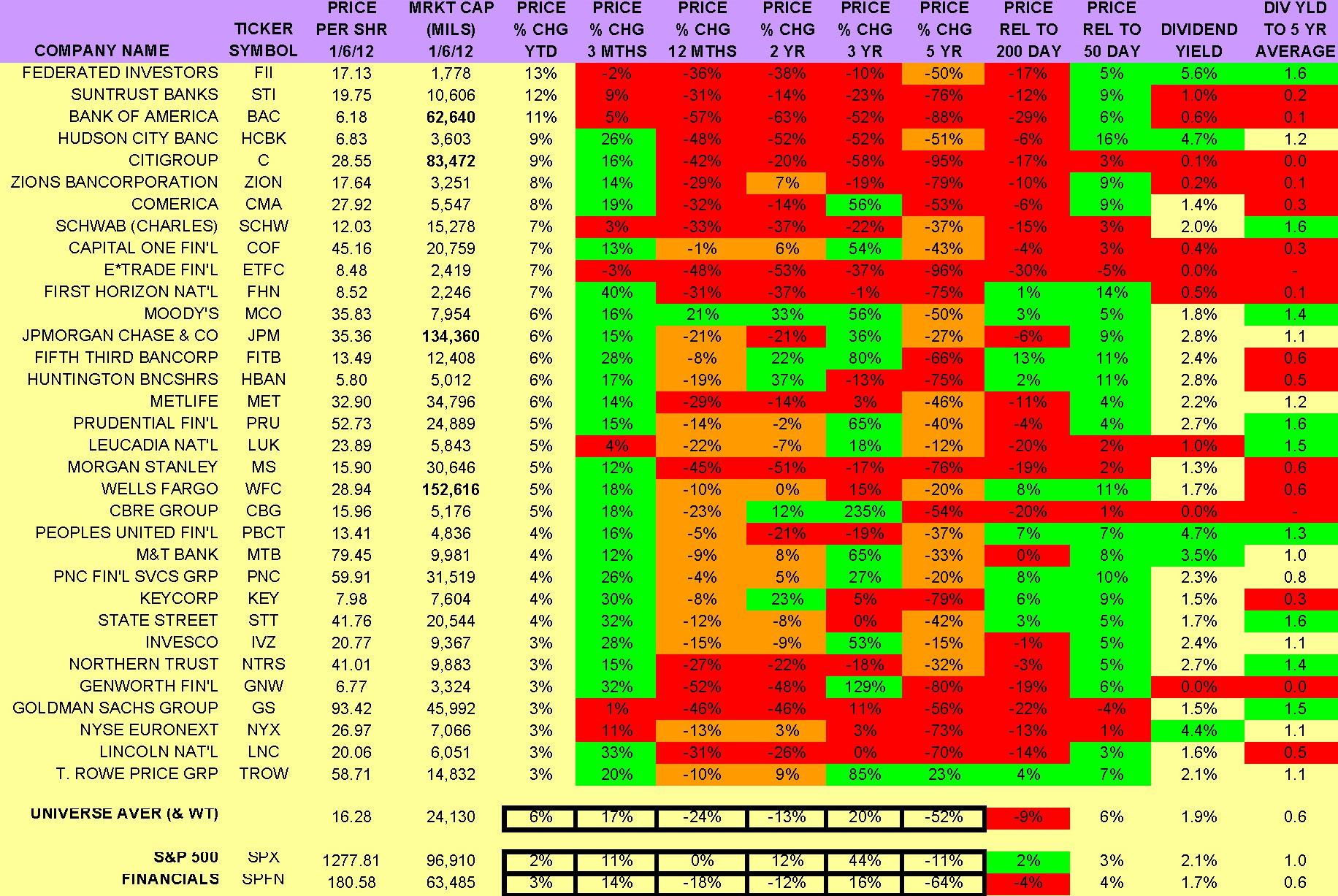 In this table, I have included all of the stocks up more than 3% so far in 2012. Those who think this is just a dead-cat bounce may find some evidence here. After all, just 33 of the 81 names are matching the sector return, which shows how narrow the short-term leadership has been.
Before I go on, let me describe all of the columns and how I have chosen to color-code. In the fourth column, I highlight the market caps in excess of $50 billion. The four largest banks made the cut. US Bancorp (NYSE:USB) is the only bank of that size that isn't included - it's up just slightly less, which is impressive given that it rallied last year. The other two names in the sector in excess of $50 billion market cap but not up 3% so far are American Express (NYSE:AXP), which is up 2.3% after rallying last year too, and Berkshire Hathaway (NYSE:BRK.A), which is lagging but has rallied over the past five years and can't be described as beaten up.
Going across the other columns, I have sorted the list on year-to-date return. The next five columns describe price returns over various timeframes. For the "strong" periods, where these stocks have beaten the S&P 500, I have marked in green those stocks who have beaten the market and in red those that have been beaten. In the other periods, I have included orange to highlight those stocks that have underperformed the market but that have beaten the overall sector.
In the next two columns, I have highlighted in green those stocks above their 200dma and 50dma, respectively, and in red those below. Finally, I have marked in green all of the stocks with dividend yields of 3.1% or higher (1% above the market) and in red those of 1.1% (1% below the market). The last column compared the current yield with the average of the past five years, with those at <80% of their own average marked in red and those in excess of 120% of their average in red.
Let's quickly look at the bottom - in the past three months, Financials in general have been beating the market - 14% to 11% (similar to the absolute changes since 11/25 I mentioned earlier). These stocks, though, have been stronger at 17%. After that, it's all downhill. Over the past year, these stocks fell 24%, which is substantially below the overall sector. Going all the way back to the beginning of 2007, these stocks have actually performed a bit better than the sector, but are still down a lot.
Most of the stocks are trading well above the 50dma, but it is mixed. Looking at the 200dma, the idea of the dead-cat bounce becomes clearer: Even after the pop, these laggards are still 9% below the 200dma, much worse than the market or even Financials in general.
So, it's pretty easy to see why some might conclude that this phenomenon is just rotation into terrible stocks of late. As I noted, the relative performance of the sector started to pick up right after Thanksgiving, which tells us that tax-loss selling and window-dressing likely played a role in recent trends. It's not surprising that we saw a little acceleration of the buying this week. Many of these stocks have rallied very sharply and seem extended (based on 3-month price changes and how far many are above their 50dma), but we are talking about some really beaten down stocks. All but T. Rowe Price (NASDAQ:TROW) have lagged the market for 5 years now, and half of the remaining stocks have actually lagged the sector.
So, why might this be a sustainable rally and not just the same-old same-old that has burned so many (including me)? It's likely going to depend a lot on how Europe plays out, but also on changes on the regulatory front. I don't have the answers for those!
What I can say, is that the valuations appear very low. Yes, comparing with tangible book value can be a challenge (what's exactly in that soup?), but 24 of the names do trade below that TBV. Looking at the entire list of 81 names, the average P/TBV is 1.3X. For the 33 names beating the sector so far, that ratio is just 1.0X.
Looking at forward PE ratios, the average S&P 500 Financial has a PE of 11.1, slightly below the market. Earnings growth, though, is supposed to be an average of 27% this year, sharply higher than the market. According to S&P data, the overall sector has a market-weighted 2012 PE of just 9.6X, easily the "cheapest" of all 10 sectors. The 13.8% projected sector EPS growth in 2012 is the highest (tied with Technology), comparing favorably to 10.1% for the overall market. For the 33 names in the table above, the PE is typically 10.1X, with 33% projected growth in 2012.
So, it looks to me, based on long-term price declines and these two metrics, that the names in the table are more beaten up than the sector and also have better valuation metrics. Another issue that could add to investor interest is dividend growth. In the table above, I show that these 33 stocks pay a lower dividend than the market. As a result of TARP rules, many of the banks just restarted their dividend programs last year, but there are still concerns over capital. Over time, this should improve. According to my data (Baseline), the 33 stocks in the table are paying out just 22% compared with a more typical 32% payout over the past decade. With so much focus on dividends these days, rising dividends could help.
I like the idea of investing in an out-of-favor sector, though I have been a bit too much like Sponge-Bob on this one (are we there yet?). In some ways the bounce out of the gate is all too predictable, and it's a bit concerning that the field is somewhat narrow when it comes to leadership (33 of 81 names up 3% or more). It looks a bit better over the past 3 months, with more than half (45) of the sector beating the overall sector.
I see compelling valuations and terrible sentiment but clearly some huge risks (European financial contagion, higher capital requirements or other regulatory issues). As I mentioned, I have an above-market exposure in my ETF model, but I am watching closely for signs of deterioration. I actually like the idea of making a "sector" bet rather than picking stocks in this sector. Not only do I personally find it a bit challenging to analyze highly leveraged companies, but there are so many dynamics (capital markets exposure, overseas/emerging markets exposure, housing exposure).
In my Top 20 Model Portfolio, which I shared last week, I have a market weight for the sector, but the exposure is quite different (Pawn lender and an asset manager). In my Conservative Growth/Balanced Model Portfolio, which I also shared last week, I have two banks (very conservative ones in my view) and the same asset manager. In coming days, I expect to give some thought to a "riskier" Financial for my Top 20, which is supposed to be market-beating ideas.
Disclosure: I have no positions in any stocks mentioned, and no plans to initiate any positions within the next 72 hours.