To determine the best of the best dividend stocks, many investors rely on a once per year trading system triggered by yield, called the "Dogs of the Index" strategy. This strategy gives the investor the tactical advantage of obtaining all the wisdom and knowledge of the well-paid wizards of investment and publishing for free, merely by choosing an existing collection of equities built by the experts.
The Dogs of the Index strategy, popularized by Michael B. O'Higgins in the book "Beating The Dow" (HarperCollins, 1991), reveals how low-yielding stocks whose prices increase (and whose dividend yields therefore decrease) can be sold off once each year to sweep gains and reinvest the seed money into higher-yielding stocks in the same index.
Two key metrics determine the yields that rank the S&P 500 Aristocrats dog stocks: (1) Stock price; (2) Annual dividend. Dividing the annual dividend by the price of the stock declares the percentage yield by which each dog stock is ranked. Thus the investor is able to follow, trade, and await the results from an investment in the lowest priced, highest yielding five or ten stocks in the index.
Instant investment wisdom from the S&P 500 Aristocrats Index
Listed below are the thirty S&P 500 Aristocrats stocks by yield as of 12/30/11 per Yahoo Finance data. McGraw Hill, publisher of this index, states, "The S&P 500 Dividend Aristocrats index measures the performance of large cap, blue chip companies within the S&P 500 that have followed a policy of increasing dividends every year for at least 25 consecutive years."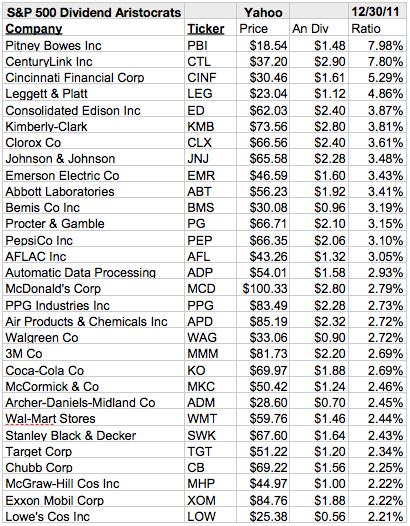 Four of the top ten stocks paying the biggest dividends on the S&P 500 Aristocrats in December were consumer goods firms. The leading consumer goods firm, Pitney Bowes (NYSE:PBI), took over the top spot from Century Link (NYSE:CTL). This technology firm will be leaving the list in January since CTL failed to raise its dividend in 2011, and broke the 25 years of divided payments rule to be listed.
For these thirty S&P Aristocrat dividend payers, two technology companies, ten consumer goods, three financial, six services, three basic materials, two industrial, two health care, one utility, and one conglomerate represent the market sectors.
2011's vertical moves by S&P 500 Aristocrats index dividend payers
CenturyLink stayed at the top of the list for eleven months in 2011, until December, when Pitney Bowes took over. Color code shows: (Yellow) firms listed in first position at least once; (Cyan Blue) firms listed in tenth position at least once; (Magenta) firms listed in twentieth position at least once; (Green) firms listed in thirtieth position at least once in 2011. Duplicates are depicted in color for highest ranking attained.
Click on charts below to enlarge: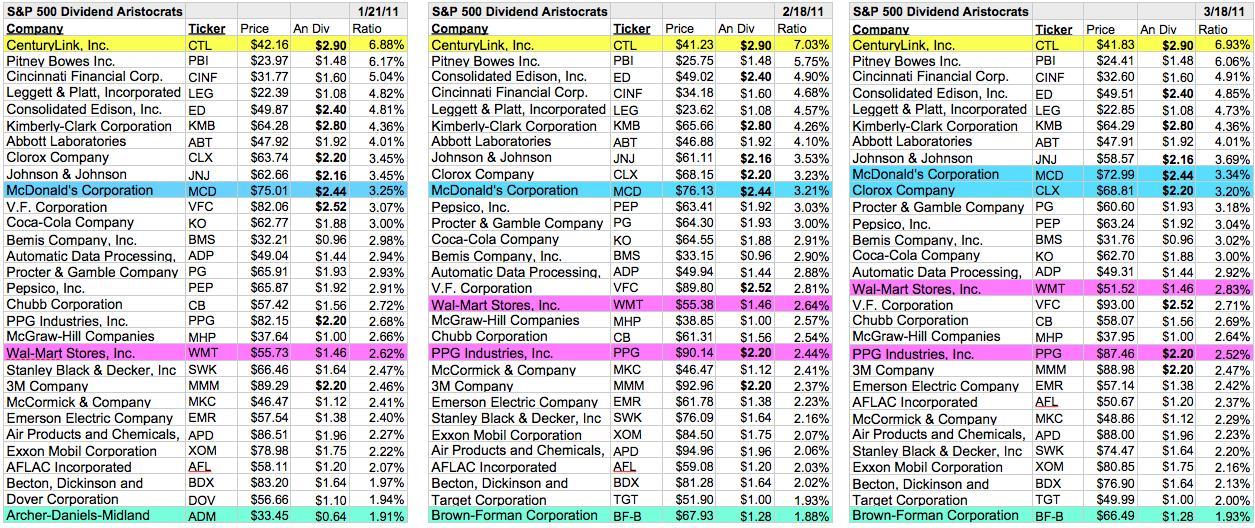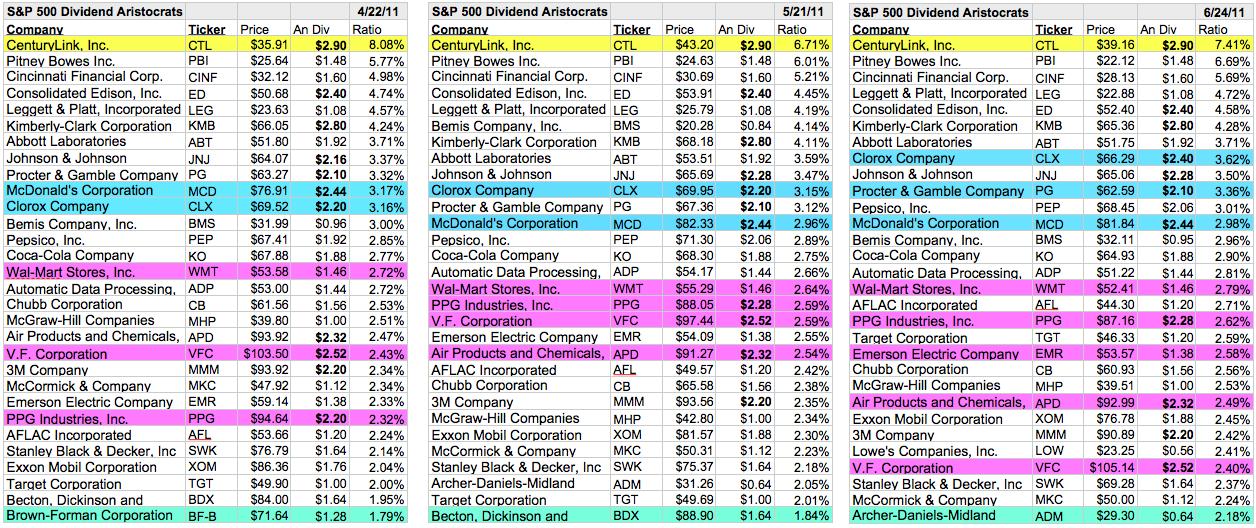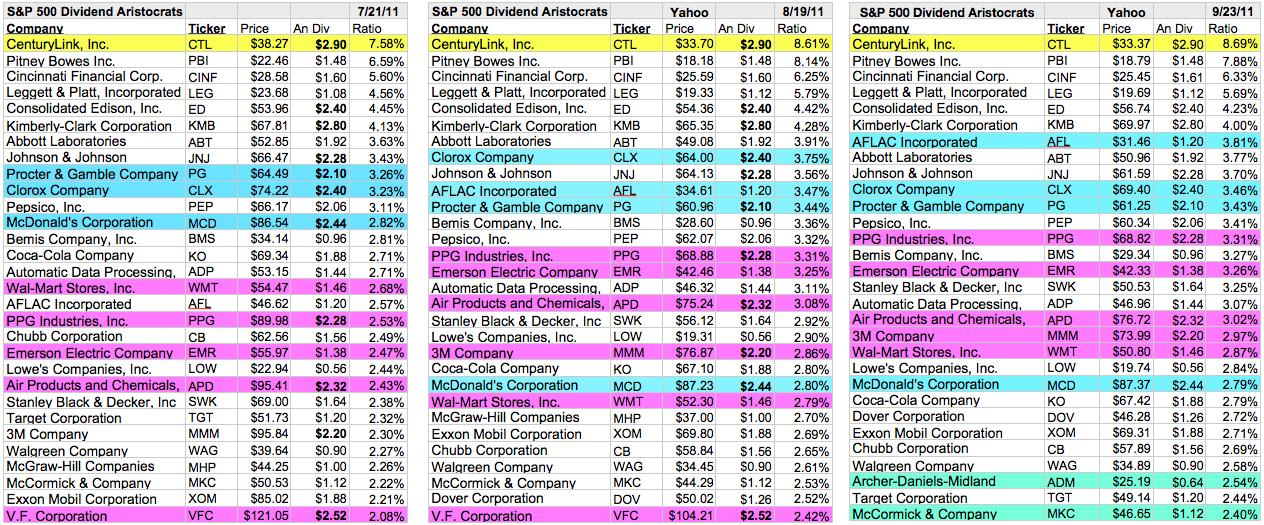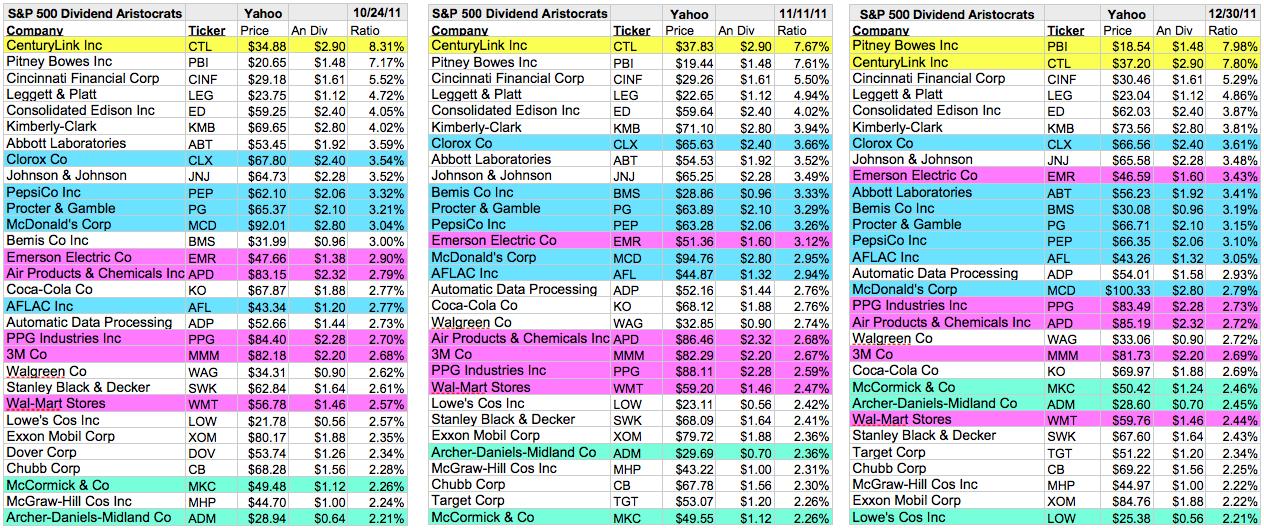 Comparing December to January reveals the top ten dog list shuffle for 2011. McDonalds (NYSE:MCD), on the top ten by yield in January 2011, was replaced by Emerson Electric (NYSE:EMR) in December.
McDonalds was thrown out by a 33.76% increase in price coupled with an 18.03% increase in dividend for 2011.
To join the pack of dogs at the top by yield Emerson Electric posted a 21.36% decline in price coupled with a 15.94% increase in dividend. When CTL leaves the list, Abbott Labs (NYSE:ABT) will fill in the last spot in the top ten Aristocrats.
2011 Dividend VS. Price Results for S&P 500 Aristocrats Index Top 10
Below is a graph of the relative strengths of the top ten S&P 500 Aristocrats index stocks by yield as of December 30, 2011. Twelve months of historic projected annual dividend history from $1,000 invested in the ten highest yielding stocks each month and the total single share prices of those ten stocks creates the data points for each month shown in green for price and blue for dividends.
The December S&P 500 Aristocrats Index component update shows no discernible trend for this index except for the horizontal direction. Furthermore Aggregate single share prices for the top ten stocks converged with projected total annual dividends paid from $1,000 invested in each of those top ten stocks at the $477 level.
What direction will S&P 500 Aristocrats prices and dividends go in 2012? Stay tuned.
Disclosure: I am long JNJ.
Disclaimer: This article is for informational and educational purposes only and shall not be construed to constitute investment advice. Nothing contained herein shall constitute a solicitation, recommendation or endorsement to buy or sell any security. Prices and returns on equities in this article are listed without consideration of fees, commissions, taxes, penalties, or interest payable due to purchasing, holding or selling same.