Back in May of last year, I employed a strategy called "basket trading" to assemble a portfolio of electric vehicle (EV) stocks:
Click to enlarge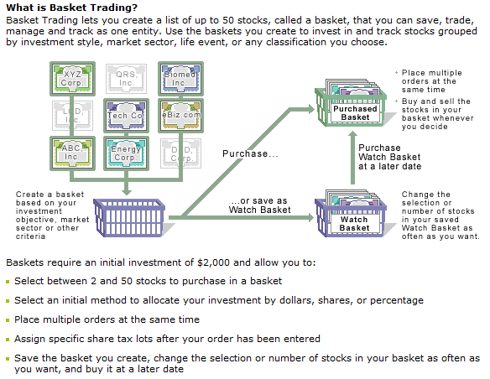 Source: Fidelity Investments.
Several brokerages, including Fidelity, give investors the opportunity to, for all intents and purposes, construct their own mutual fund via basket trading.
In this article, I quickly review the performance of the core holdings in the EV basket. Then, I construct a similar set of holdings that focuses on the dynamic audio and video entertainment spaces.
Performance Of Electric Vehicle Basket Of Stocks
| | | | |
| --- | --- | --- | --- |
| Company (Ticker) | 05/16/2011 Close | 01/09/2012 Close | % Change |
| NRG Energy (NYSE:NRG) | $24.69 | $17.54 | -28.9 |
| AeroVironment (NASDAQ:AVAV) | $28.59 | $30.23 | +5.7 |
| Ecotality (ECTY) | $4.02 | $1.17 | -70.9 |
| American Electric Power (NYSE:AEP) | $37.72 | $40.98 | +8.6 |
| Tesla (NASDAQ:TSLA) | $26.60 | $27.25 | +2.4 |
| Ford (NYSE:F) | $15.13 | $11.80 | -22.0 |
| Nissan (OTCPK:NSANY) | $19.77 | $17.47 | -11.6 |
| Best Buy (NYSE:BBY) (5 to 10% Fringe Play) | $32.13 | $24.62 | -23.4 |
That's a bit of a mess, to say the least. Because each stock, especially in that basket, has its own story, I'll save thoughts on each for a separate article.
Weak performance aside, the EV basket does illustrate how you can assemble a series of stocks on the basis of a particular theme. While I was never a proponent of EVs as the future, I do think some good trades still exist within that basket; in fact, you could have made money trading in and out of (or shorting) most of the stocks in it.
Constructing A Basket Of Audio/Video Entertainment Stocks
I am long-term bullish - as in, if I buy them I intend to take them with me into my 40s (I am 36) - on most of the stocks I will include in this basket. Two more exciting spaces do not exist. There are many reasons for this.
First, the two sectors often overlap. Second, both sectors range quite widely with content creators, content delivers and hardware makers competing in the space, side-by-side, sometimes in competition, sometimes in partnership, sometimes both. Third, the companies in these areas have the power to continue the facilitation of how people share information and spend their entertainment time and money. We're quickly becoming a mobile and connected, multi-platform nation (and world); fewer companies, especially among the old guard, appear to be kicking and screaming into the future.
Maybe most importantly, you can make some headway toward diversification in the sector. While I, for the most part, consider diversification a myth - without simply using mutual funds and ETFs, retail investors cannot achieve a truly well-diversified portfolio - broadly buying into these sectors goes a long way toward the goal. That will become clear as I construct the basket.
The Core (75% Allocation)
Apple (NASDAQ:AAPL). I'm not sure how you can put together a selection of stocks in the audio and video entertainment sectors without including Apple.
Apple derives a lion's share of its revenue by selling its products to consumers and enterprise. But, clearly, via iTunes and iCloud, it's a player in the content game. Who knows about the veracity of the report, but Apple could be preparing to alter yet another landscape if it can secure television rights to English Premier League soccer:
The technology giant is interested in acquiring exclusive rights to screen EPL games in England when the next package (for the 2013-2016 seasons) is tendered. The Cupertino, Calif., company is set to wade into a bidding war with established television heavyweights such as Rupert Murdoch-owned Sky Sports, ESPN and Al Jazeera.

Using its platform of Apple TV, a small box costing less than $100 that allows users to stream Internet content on their television screens, the company already showcases properties from Major League Baseball, the National Hockey League and the National Basketball Association. But this is different.

By going for full English television rights to the EPL, one of the most lucrative sports products in the world, Apple could be signaling the start of an assault on cable's turf.
Talk about a game-changer. While I've never been into it, a sport with a broader, more global appeal probably does not exist.
I asked a British friend of mine about this over the weekend. He lives in Santa Monica and, like so many soccer nuts, wakes up in the wee hours of the morning to watch EPL and other soccer.
He made a good point. The link between what we assume is the typical Apple customer as well as a core audience for EPL - relatively sophisticated and affluent urban types with disposable income - could not be stronger. If Apple is going to spend the cash for exclusive rights to sporting events, it makes little sense to do it in most other places if, indeed, its goal is to expand its footprint and further foster the dominance of its ecosystem.
I've got to think that, if these aspirations are real, a deal like this - or other select deals - would move beyond just English rights to a television franchise. When I hear rumors like the EPL one, I understand why Apple hoards cash and worry much less, though I never worried much, about "what's next?"
Time Warner (NYSE:TWX). In these spaces, I want to own the companies that hold the cards. The ones that can make life miserable for the middleman in the sector. In a recent Seeking Alpha article, I articulated this conviction:
Later Thursday, Time Warner's (TWX) Warner Bros. segment announced that it has doubled the amount of time Netflix, Coinstar (NASDAQ:CSTR) and Blockbuster (NASDAQ:DISH) must wait before renting or selling new movie releases to customers.

More specifically, and I don't know the guy, though I did send him an email yesterday, I think this is Time Warner CEO Jeff Bewkes' way of punk-slapping Netflix CEO Reed Hastings yet again.

You want to dilute our brand and compare Netflix to HBO, Reed? Fine, we'll make you pay more for the only stuff we're willing to sell you in the first place. The apparently unrelated new release delay stings not only Netflix, but the other middlemen and impacts new movies, not HBO programming.

By now, it's beyond obvious why both of these moves just intensify Netflix's death spiral. But, I've covered that from every angle possible, plus if you can't understand it without an explanation, you can't understand it with an explanation.
Guys like Bewkes at companies like Time Warner have more power over the future of entertainment and all that it entails than people (e.g., Reed Hastings) give them credit for.
Every once in a while it pays to go to a company's latest quarterly report to see a quick and concise picture of what comprises their business. Start here in Time Warner's most recent filing. With that type of scope and scale, look for Time Warner to strike some major partnerships in 2012 that make the excellent HBO GO look like a trial run.
Disney (NYSE:DIS). Speaking of striking partnerships, do not underestimate the Disney-Comcast deal that gives the cable operator rights to stream the Mouse's programming, including the ESPN channels, to any and all of its customer's gadgets.
I've glowed enough about that partnership, so I'll refrain from reminding you that I predicted those types of hookups would happen in 2012. More reasons than that exist to include Disney in this portfolio. Disney represents a hedge within a hedge.
First, it makes for a relatively stodgy holding (that's gone from below $30 to about $40 in three months) that pays a dividend similar in size to TWX. It also shares the same type of reach. An investment in Disney, however, takes things a step further. Here again, yank the company's latest annual report from the SEC's website to refresh your memory of just how diverse Disney is:
Click to enlarge

You can skip right to the portion of that annual report to see the massiveness that composes Disney's multiple, synergistic revenue streams.
Rogers Communications (NYSE:RCI). I've written quite a bit about Rogers lately. The Canadian company takes the idea of enormous scope and scale to an almost absurd extreme.
In addition to my articles on the company, you can find more color on Rogers from fellow Seeking Alpha contributors Chris Katje and Matt Grunwald.
Three of the four stocks in the core pay a dividend. Each has room for hyper or stable revenue growth on top of already considerable growth and stability. Plus, in their own way, each company claims control over considerable portions of not only the audio and/or video entertainment sectors, but other areas such as print media and telecommunications.
I would buy - and likely will - TWX, DIS and RCI at the first chance possible. The million dollar question, of course, that I do not have answer to, is do you get into AAPL now ahead of earnings or wait until after the report?
Readers keep emailing and commenting with that question. We know the stakes. You bite now and AAPL pulls back on earnings. You hesitate and the stock blows toward and past $450 before you can click "submit order." I would err on the side of caution and wait for a pullback. But, alas, it's an incredibly personal - and nerve-racking - decision.
Secondary And Speculative Plays (25% Allocation)
Pandora (NYSE:P), Sirius XM (NASDAQ:SIRI) and Cumulus Media (NASDAQ:CMLS). I cobble these three stocks together because they continue the theme I articulated in my last article that discussed them.
One of my major predictions for 2012 posits that we'll see partnerships (like Disney-Comcast) as well as M&A in the audio and video entertainment spaces throughout the year. Along similar lines, you'll see a sort of cooperative coexistence.
I wish I could include Clear Channel (CCMO.PK) as part of this portfolio, but it's thinly-traded and has an abysmal balance sheet. I like CMLS not only because of its iHeart Radio partnership with Clear Channel, but because it has moved through the process of integrating Citadel Communications.
As part of the process, Cumulus continues to put the hammer down on staff and other areas of its operation, in true Clear Channel fashion. As much as I hate seeing people lose their jobs and heritage stations change, Cumulus has made some good, money-saving moves that likely will not hurt programming.
For instance, the company blew up KGO in San Francisco. I'm a radio geek and love the old-school AM stations, but, as tough as it is to say, some of them need to be blown up. Just like content creators and deliverers need to embrace multiple platforms, terrestrial radio companies need to recognize that there's only so much you can do on an AM signal. Expensive talk formats on AM are a thing of the past. It's all about news and information.
Along similar lines, Cumulus let the Buffalo Bills leave the stations it owns in the market. Here again, having a sports franchise on your station can generate considerable revenue, but it also costs a ton of money to keep on the air. Cumulus can win doing a rock-sports hybrid or all rock, without a team, in that market as well as others.
Speaking of revenue, I want to be in a radio company heading into election season because political ad spending beefs up the bottom line. Cumulus stands to benefit from an influx of ads that will likely set records.
I've said quite a bit about Pandora and Sirius XM in the latest article I wrote that focused on the two companies and several that came before that one. I am long Pandora and would consider getting long Sirius XM on a pullback to below $2.00. If I miss the boat, so be it.
First, I don't have a long-term bullish view on the company. If anything its recent run might have shifted me closer to neutral than bearish, but not by much. That said, I consider the inclusion of SIRI on this type of basket a contrarian play against myself.
When you select a basket of stocks, you're not going to be right about every single one. That's pretty much at the reason for wanting to be diversified. That gives you some room to include a stock or two that you might not be completely sold on, but that has performed well and others are bullish on. Sirius now fills that category for me.
Disclosure: I am long AAPL, F, P.
Additional disclosure: I may initiate long positions in CMLS, DIS, RCI, SIRI and TWX over the next two weeks.