MCW Energy Group Ltd or (OTCQX:MCWEF) is a Canadian Holding company involved in the creation and application of oil sand extraction technology. The company is currently focused on (1) proprietary, environmentally friendly oil sands extraction production facilities in Utah and (2) worldwide joint venture and licensing of oil sands opportunities with governmental and private industry entities within countries possessing extensive oil sands/ shale deposits. MCWEF is no longer involved in gasoline and diesel distribution throughout the south-western section of the U.S., as it has recently sold its distribution network to raise capital and focus on oil sands technology and production.
When researching a major stock, I like to focus on a consistent set of fundamentals that can be used to compare different companies across the industry. However, MCWEF is different. Being a small growth company with both high upside potential and high downside risk, the metrics that I focus on are different. Instead of looking at profit, I like to focus on the following: Technical Advantage, Potential reserves, future economic analysis and comparison to peers.
Technical Advantage
The current crash in crude oil prices has resulted in tough times for companies across the energy industry. While large companies such as Exxon or Shell have enough cash to easily weather any kind of environment, smaller companies are more prone to downturns as they do not have the same kind of cash. Therefore, when studying a high potential penny stock such as MCWEF, it is especially important to understand what the company does.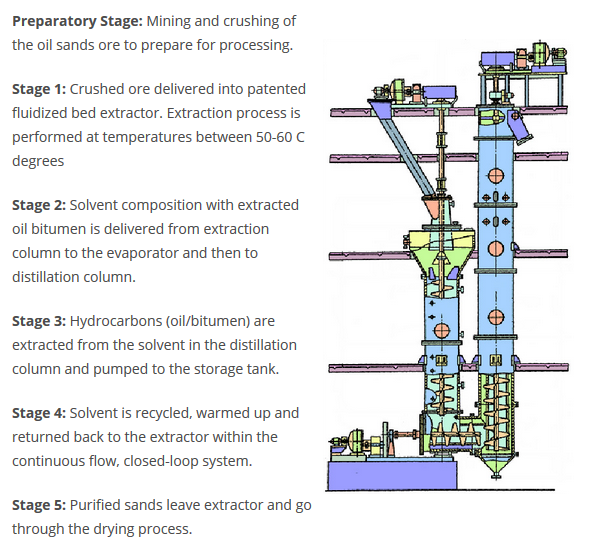 Source: MCWEF website
As can be seen in the figure above, MCWEF's technical process involves mining tar sands, and processing it to produce oil. While the process may seem complex, the idea is rather simple. Essentially tar sands are deposited into the system, mixed with a patented solvent, and separated via distillation to produce heavy oil and clean sand. Unlike current oil sand extraction processes in Canada, this process uses no heat, no water and doesn't leave behind environmentally disastrous tailing ponds. Furthermore, the MCWEF extraction process has an energy return of 22:1 compared to the Canadian steam-assisted gravity drainage process with an energy return of 4:1. Because of the high energy efficiency of MCWEF's extraction process, lower capital costs and environmentally friendly design, independent consultants (chapman petroleum engineering) provided cost estimates ranging from $24 to $34 per barrel for $80/barrel crude or $25-$27 per barrel for $50 crude.
The crude produced within the Utah oil sands is heavy with API of 14 and would normally command a lower price. However, Utah has a huge advantage over other unconventional oil plays because Utah already has a very large oil infrastructure in place to process the oil. With 5 refineries capable of processing total 179,000 bbl/day and plentiful pipelines, Utah oil sands companies can save expensive transportation costs associated with most modern day unconventional oil plays. Furthermore, the value of the crude can be increased by mixing it with solvent, gas or diesel to produce a lighter and more valuable product API ~21-42. This is why MCWEF production costs are lower when crude prices are $50 per barrel. While West Canadian Select (WCS -crude oil with an API of ~21) trades for $15-$10 less than the benchmark WTI, even at the lowest of the low points of oil prices ($42 for WTI $30 for WCS), MCWEF's extraction process would still be profitable ($24/barrel). Compared to peers, the picture looks even rosier. With the exception of Saudi Arabia, MCWEF's production costs are lower than the entire competition.
| | |
| --- | --- |
| Plays | Cost of production fall 2014 |
| Saudi Arabia | US$10-25 per barrel |
| Montney Oil Alberta and British Columbia | US$46 |
| Saskatchewan Bakken | US$47 |
| Eagle Ford, USA Shale+ | $40-6 US$50 (+ Liquids-rich Eagle Ford plays, assuming natural gas prices of US$3.80 per mmbtu) |
| Lloyd & Seal Conventional Heavy, AB | US$50 |
| Conventional Light, Alberta and Saskatchewan | US$58.50 |
| Nebraska USA Shale | US$58.50 |
| SAGD Bitumen Alberta | US$65 |
| North Dakota Bakken, Shale | US$54-79 |
| Permian Basin, TX Shale | US$59-82 |
| Oil sands legacy projects | US$53 |
| Oil sands mining and infrastructure new projects | US$90 |
Source: Scotia Bank Equity Research and Scotia Bank Economics via Wikipedia
So while mega oil companies such as Exxon Mobile, Chevron, and Conoco Phillips lost money in North American operations during Q1 2015, MCWEF is poised to profit in almost any oil price environment. This makes MCWEF's extraction technology cost effective even at oil prices of $50 per barrel.
Potential liquid Reserves & Economic Analysis.
At the moment, MCWEF is looking to commercialize the technology in two ways: royalties per joint ventures and direct production. On the direction production side, MCWEF has a 1,128 acre lease, approximately 10 miles from UTAH's main distribution hub. Currently MCWEF has contracts with Temple Mountain Energy for 8,333 tons of oil sands material per month. Although the current plant on site in utah is only producing 250 barrels a day, easily recoverable reserves (400ft or less) at the Temple Mountain lease site are estimated at 80 million barrel. Even at today's prices this is 4 billion dollars worth of oil! Assuming eventual production scale up to 5,000 barrels per day, continued net loss of 12 million dollars per year(2014, 2010) and average production costs of $30 a barrel (including capital costs), we can estimate the price of crude oil necessary for MCWEF to break even.

Based on the quick estimate, the price of heavy oil will have to be at least 36 dollar per barrel in order for the company to break even. Assuming a $15 WTI discount, this translates into $51 WTI.
However, at current prices of $60/barrel we can assume an average realized heavy oil price of 45 dollars per barrel ($60 per barrel for WTI).

In this situation, MCWEF can turn a profit of $15M/year! Furthermore, this money from operations does not include potential income from joint ventures around the globe. With joint ventures from companies around the world, MCWEF could be sitting in even better position.
Potential Company Hurdles
Based on a quick economic analysis, MCWEF should be poised to profit in almost any oil price environment. However, just because a company posses a large technical advantage over the competition, doesn't necessarily mean that the company will give meaningful returns to shareholders. At the moment, perhaps the largest hurdle for MCWEF is financing.
Conservatively based on crude oil prices of $60/barrel our analysis has showed that MCWEF is capable of turning a profit with a 5000 bbl/day production facility. However, with commodities prices in a ditch, many hedge funds have become reluctant to fund the project. This has forced the company to offer shares for Debt transactions in order to help fund the 5000 bbl/day production facility.
In order the raise even more cash, the company has demonstrated the oil sands extraction plant efficiencies to merchant bankers & investors. While these strategies are very good for raising cash, they are not necessarily good for shareholders as they will increase the # of common shares outstanding thus making the existing shares less valuable.
Industry Wide Hurdles
Aside from the current oil supply glut that has caused crude to crash by over 50% in a period of 6 months, the oil industry faces increasing pressure from renewable energy sources as well as slowing economic growth. After all, with Tesla's, prius', BYD electric vehicles, and biodiesel coming to market, some are starting to call this the beginning of the end for the oil industry.
While all of these new sources of alternative energy are great for the environment and global energy mix, they are still too expensive to compete on a large scale against fossil fuels especially in developing countries where billions are clawing themselves out of poverty. Countries such as China, Brazil, India and Russia respectively consume 7,10,3, and 15 bbl/s of oil per 1000 people per day. To put this to scale, the average American consumes 64 bbl/s of oil per 1000 people per day. Meanwhile closer countries such as South Korea or Japan respectively consume 45 and 35 bbl/oil per 1000 ppl per day. Should China, Brazil, and India grow to consume even 1/4 as much oil as the average American, worldwide oil demand would increase by 25 million barrels of oil per day! This is equal to the current crude oil "supply glut" times 10! Furthermore, with soo many worldwide conventional sources of oil depleting, companies around the world will have to increasingly turn to unconventional sources in order to fulfill the worldwide growing oil appetite.
Finally, even if companies were able to design cheaper alternatives to fossil fuels, MCWEF will be one of the last companies to shut down as its costs are significantly lower than other unconventional oil plays.
Comparison to Peers.
Total oil reserves in Utah are estimated at 20 billion barrels of oil (over $1 trillion even at today's prices) Needless to say, these reserves have attracted a lot of attention. Other companies such American Sands and U.S. Oil Sands have looked at developing the Utah oil sands as well.
Company

MCWEF

U.S. oil Sands

American Sands

Market Cap

31.59 M

85.3 M

10 M

Current Assets -

Current Liabilities

-15 M

60M

-30k

Operating Costs

$/ barrel

25-30

28

NA

Exchange traded

NYSE(OTB)

Toronto

NYSE(OTB)

Bitumen Recovery %

99%

96%

N/A

Water Recovery %

No Water Required

95%

N/A

Reserves

~150 MMbbls

~180 MMbbls

~150 MMbbls

Patent Status

Patent Pending

Fully Patented

NA

Water wet v.s. Oil Wet

Both (they claim)

Oil Wet

Oil Wet
Source: (USO, MCWEF, American Sands)
A preliminary analysis shows similarity among these companies with the main difference being where their stocks are listed: U.S. Oil Sands is traded on the Toronto exchange while MCWEF and American Sands are traded over the counter in US. For those who don't have access to the Toronto stock exchange, U.S. Oil sands is not an option.
While MCW and U.S. Oil Sands have patents to protect their processes, the value of these patents are questionable since they obviously were not strong enough to prevent 3 companies from claiming the same type of technology. The presence of 2 companies claiming patents over similar technology is a sign that perhaps with one or two tweaks another company could legally use the technology for itself.
Finally, MCWEF appears to a technical advantage over it's peers. Unlike the competition, MCWEF claims to be able to process both oil wet and water wet oil sands with its patent-pending technology. If MCWEF's statements are true, then the stock has greater upside potential as it will be able to monetize the technology in Canada. Furthermore, the company's waterless process gives it an advantage over the competition especially in a relatively dry state such as Utah that receives ~16.5 inches of rain per year. While competitors such as U.S. oil sands claim 95% water recovery in their process, their process still uses water. The fact that MCWEF's process does not use water period, makes life a lot easier especially in winter when lines must otherwise be heat traced to prevent freeze-up within the unit.
Conclusion
MCW Energy (Founded 1938) is an old gasoline distribution company that has gotten into the oil sands exploration and production business. Because of the company's low operating cost and access to easy-to-develop reserves, MCWEF has a lot of upside potential. Should the company resolve it's financing issues, it should be in good shape.
Although MCWEF is in a decent position, competitors such as U.S. oil sands may also be in good shape. U.S. Oil Sands seems to have the best patent protection on its process for both the U.S. and Canada as well as the best financing. Although all three of these companies seem like decent investments, I think MCWEF is the easiest simply because of it's listing on the NYSE. Furthermore, while U.S. Oil Sands has better financing than MCWEF, MCWEF wins where it matters the most: Technology. Waterless process that recover's 99% of hydrocarbon is one step up from U.S. Oil sands that uses water and only recovers 96% of hydrocarbons. For those with an appetite for risk, MCWEF is a worthy bet. For those who have access to the Canadian stock exchange, and a more conservative investing horizon, U.S.O. may be better.
Additional disclosure - the stocks discussed above are over-the-counter stocks. They are not listed on the New York Stock Exchange and should be traded accordingly.
Disclosure: The author is long MCWEF.
The author wrote this article themselves, and it expresses their own opinions. The author is not receiving compensation for it (other than from Seeking Alpha). The author has no business relationship with any company whose stock is mentioned in this article.
Additional disclosure: Additional disclosure - the stocks discussed above are over-the-counter stocks. They are not officially listed on the New York Stock Exchange and should be traded accordingly.
Editor's Note: This article covers one or more stocks trading at less than $1 per share and/or with less than a $100 million market cap. Please be aware of the risks associated with these stocks.