The Turkish stock market will continue to get clobbered in dollar terms; either the central bank continues to hike interest rates, choking off economic activity, or the Turkish lira continues to slide, or both. See today's "Spengler" column. See also this post from the Financial Times "Beyond Brics" blog. I've been negative on Turkey since March and have re-entered a short TUR/long S&P 500 trade.
Chart 1: Turkish stock market (TUR exchange-traded Turkey
stock market fund) vs. S&P 500, November 2010 = 100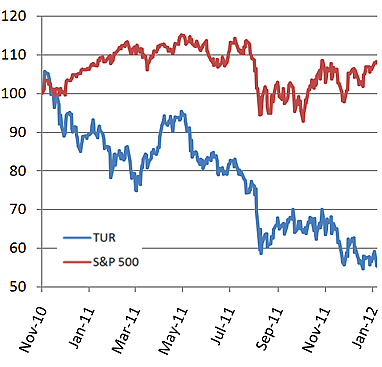 Source: Bloomberg
Encouraged by the central bank, Turkish banks increased their lending at a 40% annual rate in 2009 and 2010, financing a flood of imports. Turkey's trade deficit ballooned to a tenth of its total output - as bad as that of Greece or Portugal. And the country has been borrowing on short-term money markets to finance the import bubble.
Erdogan has the weirdest economic views of any serving head of government. He justified the credit bubble on religious grounds, pledging repeatedly to cut the "real" interest rate (the cost of interest minus the inflation rate) to zero.
"We aim to cut the real interest rate in the long run, so people will increase their incomes through working, not through interest," he said last April. "Eventually we aim to equalize the interest rate and inflation rate."
Erdoğan believes that this would fulfill the Islamic injunction against lending for interest; if the real interest rate is zero, he seems to think, the sharia ban on interest is fulfilled de facto. In order words, Turkey provided nearly free money to bank customers. Erdogan's program set in motion a series of perverse effects. One is a sharp fall in the exchange rate.
Turkey's currency has been falling for a year, and fell even faster in August and September. Turkey's central bank had no choice but to raise interest rates sharply last October to prevent it from entering free fall. Even with the sharp rise in interest rates, though, the currency has continued to deteriorate, and the Turkish stock market has continued to grind lower. But the spike in interest rates will have deadly effects on the domestic economy.
Chart 2: Turkish central bank pushes up
interest rates (left scale) to support the currency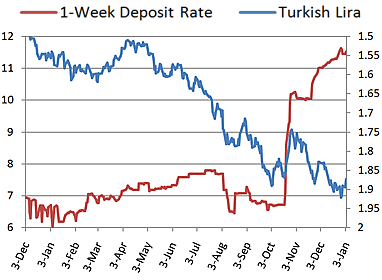 Source: Central Bank of Turkey