Investors seeking high yield with a little more risk than bonds tend to invest in REITs. The higher yield is a tradeoff for being exposed to more financial risk. As yield has come down through 2011, investors have migrated to the highest yield REITs such as specialty finance and mortgage REITs. These REITs tend to be small capitalization stocks that are interest rate-sensitive. While the Fed has basically declared no rate changes until probably 2013, these stocks should hold up well in 2012. Since they carry more risk, it makes sense to look to purchase a bundle of these REITs in an ETF.
PowerShares KBW High Dividend Yield Financial ETF (NASDAQ:KBWD) seeks to track the price performance of the underlying holdings in the KBW Financial Sector Dividend Yield Index. KBWD's Top Ten holdings were 44.8% of total assets. KBWD has total assets of $34.3 million. The Total Market Capitalization of KBWD's holdings are $34.5 million. The fund targets the price and yield of an index called the KBW Financial Sector Dividend Yield Index. The Index is calculated using a dividend yield weighted methodology that seeks to reflect the performance of approximately 24 to 40 publicly-listed financial companies that are principally engaged in the business of providing financial services and products, including banking, insurance and diversified financial services.
Showing assets of $34 million under management, KBWD is a smaller fund. Analyzing individual companies' returns on assets, equity and sales is a proxy for quantifying how effectively a company operates with regard to generating profits. KBWD is trading at a low valuation as its constituent averages a price to book ratio of 1.1 and a PE of 9.5. This ETF should be purchased as a dividend play as it has a dividend yield of 12.8%. The long-term projected growth rate is 6.4%.
The greatest benefit to investors is they get a bundled group of smaller high yielding stocks that are popular dividend plays, all in one ETF. This includes stocks such as Annaly Capital (NYSE:NLY), American Capital Agency (NASDAQ:AGNC), Hatteras Financial (NYSE:HTS), Chimera Investment (NYSE:CIM), Invesco Mortgage Capital (NYSE:IVR), Capstead Mortgage (NYSE:CMO), MFA Financials (NYSE:MFA) and many other high yield stocks. The general rule with Annaly and Hatteras is to buy them when their price to book is at 1.0 or lower and then sell them at a price to book ratio of 1.5. As shown in the table below, both of these stocks are trading at a current price to book of 1.0, putting them in the buy zone.
KBWD had a tough inaugural year as it took a -10% hit when the market pulled back in August compared to a 13.8 price decline in the S&P 500. KBWD rebounded 8.59% in the fourth quarter 2011. The long-term projected growth rate is 6.4%. KBWD could outperform the broader markets over the next six to twelve months.
Click to enlarge: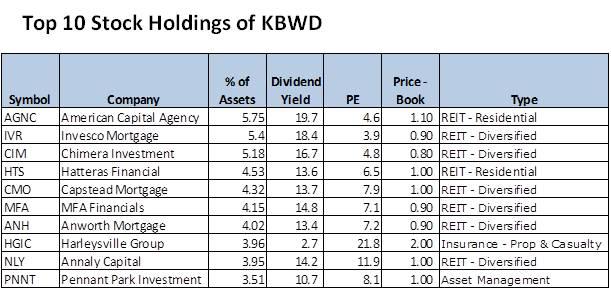 Disclosure: I have no positions in any stocks mentioned, and no plans to initiate any positions within the next 72 hours.