It was a nice week for stocks last week, with the S&P 500 advancing 1.6%, and making the third weekly higher high. It couldn't have come at a more needed time (for the bulls) either, as some doubts about the overall uptrend were starting to develop.
We'll poke and prod how it all panned out on a second, and take a look at why we're generally bullish in the bigger picture even though we're getting a little concerned in the near-term. First though, let's run down some of the key economic numbers.
Economic Calendar
It was pretty big week last week, especially when it comes to jobs, or lack thereof.
The best news was the unemployment rate fell from 8.7% to 8.5%. Simultaneously, nonfarm private payrolls jumped from a 120K in November to a 212K increase in December. The number jives with the 325K new jobs that ADP said were created last month. Say what you want about the U4, U5, and U6 numbers – this is legitimate progress. We still need to see closer to 400K new jobs added each month to consider it 'strong' growth, but this is something to build on.
By the way, new and ongoing unemployment claims fell again last week as well. Everything else is on the grid below.
Economic Calendar
As for the coming week, it's not quite as earth-shattering, but there's some stuff worth noting.
For instance, Monday morning the Consumer Credit levels for November will be out. The pros are looking for a $7.0 billion increase, extending a pretty impressive swelling of the total amount of money borrowed in the U.S.
We'll get new and continuing unemployment claims on Thursday as usual; both are expected to be basically flat with the prior week's numbers. However, we'll also get some monster news on Thursday ... December's retail sales. Was holiday shopping as potent as it needed to be to rekindle the economic revival? The forecasters are looking for a 0.4% increase, with or without automobiles. Anything above or below that will likely mean fireworks of some sort. Be ready.
Finally, on Friday we'll get the first (of three) January readings of the Michigan Sentiment Index. It looks like we're in for a modest improvement from 69.9 to 71.0, extending the modest uptrend for a fifth straight month.
S&P 500
In the introductory comments we noted the market was sending us something of a mixed message ... the outlook varied with the timeframe. It wasn't an effort to be coy; stocks really are at a short-term crossroads, but have already dropped a major longer-term hint. Let's start with the latter idea first.
For the long-term bulls, you'll be glad to know the S&P 500 has set up shop above the 200-day moving average line (green) after a string of higher lows. Though still a little wobbly, the SPX is also managed to make higher highs.
There's still something of a short-term vulnerability though – the ceiling around 1287 (dashed), and the upper Bollinger band at 1297. Both could halt the uptrend, if not for the long haul, at least in the short run. In fact, it would be odd if the S&P 500 didn't at least pause somewhere around there.
At the same time, while the VIX's downtrend is broadly bullish for stocks, it's also getting uncomfortably close to its own lower Bollinger band at 18.4. As we've seen lately, the VIX hasn't been able to touch its lower band line without pushing up and off of it… which is hurting stocks. Overall the VIX is still in a long-term downtrend, but it's getting to an extreme in the short run – at a point in time when the S&P 500 is poised to encounter known ceilings. It doesn't bode all that well for anyway needing some immediate bullishness.
Like we said above though, the bullish crosses of all the key moving averages say the long-term undertow is better. In other words, we're in a "buy on the dips" environment as long as any of the key support levels hold up. Take a look, but keep reading.
S&P 500 – Daily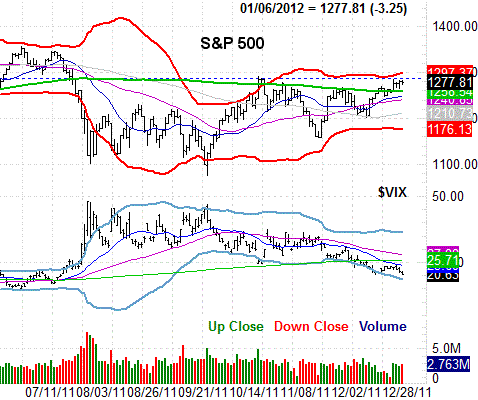 While we're seeing the S&P 500 firm up, even more compelling is the reality that all the indices are making bullish progress. In fact, all the indices are making the same important bullish progress.
This is an update of the same chart we showed you a week ago, of the Dow, NASDAQ, and the S&P 500. As we said then, all the major market indices have been getting squeezed into a wedge (framed in orange), which was setting up the potential for big fireworks. It wasn't until this past week, however, that the triangle shapes were broken in a bullish manner. The implications are more than encouraging.
More than that, in all three cases the index in question cleared key horizontal resistance lines.
Dow Jones Industrials, S&P 500, and NASDAQ – Daily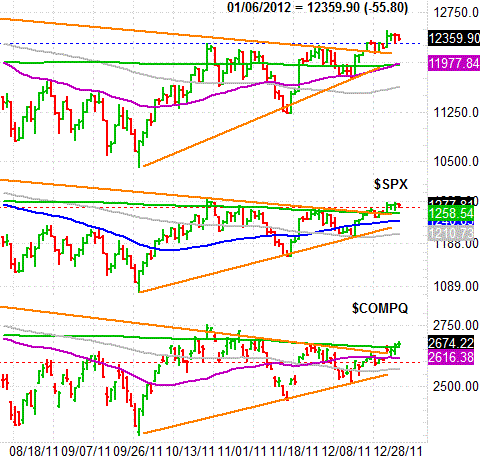 This still doesn't completely pull the fat out of the fire, because none of the indices have really been tested outside of their wedges; will these buyers hold their ground? It may take a few days to know for sure. This much is for sure though ... this is the best shot the market's had at a true recovery in a long time.
Disclosure: I have no positions in any stocks mentioned, and no plans to initiate any positions within the next 72 hours.