By Daniela Pylypczak
The year-end periods provides the ETF industry with a couple of opportunities to flex its collective muscle; performance comparisons generally tend to favor those products with lower expense ratios–a defining feature of exchange-traded funds. But early January also puts another benefit of exchange-traded products into focus: enhanced tax efficiency relative to traditional mutual funds. The nuances of the exchange-traded structure have the potential to bring additional tax efficiencies to investors thanks to the availability of an "in kind redemption" that ultimately gives investors more control over the timing of tax obligations. Mutual funds, on the other hand, have a nasty tendency to stick remaining shareholders with tax liabilities incurred as a result of redemptions by others–a development that can obviously be undesirable.
ETFs won't allow investors to skip out on their taxes, but this product structure can deliver more control and greater efficiency in this regard. It is important to note, however, that not all ETFs are created equal when it comes to tax efficiency. Certain asset classes are less efficient than others; bond ETFs, for example, should be expected to incur capital gains taxes with some regularity.
Below, we run through the capital gains results for several of the largest ETF issuers, beginning with the market leader:
iShares
iShares, which accounts for more than 40% of the U.S. ETF industry, was close to perfect from a capital gains tax perspective in 2011; 231 of the 233 iShares ETFs did not make capital gains distributions. The two that did were both bond funds, and the distributions made were minor:

State Street
State Street, the firm behind the two largest ETFs by total assets, had several ETFs report capital gains payouts for 2011:
Vanguard
Vanguard, the ETF issuer that led the industry in inflows in 2011, reported capital gains distributions for ten of its bond ETFs in 2011. Vanguard equity ETFs were perfect on the capital gains front, with no capital gains reported: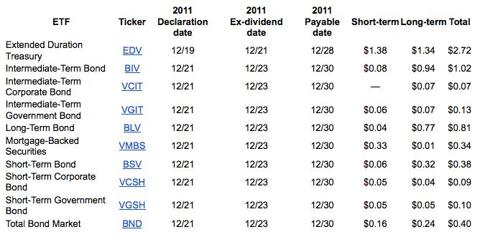 PowerShares
The PowerShares ETF lineup was also close to perfect on capital gains in 2011; only three of the company's ETFs–representing less than 1% of franchise assets–reported long-term capital gains:
Van Eck
Brazil Small Cap ETF (NYSEARCA:BRF): Short-term & long-term
Gaming ETF (NYSEARCA:BJK): Long-term
India Small Cap Index ETF (NYSEARCA:SCIF): Short-term
Junior Gold Miners ETF (NYSEARCA:GDXJ): Short-term & long-term
Latin America Small Cap ETF (NYSEARCA:LATM): Short-term
Short Municipal Index ETF (NYSEARCA:SMB): Long-term
LatAm Aggregate Bond ETF (BONO): Short-term
CEF Municipal Income ETF (NYSEARCA:XMPT): Short-term
ProShares
The largest provider of leveraged and inverse ETFs reported zero capital gains distributions in 2011.
WisdomTree
WisdomTree reported zero capital gains on all 34 of its equity ETFs in 2011. The company did report capital gains taxes in 2011 on several currency and fixed income products:
Rydex
Rydex reported no capital gains on its ETFs in 2011.
Guggenheim
Guggenheim had only a couple of equity ETFs--the Wilshire 5000 Total Market ETF (NYSEARCA:WFVK) and Wilshire 4500 Completion ETF (NYSEARCA:WXSP) make capital gains distributions in 2011.
Guggenheim's fixed income ETFs were impressive as well; only the BulletShares 2013 High Yield Corporate Bond ETF (NYSEARCA:BSJD), Enhanced Core Bond ETF (NYSEARCA:GIY) and Enhanced Short Duration Bond ETF (NYSEARCA:GSY) paid any capital gains distributions. GIY and GSY became active ETFs during 2011.
EGShares
EGShares, the only U.S. issuer focusing exclusively on emerging markets, reported zero capital gains distributions for 2011.
Russell
ETF newcomer Russell reported zero capital gains for 2011.
Direxion
Direxion announced distributions on a handful of its 3x and -3x leveraged ETFs for 2011:
PIMCO
Bond fund giant PIMCO reported capital gains on a few of its fixed income ETFs:
Schwab
Charles Schwab reported zero capital gains on its lineup of equity ETFs. On the fixed income side, Schwab was also perfect.
Global X
Global X announced capital gains distributions on a small handful of its ETFs:
Disclosure: No positions at time of writing.
Disclaimer: ETF Database is not an investment advisor, and any content published by ETF Database does not constitute individual investment advice. The opinions offered herein are not personalized recommendations to buy, sell or hold securities. From time to time, issuers of exchange-traded products mentioned herein may place paid advertisements with ETF Database. All content on ETF Database is produced independently of any advertising relationships.