"The groundhog is like most other prophets; it delivers its predictions and then disappears." - Bill Vaughan
I must admit I hate predictions. In my A Review Of 'Expert' 2011 Predictions article, I went a year back and checked some of the expert predictions for 2011. Most of them just randomly matched what really happened in 2011. For example, Jim Cramer was among the few that correctly predicted the 2011 year end price of $400 for Apple (NASDAQ:AAPL). Needham had a price target of $450 a year ago and raised the target to $540 in August. Credit Suisse started AAPL coverage ten months ago with $500 price target and Ticonderoga had predicted a $550 price last January. Google (NASDAQ:GOOG) analysts didn't do much better - RBC Capital Markers had a price target of $790, Morgan Stanley predicted $730 and Jefferies $800.
Apple's current price is around $425. Some people would argue that it is foolish to sell the stock at any sell-off - in fact, you should buy more. Didn't they say the same thing about Amazon (NASDAQ:AMZN) stock in 1999 when it pulled back from $85 to $50, then $40, $30 and finally reached $5 in September 2001? Maybe those who say that Apple May Have Jumped The Shark And Reached Its Zenith have a valid point? After all, no stock goes up forever. Every stock has its zenith at some point and starts to decline or trade sideways after the pick. But you would know that only in hindsight.
What do professional analysts think about the stock? Apple is covered by 47 analysts. The average price target is $510, the high target is $700 and the low target $260. After seeing this range, can you really trust anyone? Do you really think any of them know any better than any of you?
Let me be very clear: I'm not taking sides here. I love Apple products, I just think it's foolish to make any predictions. Too many factors can impact the stock price. The stock is trading at $425 today because millions of investors think this is where it should be, based on the information available today. If tomorrow new information will be available, it will move higher or lower. I don't make predictions because I don't think I know something that those millions of investors don't know. Record iPhone and iPad sales? Tell me something I don't know. And even if they do have a blowout quarter but the whole market crashes, will Apple still go up?
I stopped making predictions. Instead, I prefer to play the game in a different matter, without worrying what the stock will do today, tomorrow or a month from now.
There are several ways to do it. All trades involve options and are presented for educational purposes only.
The first way is trading a strategy called an Iron Condor. The Iron Condor is a combination of a bull put spread and a bear call spread. The whole trade is done for a credit.
With Apple trading around $425, looking at February expiration we can execute the following trade:
Buy AAPL February 2012 375 put
Sell AAPL February 2012 380 put
Sell AAPL February 2012 470 call
Buy AAPL February 2012 475 call
The trade can be done for $1.47 credit. The margin requirement is $353 hence the maximum gain is 41%. The trade is resilient to 10.5% move of the stock in either direction. This is the P/L graph: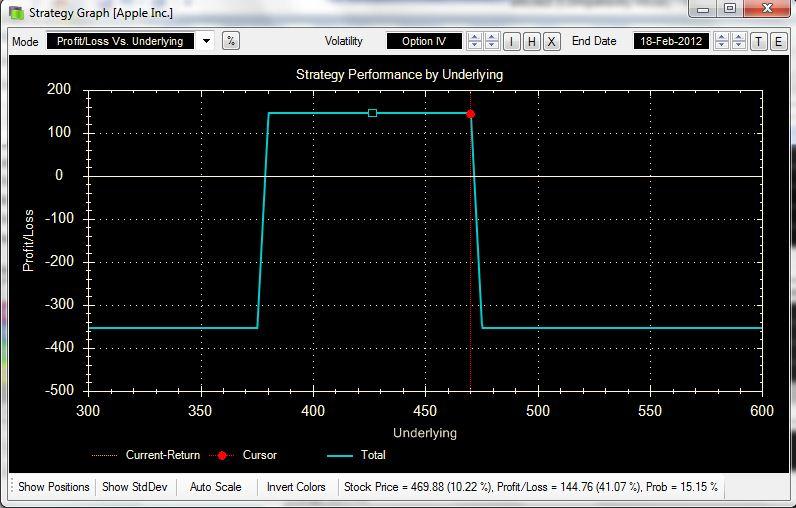 If you are worried about a big move, you can partially hedge yourself with a Reverse Iron Condor using weekly options. The idea is described in this excellent article by Kevin O'Brien. The trade has an opposite P/L from the Iron Condor trade - it benefits from the short term moves in the stock.
For example, using this week options, you can place the following trade:
Sell AAPL February Week2 2012 415 put
Buy AAPL February Week2 2012 420 put
Buy AAPL February Week2 2012 430 call
Sell AAPL February Week2 2012 435 call
The trade can be placed for $2.40 debit with maximum profit of $2.60 (over 100%). It requires just 5-7 points movement in the stock to make a decent gain. Please note that in the first trade we are selling the body (380/470 strikes) and buying the wings (375/475 strikes) while in the second trade we are doing the opposite (hence the name Reverse Iron Condor).
The general idea is that we are taking advantage of short term volatility of the stock. But the first trade can sustain a fairly large move in the next six weeks and still make money. Of course risk management is critical in both trades. You must set a reasonable stop loss and adjust or get out of the trade once it is hit.
If you still think that the stock goes higher, you can check a directional idea that I presented in my Options Plays For Predicting Where Google, Apple Won't Be In 3 Months article on December 13, 2011. The Apple trade that I mentioned in the article would be up 36% by now while the stock was up 9% during the same period. This is the power of options.
Apple reports earnings on Tuesday, January 24, 2012. I will have a separate article about a possible earnings trade (hint: it is going to be non-directional). Check it in a few days or become my follower if you want to get an automatic notification when the article is out.
Those trades are presented for educational purposes only. I'm not going to trade them at this point, but they deserve further attention if you don't want to continue predicting where the Apple stock (or any other stock for that matter) will be in the future.
Disclosure: I have no positions in any stocks mentioned, and no plans to initiate any positions within the next 72 hours.