By Joseph Hogue, CFA
While many companies have been relying on revenue growth in emerging markets to supplement flat sales in the U.S. and Europe, Ford (NYSE:F) still receives half of its revenue from the United States. This may have been a limit on profits over the last few years. The coming year may prove different, however, as the U.S. economy picks up momentum and some key emerging markets see a slowdown in demand.
Bloomberg reports a 12.7% decrease in year-over-year vehicle sales within Brazil. Besides declining overall sales, Ford has also lost market share from 9.8% in December 2010 to 8.9% last year. While the change in market share is probably more of a statistical fluctuation, the continuing drop in sales may signal a drop-off in the pace of growth for the country.
Bloomberg also reports declining sales in the Asian market as higher interest rates and slowing economic growth limit demand. India saw a 1.1% decrease in vehicle sales in the twelve months to October and industry groups in China expect overall demand growth to be the lowest in 13 years at approximately 5 percent.
The picture is somewhat brighter in the United States. Personal consumption expenditures for motor vehicles and parts in the U.S. increased 8.6% on a year-over-year basis for the third quarter of 2011. Total unit vehicle sales in the United States increased 14.6% in November compared to the same month a year earlier and have averaged a growth of 11.1% over the last two years. Though consumer credit is still fairly restrictive, pent-up demand from a sluggish 2008 through 2010 has started to boost sales.
Since 1903
Ford is the second largest U.S. manufacturer of motor vehicles with $129 billion in annual sales across the globe. North America still accounts for the largest percentage of revenues (57.9% of FY11), but the firm is strategically shifting focus to emerging markets. Geographic diversification in revenues by percentage of FY11 sales includes: United States (49.2%), Europe (26.5%), South America (8.9%), North America ex-U.S. (8.7%), and Asia Pacific Africa (6.7%).
Ford 2011 Revenues by Geographic Segment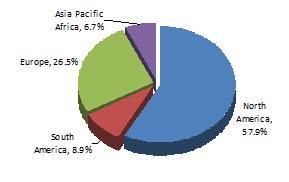 Industry
The industry outlook for auto manufacturers is neutral to slightly positive. While economic growth and market penetration continues in emerging markets developed markets are facing multiple years of slow economic growth.
The United State should see economic growth of around 2.0% next year, but that of Europe will be flat. An improved consumer credit environment in the U.S. and a better than expected labor market may increase sales beyond expectations. Vehicle sales in the U.S. for 2011 were approximately 13 million with estimates for 14-16 million in 2012. Global sales growth may increase by between 6%-7% on continuing Asian demand but a slight decline of sales in Europe.
A stronger Yen will limit sales for Japanese auto exports to the United States and Europe. Higher gas prices and low economic growth in developed markets is limiting revenues in the more profitable truck segment, while trends in the U.S. point to adoption of smaller cars and SUVs.
Financials
Company fundamentals are generally on par with the industry but lag stronger competitors. Ford's return on assets is slightly lower than U.S. competitor General Motors (NYSE:GM) at 4.0% versus 4.8%. Due to the company's much higher use of leverage, return on equity is higher at Ford but could also be a problem if debt service becomes unmanageable. The company's total debt to equity ratio stood at 8.0 times in 2010, compared to just 0.3 times at GM. Much of this is a result of the amount of debt Ford took on during the financial crisis to avoid a government funding package. Despite the difference in returns, the companies' operating margins are relatively close at 4.4% for Ford and 3.8% for GM.
Ford recently reinstated its dividend, though with a smaller yield than in the past. The company has paid a stronger dividend in the past but discontinued the payout in 2006. Ford was paying a dividend of $0.10 per share on a quarterly basis from 2002 to 2006, amounting to a yield of about 3.6% on an annualized basis. The five cents a quarter current dividend is a welcome step back to returning shareholders' investments.
Earnings per share decreased by 1.0% over the past twelve months and are forecast to drop another 18.7% over the next four quarters on weak European sales.
Ford scores well in measures of effective corporate governance with rankings of low concern for three of four areas: Audit, Board, and Shareholder Rights while Compensation practices are of medium concern as measured by Institutional Shareholder Services.

The stock is currently 38.1% below its 52-week high of $18.97 (January 2011) and 29.8% above the 52-week low of $9.05 per share (October 2011). The shares have significantly underperformed both the sector and the broader market over the last year.
The SPDR Select Industrials (NYSEARCA:XLI) and S&P 500 (NYSEARCA:SPY) were flat last year against a loss on Ford shares of 33.0%. The company did a little better relative to competitors by outperforming GM's loss of 40.2% over the year. Short interest is a little higher than average but still low at only 3.6% of shares outstanding.
Long-Term Outlook
Stronger than expected growth in the U.S. may help sales, as uncertainty in Europe hurts overseas growth in both developed and emerging markets. The company should be able to maintain its dividend, and possibly increase it, as the balance sheet position improves.
A one-year target of $12.38 is based on earnings per share of $1.65 and a price multiple of 7.5 times earnings. Earnings estimates are above the consensus estimate of $1.58 but justified on higher forecasted auto sales in the United States. Multiple expansion is forecasted across the industry on improved consumer credit positions in the United States and a decrease in economic uncertainty.
A discounted cash flow approach yields an estimated intrinsic value of $16.11 given a long-term growth assumption of 2.5% and a weighted-average cost of capital of 13.0%. A price below intrinsic value generally indicates an undervalued stock but investor sentiment, i.e. price multiples, can maintain share prices above or below intrinsic value for a significant time. The long-term growth estimate was based on stagnant U.S. vehicle sales, an average year-over-year loss of 0.3% since 1990, but improving growth in emerging markets.
Investment Strategy
A target price 5.4% above the current price, low price multiple, and an intrinsic value well above current make the case for investment in the company. The last few years have proven Ford as a stable company even in the worst of economic times. The company has returned a compound annual growth rate of 6.5% over the last 20 years without dividend reinvestment. The stock is certainly not an investment on which to retire early, but a consistent earner.
A popular strategy for acquiring a position in stocks at a discount is the put-write options play. A put-write involves selling put options on a stock, which gives the buyer the right to sell you shares for the strike price. You collect the premium up front and usually have to post some money in your trading account to cover margin. You effectively have no cost to the transaction and collect interest on your margin balance until the strategy expires. The strategy works best with shares of a company you are thinking about purchasing anyway.
Instead of purchasing Ford for the current price of $11.75, we will sell five $12.50 put contracts (representing 500 shares) for $2.21 each and expiring January 2013. This means that you will collect the $2.21 now and have to buy the shares for $12.50 at expiration if they are below that price. Along with the $2.21 per share, you'll have to deposit $5,145 in your account to make it a cash-secured put. If the shares are above $12.50 in a year, the buyer does nothing and you keep the premium collected and any interest earned. In the event the shares close below $12.50 at expiration, you purchase them for that price and keep the premium and interest earned. Basically, you are lowering your cost per share to $10.29 if you end up having to buy them from the put buyer. At a discount of 12.4% to Friday's price, this strategy provides good downside protection while still profiting from upside potential.
Disclosure: I have no positions in any stocks mentioned, and no plans to initiate any positions within the next 72 hours.