Dividend stocks are becoming a major priority for retired citizens. This is increasingly important for retired employees without a defined pension plan. Social Security Income is not adequate to address many cost of living expenses. In this article I want to highlight 3 dividend stocks to avoid and 1 dividend stocks to buy.
Avoid Collectors Universe Inc. (NASDAQ:CLCT)
In an economy that has given rise to the selling of sports memorabilia and collectible coins as a way to make the car payments, it stands to reason that a company that specializes in authenticating and pricing them would be doing pretty well.
As it happens, one such company, Collectors Universe is thriving in the upsurge of memorabilia and collectible coin interest, and while it has yet to attract a huge investor following (i.e., average of 33,000 daily volume), it has rewarded those who have discovered it with a hefty dividend yield of 8.9%.
While its stock performance was less than stellar in 2011, ending the year with a 4% gain, stock analysts and pundits are looking at Collectors Universe as a possible small cap value play. After all, if it can deliver a 13% total return each year, it very well could be.
Collectors Universe is a big player in a small pond. In fact, it owns most of the recognizable names in the business, so it has very little competition. If you have ever had a baseball trading card or sports celebrity autograph authenticated it was most likely done by its Professional Sports Authenticator. And, most coins dealers of any substance are probably going to go through its Professional Coin Grading Service. It has become the central pricing authority for many of these collectibles and even operates a dealer to dealer Certified Coin Exchange.
Collectors Universe
In the past 2 years, the company has failed to develop a growth plan that is adequate with proving earnings and revenue growth. The company's dividend payout rate exceeds net income The below table shows dividend income versus net income:
The net income from continuing operations, for the year ended June 30th, also indicate the company is not earning its dividend. Growth opportunities in Europe are continuing. The results show this stock should be avoided because they are not earning the dividend:
The company believes it will be able to grow its stock into a less lofty payout rate, but there lies the risk. Growth is likely to occur. The company has had adequate time to address this issue. Collectors Universe has recently expanded into Europe. This stock should be avoided until the net income supports the dividend.
Avoid Golar LNG Ltd. (NASDAQ:GLNG)
It appears that Golar is over extended in its current valuation. The company is a mid-stream liquefied natural gas (LNG) company, engaged in the transportation, regasification, and liquefaction and trading of LNG. It acquires, owns, operates, and charters LNG carriers and floating storage regasification units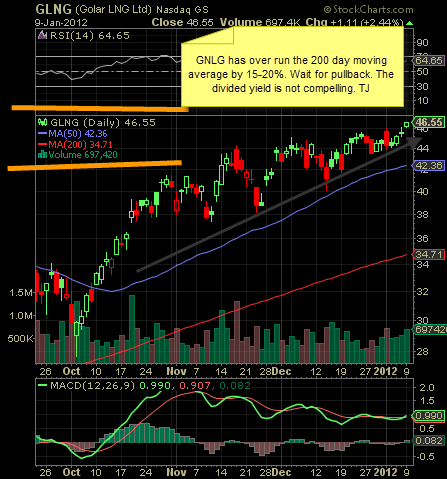 Buy Johnson & Johnson (NYSE:JNJ)
If there ever was a true "buy and hold" stock, Johnson & Johnson very well may be the one. One of the oldest dogs of the Dow Jones, Johnson & Johnson is still providing investors with reliable returns on steady growth and solid management much the way it did for our grandparents, and their parents.
But then, this isn't your grandfather's stock market anymore, which is why stocks like Johnson & Johnson are coveted by investors seeking greater stability and consistent returns for their battered portfolios. Although it has had its share of problems with product recalls, those have turned out to be buying opportunities for a stock that has been able to deliver superior shareholder value over the years.
Johnson & Johnson is a $175 billion mega cap with one of the most recognizable brands on the planet. Its product lines are diversified among medical devices, consumer health, pharmaceuticals and diagnostics, with more than half of its revenue generated overseas. Stocks don't get any more defensive than that and Johnson & Johnson has proven time and again that it can withstand both inflationary and deflationary pressures better than most companies. It has emerged from the recent economic downturn with a very strong balance sheet.
Its recent stock performance, which has uncharacteristically trailed the market, leaves Johnson & Johnson undervalued compared to its historical relationship S&P 500. The forward price to earnings ratio is 15x, which trails the industry average of 19x. This may signal an opportunity for conservative investors to consider a position.
The stock may be poised for a realignment that would boost its price out of the narrow trading range it has been locked into for the last two years. Its low beta (i.e., .54) is reassuring to risk adverse investors who have worked towards reducing their portfolio volatility while leaving some room for capital appreciation.
But the real story behind Johnson & Johnson, and the reason why it is a perennial pick for yield seekers, is its dividend payment. The growing dividend has proven to be as secure as its band aids. First declared in 1944, the dividend has increased every year since 1962. Although it has slowed in recent years, its 10.9% dividend growth rate appears sustainable on top of its five year, 9% annualized increase in free cash flow.
Increasing dividends are the cornerstone of Johnson & Johnson's broader mission to maximize shareholder value wherever it can. Stock buybacks and stock splits are common tactics employed by Johnson & Johnson management to reward its shareholders and its 21% return on invested capital is a strong indication of its commitment to value creation.
For a 113 year old company, Johnson & Johnson shows no signs of letting up in its pursuit of revenue growth. Its commitment to research and development, including acquisitions, will enable it to absorb any revenue falloff due to patent expirations. Johnson & Johnson continues to find its way into the high growth markets. Due to the company size, Johnson & Johnson will never be the most exciting holding in a portfolio. As many income investors know, the security of our investment dollars is our primary concern. The company may be the closest thing to certainty you can find when steady, long term returns are your objective.
My Recommendation
My recommendation is for only conservative investors to buy Johnson & Johnson. The patent problems and flat stock price have reduced the net yield of Johnson & Johnson.
As a 50 year old, Johnson & Johnson does not fit my income investing style. The company's returns have trailed the SP500. The company is, however, a high quality blue company for capital preservation and provides a 3.5% yield.
Avoid Chimera Investment Corporation (NYSE:CIM)
I recommend investors fully understand their investments. When they place money on a stock to perform above the market averages, they should fully understand the business model.
I am confident many investors in Chimera and Two Harbors Investment (NYSE:TWO) do not understand what they have their investment dollars in. This is a sad state of affairs.
Non Agency Mortgage Real Estate Investment Trust (mREIT)
I can only speak for my insights on non agency mREITs. These entities invest in non U.S. Federal Government backed mortgage backed securities. Chimera and Two Harbors, classified as hybrid mREITs because they can invest in guaranteed and non guaranteed mortgage backed securities, own specific risks.
Chimera has lost an average of 7.3% over the past 3 years. Two Harbors has gained an average of 4.5% over the last 3 years.
Shareholder Knowledge Requirements
Warren Buffett taught investors to know their "circle of competence" and to understand what they invest in.
Assume the three key components in evaluating non agency mREITs are 1) Constant Prepayment Rates expressed as percentage of voluntary prepayment rates; 2) Constant Default Rate, expressed as a percentage of mortgage backed securities which default in a given pool; and 3) severity rate.
How many share holders of Chimera and Two Harbors understand the basic business model? I can say as a mREIT SEC 10-K and 10-Q reader, I can't quantify static non agency MBS data for a publicly traded mREIT.
Avoid Two Harbors
I can admit I cannot adequately, without any degree of confidence, confirm the valuation of Chimera's 3rd quarter 82% in sub B rated non agency mortgage backed securities. Of course my assumption is based upon a static evaluation of the bonds. Annaly's (NYSE:NLY) FIDAC group, the external manager of Chimera's portfolio, manages Chimera's non agency MBS 3rd portfolio:
I don't know anyone who can assess a static 82% sub "B" rated non agency MBS with any degree of accuracy. These assets are far beyond the "circle of competence" that Warren Buffett mentioned in his stock evaluation methodology.
Two Harbors has been more successful than Chimera, but the MBS portfolio is still difficult for the Joe Sixpack investor. I can only suggest that investors stick to stock holdings to what is understandable.
I try and understand the SEC filings for Two Harbors and Chimera on a regular basis. I can say, without embarrassment, I lack the knowledge to evaluate a static non agency MBS evaluation. This "circle of competence" is delegated to the portfolio manager. As of January 10th, the stock performances have lacked the returns of a quality agency mREIT.
Action
I personally do not know anybody who can assess a static (i.e., September 30th) non agency mortgage backed security held within Two Harbors or Chimera.
Annaly , is the external manager for Chimera, is most likely to know the appropriate valuation of Level 2 and Level 3 assets on Chimera's balance sheet. Two Harbors has outperformed Chimera. I still lack the skills to assess a static non agency MBS, pertaining to Two Harbors, with 20% in non agency MBS.
The easiest course of action is to invest in your "circle of competence". Johnson & Johnson is clearly defined to the investor group which does not want to lose capital assets. The 3.5% dividend yield is compelling versus a 3.02% 30 Year Treasury Bond.
Buy Southern Company (NYSE:SO)
I recommend purchasing Southern shares at $40 - $41 per share. The company is the premiere southern utility company. The utility is in the mid 5% range, but the utility company is a quality holding.
Avoid San Juan Trust (NYSE:SJT) I recommend unit holders of San Juan Trust Basis sell their units. The price of natural gas has been at low levels for a prolonged period of time.
Johnson & Johnson is clearly defined to the investor group which does not want to lose capital assets. The 3.5% dividend yield is compelling versus a 3.02% 30 Year Treasury Bond.
Disclosure: I am long NLY.