Apple has never dominated smart phone planned buying to this extent more than two months after a major new release. --ChangeWave Research, January 9, 2011
Despite the volatility of its share price – which has been whipsawed over the past three months -- Apple appears to be entering the proverbial sweet spot. Recent consumer research and a cascade of analyst upgrades suggest the company is now outdistancing its competition in unprecedented ways.
The choice has never been so clear to American consumers, as the disarray of Apple's competitors this past fall may have become imprinted on their spending habits for the coming year. The crushed tablet ambitions of HP and RIM; the drab and shabby PC market; the muddled, more virus-prone Android universe -- virtually all the bids by competitors that were launched in 2011 to staunch Apple's dominance have been rendered ineffective. The drumbeat continues.
Intense loyalty and planned buying expectations keep Apple ahead, with HTC and RIM in particular losing in satisfaction surveys. The sad death of Steve Jobs and his apotheosis as a secular prophet have probably also enhanced this mindshare, which can be seen in the following Changewave graph: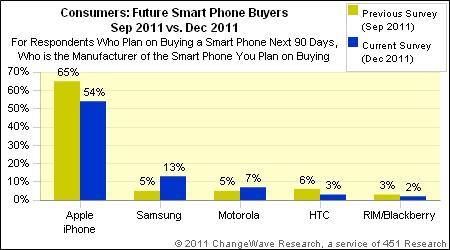 What makes me so positive about the results of this research? Well, tight on the heels of this mindshare expansion will be a dramatic year of distribution expansion, a few genuine refreshes to product families, and a new lower prices that might expand its consumer base. Apple is not known for dropping the ball.
The iPhone sales in December have all been upped, with Needham's Charlie Wolf has bumping his quarterly target to 32 million units from 28 million. That's a lot of people joining the Apple app ecology. Though normally this growth might steal from subsequent quarters, other analysts don't see it. According to Goldman's Bill Shope: "We believe Apple is set to report healthy December quarter upside, and all signs point to better than expected performance through 2012."
Goldman now sees continuing momentum on the iPhone front as the lower-cost iPhone 3 GS provides some extra price-point elasticity. European weakness will be a hallmark of 2012, but I have read that the reported market share loss in both France and Germany in December has been apparently offset by strength in the US, Australia, and the UK.
In addition to its own retail expansions, there are rumors that Apple shops will appear in a select Target stores. If indeed true and followed by a broader roll-out in 2013, this might be an opportune way to connect to middle-class families amid of the iTV release, as it will be a constituency far more critical for Apple if its TV push is to succeed.
Elsewhere I have questioned whether the iTV can actually tap into the same "Zen of Steve" that earlier products (or even its new Campus) did so effortlessly. The problems I see for the device are multiple:
Unlike the MacBook Air or iPod, the iTV can't captivate the public with a sublime physical presence and tactility—all sets are now quite minimalist, and they traditionally remain displaced from touch.
It can't be a highly visible, very portable status object. This attribute made Apple products very prized by Gen Y.
It has a different demographic target from prior product launches, as it can't leverage Apple's teen and college-age purchasing base.
Its reportedly smaller size –only 32" to 37"—might not drive living room conversions from families already comfortable with the 42" to 55" size. Why invest big money on a bedroom TV?
These issues could seriously reduce the product's initial traction in the market. Whether they stymie the initial rollout is an open question. But Apple is clearly now the supreme purveyor of our contemporary digital lifestyle, and this week's slew of research reports suggest that its dominance will become even greater in 2012.
Disclosure: I have no positions in any stocks mentioned, and no plans to initiate any positions within the next 72 hours.